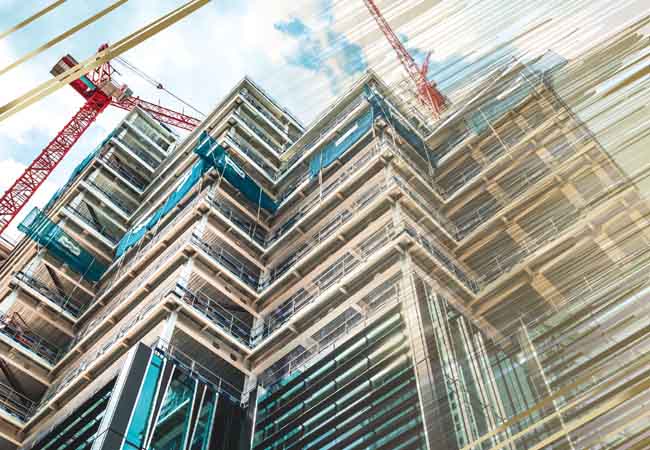 The Building (Higher-Risk Buildings Procedures) (England) Regulations 2023 define the building control processes for higher risk buildings that will apply to new projects from 1st October.
From that date the new Building Safety Regulator will be the Building Control body for all new higher risk buildings (HRBs) for which applications are made on or after that date. They will oversee not only the application process and give approval to start work (Gateway 2), but they will also oversee all aspects of the building work, including inspection and testing and handover of information, through to completion (Gateway 3).
Another article sets out the application process for the full design, to be successfully negotiated to obtain approval to start work. The Regulator will need to be satisfied that the design can be built to comply with all relevant regulations before that approval is granted, and it will be an offence to start work on an HRB without approval.
Once started, there are key requirements for recording information during the project. There are regulations covering change control (and in major instances approval of the change prior its implementation), the Golden Thread, which needs to be accurate and up to date and so must reflect changes, and also requirements to report significant safety occurrences during the construction process.
Part 3 of the HRB Procedures Regulations addresses control processes for changes to the design before or during construction. It creates the concept of a controlled change. This is any change to the current plans of work or proposed work or carrying work out otherwise than was designed.
It includes changes to stages of work or to strategies, policies or procedures described in any document as agreed with the Regulator. Before changes are made the relevant plans, documents, strategies or policies must be revised and a record of the changes kept as described in detail in Regulation 19.
This includes providing an explanation of how various regulations will still be complied with following the change. Put simply, it requires the full implications and consequences of a change to be thought through before it is made, with full consideration of the compliance of the changes with regulations.
Regulation 26 defines some changes as 'notifiable' and some as 'major', and there are specific change notification and application procedures set out in regulations 20 and 21. Applications must be signed by the client and major changes will require approval by the Regulator.

They probably spell the end of Design Build contracts for HRBs
Regulation 23 allows the Regulator to consult the fire authority about the change, and they have six weeks to determine the application. This means that significant changes will delay works and are probably to be avoided in most instances.
The new regime will really place a premium on the competence of contractors to plan, monitor and manage projects effectively. These regulations will put a premium on thorough design work and preparation prior to construction. They probably spell the end of Design Build contracts for HRBs.
Finally, there are regulations in the event of a change of client, principal designer or principal contractor. In the case of the principal dutyholders there are requirements to confirm in writing that the work that they have done on the project complies with the relevant regulations and that this statement is accurate and truthful.
Part 4 covers the procedures for the Golden Thread, mandatory occurrence reporting and handing over information. The key regulation is 31, which requires an electronic facility be set up by the client (or someone acting for them) that will hold the Golden Thread information.
This applies for both new and existing HRBs. The information must be kept electronically and be transferrable to others without being lost or corrupted. It must be accurate, up to date, secure and in a form that is intelligible to intended users.
It must be available to the principal designer and contractor and there must be procedures to record changes to the information and by whom they are made. There are specific paragraphs which detail how the Golden Thread must keep pace with the development of the project through design and construction, and the need for it to reflect controlled changes.
The focus is clearly on information management and procedures as well as information. This part of the regulations will provide a clear impetus for the adoption of robust information management processes such as those set out in the UK BIM Framework.
Regulation 32 requires a system of mandatory occurrence reporting during the construction phase. This system must enable 'as far as is reasonably practicable the prompt reporting of every safety occurrence to the principal dutyholders by reporting persons'. There will need to be clear instructions on what constitutes a safety occurrence and how to report it.
Regulation 35 defines a 'safety occurrence' as 'an aspect of the design relating to the structural integrity or fire safety of a higher-risk building that would, if built, meet the risk condition'.
This is defined as meaning that if that aspect was built without being remedied it would present a risk of a significant number of deaths or serious injuries. Obvious examples might be inadequate steel reinforcement in a column or beam or absence or inadequate installation of a fire safety feature.
Returning to Regulation 32, the principal designer and contractor both have a duty to undertake regular inspections of the work for safety occurrences at 'an appropriate frequency'. In other words, the designers need to be on site, regularly, and they and the contractors need to go out pro-actively looking for potential safety occurrences, checking that the structure and fire safety aspects are being correctly delivered. And just to round off the regime, the client has a duty under Regulation 37 to take all reasonable steps to satisfy themselves that the principals are able to fulfil the requirements of regulations 32 and 33.
Regulations 38 and 39 of the HRB Procedure regulations set out what information must be handed over on the completion of work on an HRB, the Golden Thread information, both for regular contracts and for work carried out under a competent persons' scheme.
Part 5 covers applications for completion certificates, with detailed application procedures consultations. As with other aspects of the regulations, various parties may be required to declare in writing that their work has complied with all relevant aspects of the regulations. It is worth noting that the Regulator is not obliged to issue a completion certificate if they are not satisfied that the works are compliant with all relevant regulations.
Part 6 covers inspections, testing, regularisation, reviews and appeals and Part 7 sets out miscellaneous provisions, including the requirement for a completion certificate before occupation. These are quite technical provisions, albeit important ones when engaged.
Part 7 also contains provision for the regulator to require items to be submitted electronically in a prescribed form (Regulation 59). Finally, Schedule 3 sets out full details of the transitional arrangements for the introduction of these regulations over the coming months.
Bodies such as CIBSE will be working together with the Construction Leadership Council and its constituent bodies to provide further industry guidance on these regulations and on how clients, principal designers and contractors and Accountable Persons can meet the new obligations in a safe, reasonable and proportionate manner.
It is another step on the road to rebuilding trust in the construction and operation of our higher rise building stock, and another step on the road to building a safer future.
About the author
Dr Hywel Davies is a former chair of the Building Regulations Advisory Committee who has worked in the field of regulations and standards for over 35 years. He is Chief Technical Officer of the Chartered Institution of Building Services Engineers and an Honorary Fellow of CIBSE.