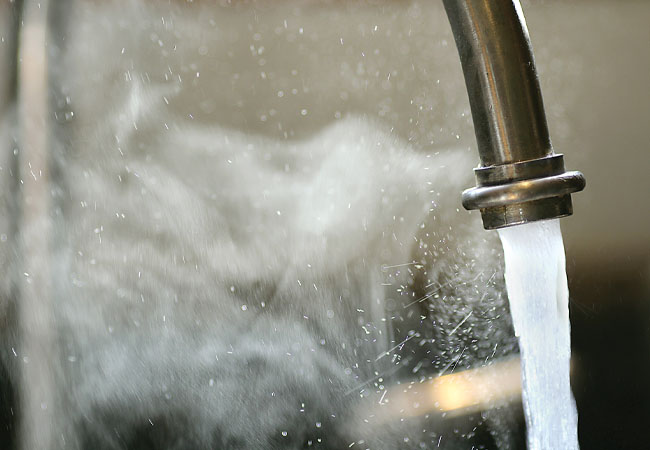 DHW has largely been ignored in the debate around energy and carbon reduction
Does the building services sector have a blindspot when it comes to energy efficiency? While it has focused heavily on fabric energy efficiency to reduce heat demand, a key element of domestic energy consumption – domestic hot water (DHW) – has largely been peripheral to, or ignored in, the debate around energy and carbon reduction. This means a significant amount of energy- and carbon-saving potential may be missed.
In response, CIBSE has started a focused working group, which kicked off with a roundtable event at Arup's London headquarters in late November. The aim was to initiate a discussion around opportunities to optimise the energy consumption of DHW systems, while ensuring health and safety, and the consumer experience, are not compromised.
While the prevention of health risks – particularly legionella – remain a fundamental priority in any conversation on DHW, discussions by the working group were framed around how the building services sector can approach the future of DHW. It considered a new focus on the future of low carbon heating, looking again and questioning the historic precedence that has led to current practice, regulation and guidance with reference to the latest knowledge based on thermodynamics and biology.
Arup associate director Becci Taylor, who is chairing the group and is a member of CIBSE's Homes for the Future Group, outlined some of the issues surrounding the energy used in heat pump-led DHW heating and the opportunity for reducing it. 'Every degree by which we drive down the temperature of DHW systems will lead to increased coefficients of performance, reduced energy and reduced carbon emissions,' she said. 'We need to do this while maintaining public health; this is no less important, but we need consistent risk-based guidance on ways we could approach this.'
Taylor added: 'As far as the government policy writers are concerned, the big issue is about reducing space heat loss. They haven't moved on to understand that new buildings – which is what the current conversation is about –have much lower space heating than domestic hot-water loads. A mindset shift is needed to catch up with this changing situation.'
The participants included representatives from CIBSE groups and areas of expertise across the sector, bringing to the discussion their specialist knowledge of issues relating to lower temperature DHW. They included: CIBSE technical manager Julie Godefroy; energy consultant Phil Jones (who is currently authoring the revision to CP1 on Heat Networks); Kiwa's head of training Andrew Mathews, who is chair of the CIBSE Domestic Building Services Panel; Huw Blackwell from Anthesis Group; Jonathan Gaunt, head of the public health team at Cundall and chair of the Society of Public Health Engineers (SoPHE); and Ilaria Ricci Curbastro, of Arup. Although absent, Gareth Jones, managing director of Fairheat and chair of the BESA HIU Standard, provided research material for the working group discussion.
Context
Recent interest from the Committee on Climate Change in the impact of low temperature heating and DHW reflects a growing acknowledgement of the potential significance of low temperature DHW heating in the drive for energy reduction, and that current guidance may need revisiting. While lower DHW temperatures could offer energy savings, however, the Health and Safety Executive (HSE) is taking an interest because of the potential health risks associated with lowering DHW temperatures – particularly through increasing the risks of bacteria, such as legionella, in cooler DHW systems.
Godefroy told the group: 'The HSE is keen to get involved in the discussion and get feedback from the working group on where its guidance is clear, unclear or not reflecting the individual building scale and the heat network scale.'
Terms of reference
Setting out the parameters of the discussion, the working group agreed that it should include non-domestic buildings as well as residential ones, because many office buildings are experiencing increased demand for DHW for shower facilities. Hotels, sports centres and swimming pools also have a large demand for DHW.
The group agreed that a key distinction is instantaneous DHW versus storage systems, rather than defining systems by types of use. 'There is a growing body of evidence around instantaneous DHW – we could have an impact on this fairly quickly,' said Phil Jones.
As low storage volume point-of-use was considered 'low risk' for legionella by the HSE, the group discussed whether this categorisation could be extended to plate heat exchangers. 'The issue with the guidance is that it may be envisaging a small electric with storage instantaneous unit, so it may well be worth getting confirmation from HSE that it is comfortable for plate heat exchangers to be treated on the same basis,' suggested Huw Blackwell, from Anthesis Group.
'What is the acceptable quantity of risk?' Blackwell asked. 'As it's a mortality risk, it needs to be very low.' 
Legionella risks
While the group discussed the key issues surrounding legionella in detail, it identified the differing – sometimes conflicting – requirements and guidelines on DHW temperatures from the HSE and the National House Building Council (NHBC). These are driven by different considerations, such as prevention of legionella and the conservation of water. HSE guidelines require that risk is balanced between scalding and legionella, with scalding risk increasing more than tenfold from 50°C to 55°C. As mentioned above, instantaneous DHW systems are viewed as low risk for legionella, and HSE guidelines are for temperatures of 50°C. The current NHBC requirement, however, is for 55°C at the tap.
The complexity of the issue, and how modern low carbon solutions are not adequately addressed by existing (sometimes contradictory) guidance, was discussed by the group, which highlighted grey areas that need resolving. It attempted to identify some of the key spheres in which new guidance should be developed with relevant bodies, to balance the risks with the low carbon benefits of implementing low temperature DHW systems. 
Phil Jones, for example, said there was huge potential for heating interface units (HIUs) in communal blocks, the majority of which are providing instantaneous DHW. He queried whether supply temperature requirements from NHBC could be relaxed for these. 'Around 50,000 are sold every year, so it's a significant market. The majority are instantaneous, yet they are restricted to NHBC's 55°C at the tap guidelines. CP1 is being updated and we recommend 50-55°C at the tap. But all of this is related to HIU testing to the BESA Standard. Most of the HIU market is suggesting to me that we relax these guidelines.'
Legionella risk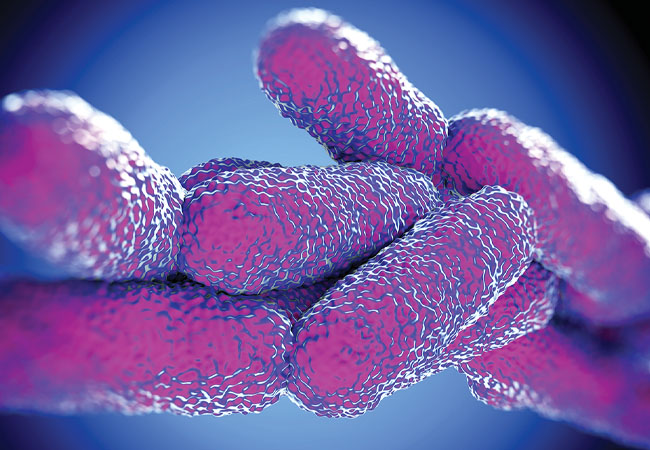 The risk of legionella increases in warm, static water, and the bacteria can be passed to humans in tiny, aerosol-like droplets of water that they breath in. Legionella is more likely to occur in large buildings such as offces, hospitals, sports centres or swimming pools, where the water supply has been contaminated and there are insuffcient levels of chlorine to kill it off. The bacteria can be spread through atomised water in air conditioning, shower heads, taps and toilets, and in places such as spas and hot tubs. Infections from the bacteria are rarely identifed in domestic environments, however.
Solutions and systems issues
The group also considered some low temperature solutions used in critical environments such as hospitals, which have adopted lower temperature water supply, but with copper-silver ionisation measures, to ensure legionella bacteria is controlled. Jonathan Gaunt pointed to a case study from Great Ormond Street Hospital Phase 2a Morgan Stanley Clinical Building, where such a system has been in operation.
'They effectively removed thermostatic mixing valves at the design stage, supplying the DHW system at 43°C, with copper-silver water treatment protection incorporated. The DHW system has now been in operation for seven years with no legionella counts detected. The system is, however,  reliant on the water treatment method not failing.'
As the panel acknowledged, setting temperature points for DHW systems within guidelines does not guarantee a consistent temperature; variation occurs within a 'dead band' above and below the setpoint, and overshoots and lags between temperature adjustments. Similarly, temperatures at the valve in DHW systems are not necessarily the same as at outlets, with no evidence of these lower temperature scenarios increasing legionella risks for consumers using these systems.
While identifying some of the gaps in knowledge that need to be addressed at a system level, the group also acknowledged the wider infrastructure issues that also need to be considered for lower-carbon DHW solutions in any revised guidance or requirements.
These include the massive load impact on the electricity Grid of heat pumps installed in homes and instantaneous DHW systems, and the type of pipework required in heat pump/heating network systems for maximising efficiency. 'These additional considerations are precisely why we are keen to look at all options, not just instantaneous DHW,' said Godefroy.
Conclusion
The working group agreed to develop key points brought up in the discussion to feed into CIBSE's responses to the Part L and Future Homes Standard consultations.
It is also aiming to develop a position paper on reducing instantaneous DHW temperature to 50°C at the heat exchanger with a view to changing guidance.
Such a change will bring carbon and operational cost savings, as well as reduce heat losses and scalding risk. The group believes that, using a risk-based approach, there is scope to go further, and even look at removing the need for thermostatic mixing valves altogether.