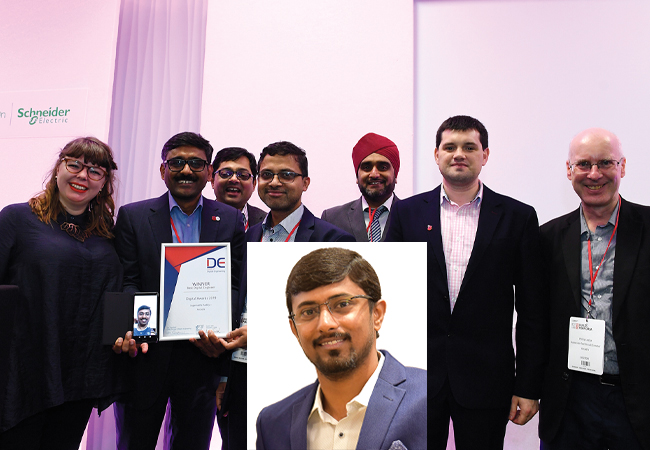 Jagannatha Reddy receiving his award via Skype
Jagannatha Reddy, electrical design engineer at Arcadis, won the title of best digital engineer at the Society of Digital Engineering Digital Awards 2019. He swayed the judges with the 'sheer breadth and depth of digital engineering that he has pioneered and championed for Arcadis'.
Reddy joined Arcadis as an assistant engineer in 2014, before being promoted to engineer in 2016 and design engineer in 2018. He is currently lead digital engineer (building services) and electrical design engineer. His biggest achievement has been streamlining the transfer of information between architects' BIM models and the simulation models used by engineers. 'It is one of the simple, elegant things that Jagan has done,' says judge Carl Collins. 'Most organisations haven't even considered using his methods.'
Judges were also impressed with how Reddy transformed the way Arcadis teams collaborate and exchange information by adopting Microsoft Teams software to ensure there is only 'one version of the truth'. 'He has done loads of little things like this that have helped Arcadis be more competitive,' says Collins.
The integration challenge
Reddy spent six months looking at the potential of integrating 3D modelling software tools – such as Revit and AECOsim Building Designer – with design-simulation software such as DIALux, Amtech and IES VE.
The normal working practice is to recreate a version of the building for analysis and simulation, but Reddy wanted to see if information could be imported directly from the main modelling platform into the simulation software. He used Revit's inbuilt export functions to save information in file formats such as gbXML [Green building eXtensible Mark-up Language] and IFC [Industry Foundation Classes]. He then tested how much information came through when importing those files into analytical software, such as DIALux and IES Virtual Environment.
While the transfer of information from the modelling platform to the analytical platform was not complete, Reddy found that it transferred enough to be useful and saved a significant amount of time compared with creating that information from scratch in the analytical platform. 'It is time-consuming to transfer information manually and, when you have to adhere to a tight schedule, it is possible to miss some information, which can reduce the quality [of a project],' says Reddy.
The method, Collins adds, removes many errors that you would normally see when there are two, unrelated models: one for creating deliverables (drawings, schedules and so on) and a separate one for analysis – heating and cooling loads, lighting and power requirements.
Reddy created digital workflows, which are now embedded in Arcadis projects. Figure 1 is an example of how workflows have been simplified. 'I am passionate about making a difference through innovation and technology,' he says. 'During this journey, I have learned a lot and gained a global network of like-minded people.'
Microsoft Teams
As part of the Arcadis-UK building services digital engineering core team, Reddy implemented Microsoft Teams (MS Teams) workspace, for better collaboration and communication on projects. Project team members can access all the applications – including latest-version file locations, site permissions, status of works, key milestones and design coordination – from a single workspace in real time, saving unnecessary conversations via email.
Reddy combined desktop application ProjectWise with Microsoft Office 365, and added the new web-based ProjectWise 365 application (a Bentley tool for BIM collaboration) as a tab to the digital workspace. This allows the team to access project information from anywhere. Digital twin models can also be accessed in the BIM tool.
'This is a game changer and a significant milestone in our digital journey,' says Niranjan Sahoo, Arcadis project engineering manager, who encouraged the use of MS Teams for his Beckton depot project, and recommended that all disciplines follow up on the results.
As well as ProjectWise 365 services, Reddy added tabs for software applications including: SharePoint; Holobuilder (360-degree site images); PowerBI (project management); Planner (key deliverables, actions and individual/team assignments); voice/video calls; and meetings information. This created one common, transparent workspace for accessing all project-related data and communications.
He also developed the guides and templates to help the wider Arcadis team understand and implement online share and collaboration spaces for other projects and disciplines.
All project data is stored in the associated online collaborative platform, reducing the hassle of finding information and the confusion of having multiple versions, revisions and folder structures. The 'thread' conversations in the online workspace are tailored to Arcadis's project requirements, and project members can respond to messages or start new conversations.
'This is the modern, chat-based collaboration platform, which has made the team work together more effectively, and improved efficiency,' says Reddy, who has implemented the system on two recent projects: the C2C Station Transformations programme, for which Arcadis is doing the building services design for six stations, and the design and build of the Step-Free Access Tranche 2 for London Underground. Arcadis estimates the initiatives will save 30-50% of staff time, compared with conventional approaches.
Reddy's main focus for 2020 is digitising project records ready for handover. 'Whatever solution we provide to the client, there will be a digital handover document for the operations and maintenance team,' he says. 'This will save time, cost and environmental wastage.'