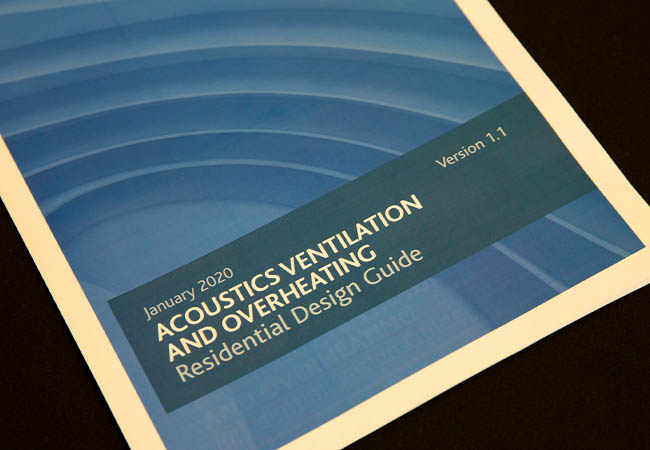 Several years ago, in CIBSE Journal, I wrote about how overheating and poor indoor air quality in new homes was being exacerbated by occupiers not opening windows because of environmental noise.
High external noise levels can make opening windows undesirable, leaving occupants with no viable means to control summertime temperatures. Reluctance to open windows can have a knock-on effect on indoor air quality, when background ventilators are not sufficient to disperse pollutants.
Noisy mechanical ventilation systems can create a further issue, with research showing that occupants will turn off plant equipment if they find it too loud. Faced with these facts, it was clear guidance needed to be developed.
The Association of Noise Consultants (ANC), in collaboration with the Institute of Acoustics (IOA) launched the Acoustics Ventilation and Overheating (AVO) Residential Design Guide at the beginning of the year.
We received a considerable amount of support and interest from other organisations, including CIBSE.
Joining up the dots
The new guide provides a resource for practitioners and designers to balance the interdependence of noise, ventilation, and overheating in the acoustic assessment of new residential developments. Previously, there was no guidance available that considered acoustics along with ventilation for internal air quality and for mitigating overheating.
The indoor environment is determined by air quality, thermal comfort and acoustic conditions. The AVO guide brings these key issues together in a way that we haven't seen in any other international guidance. It aims to promote a collaborative design process, with good communication and timely coordination between disciplines.
This includes being aligned with the integrated design approach advocated by the CIBSE TM60: Good practice in the design of homes.
An example-led focus
Included in the guide is a worked example that sets out the typical design process in terms of:
The activities that would be undertaken by the acoustic consultant

The information that the acoustic consultant should be supplying to other members of the design team (for example, where simple opening windows are not likely to be a viable means to control overheating)

The information the acoustic consultant may need from other members of the design team to make their assessment (for example, the area of façade openings and how frequently and for what duration they are required to be open to meet the overheating criterion).
Key considerations
We acknowledge, on challenging sites, it may be necessary to develop the design iteratively to arrive at a scheme that best addresses acoustics, ventilation and overheating.
The guide shows passive ventilation solutions, with a higher level of sound insulation than simple opening windows. These include the use of balconies/winter gardens, attenuated windows and acoustic louvres. A video from the launch event can be seen here. 
About the author
Dr Anthony Chilton is a senior partner at Max Fordham. He chaired the Association of Noise Consultants (ANC) member companies that collaborated to produce the Acoustics Ventilation and Overheating (AVO) Residential Design Guide