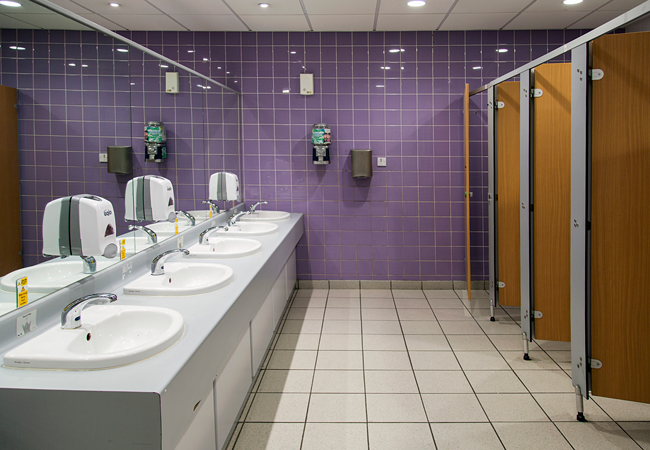 Credit: iStock. jax10289
Shortly before publishing the latest Building Safety Act related amendments to the Building Regulations, government also announced an eight week consultation into proposals for a new Part of those regulations.
The government also laid new procedures for the Building Safety Regulator to control work on HRBs, and set out a new regime for the management of all occupied HRBs. For those who have followed the development of building safety law since 2018, there are few surprises.
The proposed new Part T of Schedule 1 of the regulations will require provision of separate single sex toilets for men and women, with either shared single sex or individual washing facilities. It will also require that where unisex, or as the consultation calls them, universal, toilets are provided then they are fully enclosed for both privacy and safety reasons. The provisions are intended to apply to all toilets which form part of or serve any new non-domestic buildings but not to schools and prisons or to en-suite facilities in care homes. They will also apply when there is a change of use of non-domestic buildings.
Simply put, the proposals are for new non domestic buildings to have separate single sex toilets and accessible toilets, with the option of 'universal" toilets in addition. Cubicles will only be allowed in single sex toilet areas, with same sex shared washing facilities alongside.
The consultation notes that the provisions will apply to sports and healthcare buildings, where there has been concern about conversion of toilets and changing facilities from single sex to shared use. In the case of sports facilities, this is often through the use of cubicles which do not offer privacy as set out in the consultation. However, changing cubicles are not sanitary provision and not regulated either now or by the proposed Part T.
The proposals will not alter the existing guidance in Approved Document M volume 2, which deals with the provision of accessible toilets for wheelchair users, ambulant disabled people and for those with small children and infants. 
Nor does the consultation propose changes to Approved Document G, which covers sanitation, safe hot water provision and under requirement G4 addresses sanitary conveniences and washing facilities. It does propose any necessary consequential changes to the two Approved Documents to address the introduction of the new Part T.
The news release announcing the consultation stated that these proposals are being brought forward in order to 'reverse the rise of gender neutral toilets'. Clarity about the provision of a combination of single sex and universal toilets in new buildings will certainly be welcome to many people. However, as the consultation notes, these requirements apply only where regulated building work is undertaken; they are not retrospective. 
Since only about 1% of our stock is built new each year, this will limit the scale of the impacts and the cost of the policy. It is also important to note that whilst the new regulation will require separate provisions for men and women, changing the signs on the doors to a single sex suite of toilet cubicles is not building work. These regulations will not stop those who wish to reassign their toilets as gender neutral from doing so, once the building control body has signed off the work as compliant with building regulations. 
Toilet provision in workplaces is regulated under Regulation 20 of the Workplace Regulations, as noted in the consultation paper, and this is supported by an Approved Code of Practice on "Welfare at Work". The consultation does not propose any changes to this, which would be a matter for the Health and Safety Executive, as workplace regulator rather than as the Building Safety Regulator, and for the Department of Work and Pensions.
Full details of the consultation are available on the consultation section of the CIBSE website. CIBSE will be responding and will be including our concerns that the policy will struggle to achieve its stated objective given the limits on what the building regulations can be expected to achieve. We would welcome comments from members and Journal readers to inform that response. Meanwhile, it would be good to see Approved Document M2 being updated. Comments are welcome at your convenience, by the end of September.