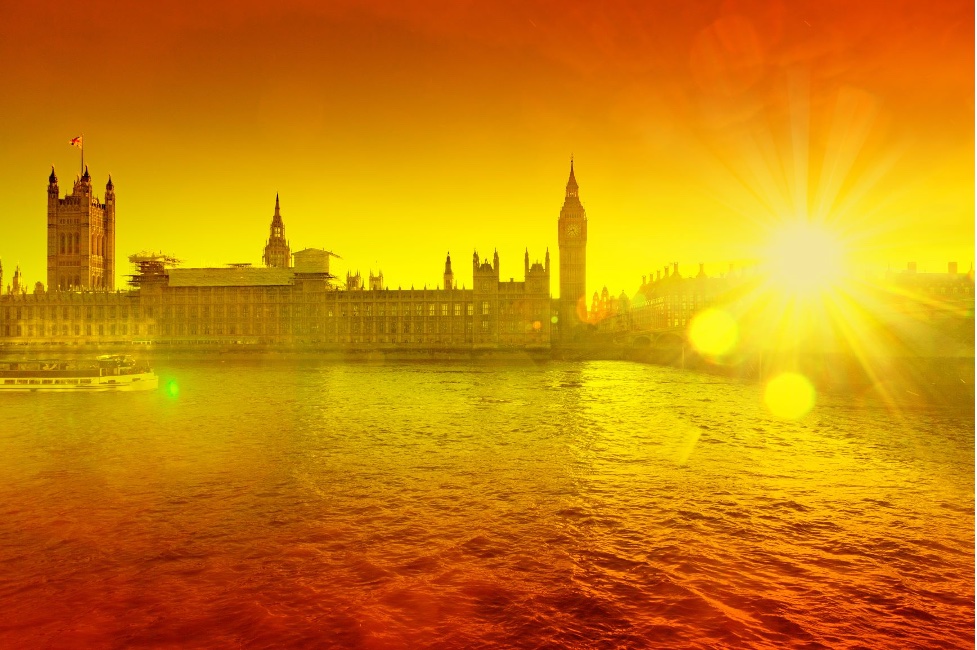 Using heat pumps to provide comfort cooling
The recent government consultation into a new overheating regulation has shown the importance of designing safe and comfortable spaces, especially in our overheating cities. With summertime temperatures set to increase, what role could heat pumps play in offering a solution?
Summertime temperatures are expected to rise over the next century, with the Climate Change Committee predicting that the chances of the UK experiencing temperatures as hot or hotter than 2018 (consistently topping 30°C) to be:
10-25% chance per year from today
50% by 2050
At these temperatures, especially in city centres where the heat island effect can exacerbate hot conditions further, we will not be able to rely on increased ventilation rates to cool down existing spaces. But would designing to use heat pumps offer a low carbon, low energy solution?
A shift towards heat pumps
Government has shown strong support for the use of heat pumps as the UK moves towards the electrification of heat in buildings. Their specification preference also offers a route to low carbon comfort cooling, avoiding the potential future of retrofitted air conditioning systems which would consume more energy and raise occupant bills.
For designers looking to futureproof their developments, designing in heat pumps offers the opportunity to specify reversible systems which can provide comfort cooling to houses and apartments.
Although using any energy to cool is still adding additional load that would not be present in a heating-only design, for dwellings with a high overheating risk, either seasonally or otherwise, providing comfort cooling via heat pump technology offers a mitigation measure to ensure dwellings remain at safe temperatures in a way which has a low environmental impact.
Benefits of using reversible heat pumps to cool
Reversible heat pumps have the ability to provide low carbon comfort cooling via a two-pipe system. This means that spaces are able to heated and cooled through one distribution system (assuming the emitter is capable of providing both).
This offers an environmentally friendly way of providing comfort to occupants during increased summer temperatures, via a highly efficient technology. The efficiency of this is increased further by their ability to make use of waste heat and share energy; offering a financial benefit both upfront and operationally against alternative systems.
An in-apartment solution
When designing apartment developments with communal systems, designers needn't miss out the opportunity to provide low carbon comfort cooling. Working with leading developers, GDHV has developed a heat pump solution that offers the flexibility to keep spaces comfortable whilst increasing overall system efficiency.
The Zeroth Energy System is an advanced communal ambient loop solution using in-apartment heat pumps to provide building services to residential apartments. As with traditional high temperature communal networks, the ambient loop is kept in operating band by central plant and is capable of connecting to a district heat network, even those of a higher temperature.
The system can:
Save energy and reduce carbon generated in new dwellings by up to 29% when compared to a traditional gas system, reducing occupant bills.
Significantly reduce pipework heat-loss, meaning that the issue of summer overheating is reduced.
Offer comfort cooling via a two-pipe system from heat pump technology, and for similar capital cost.
Utilise waste heat sharing at apartment and building level, recovery "free" energy which may have otherwise been lost or contributed to the urban heat island effect.
The Zeroth Energy System has been successfully installed in apartment developments across the UK, including Church Road, Leyton by Galliard Homes and Harbour Lofts, Poole by Acron Properties.
To discuss GDHV's  Zeroth Energy System in more detail, contact our team of specialists. Alternatively, visit our comfort cooling page to view GDHV's range of comfort cooling plant to emitter options.