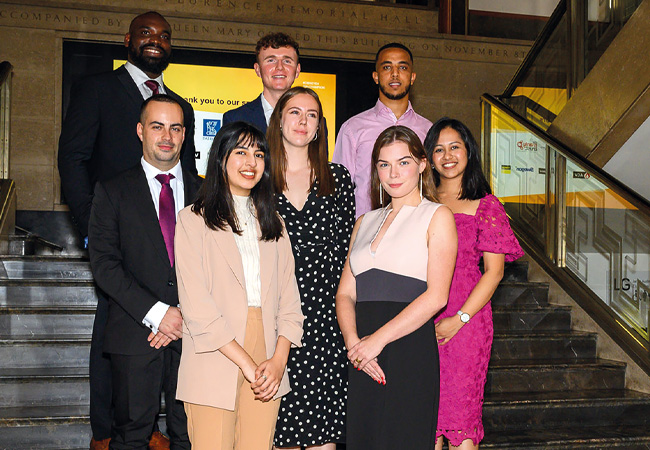 The graduate finalists, from left to right top: Prince Isof, Conor Deane, Eyob Kibrom, Jean-Baptiste Clochet, Anna Donaldson, Apurva Jaishankar, Sana Hafsa and Maria Zagorulko
The 27th staging of the Young Engineers Awards attracted more than 200 people to RIBA's headquarters to see the industry's best apprentices, graduates and employers rewarded for their talent and hard work.
The awards were presented by CIBSE President Kevin Mitchell FCIBSE. He triumphed at the first Graduate of the Year Award in 1995, so is the perfect inspiration for young engineers aiming to reach the top of their profession.
This year, eight graduate finalists faced the judges to try to impress them with their thoughts on what inspires engineers to work collaboratively and holistically to deliver high-performance buildings.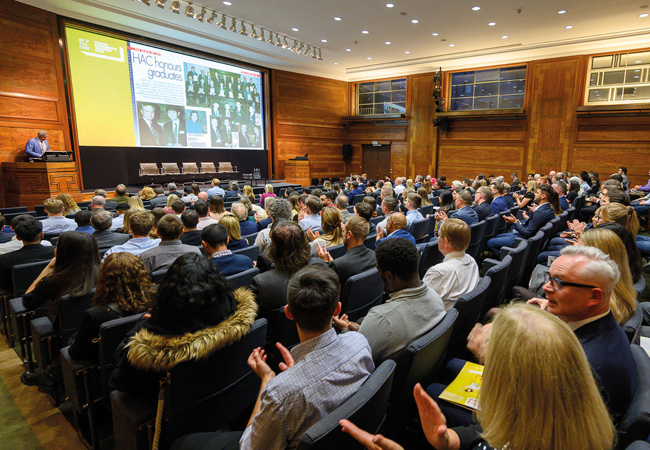 The awards ceremony was held at RIBA headquarters for the first time
The deserved winner was Sana Hafsa, a graduate of Heriot-Watt University, Edinburgh, and, since July, a sustainability coordinator at AESG in the Middle East. Runner-up was Conor Deane, a graduate of the National University of Ireland, now working for JV Tierney & Co. Consulting Engineers. Eyob Kibrom, London South Bank University (LSBU) graduate, now employed by Aecom, was third.
In the Apprentice Awards, entrants submitted videos of themselves describing their achievements. Harvey Hudson, of Vital Energi, was CIBSE Apprentice of the Year Technician (Levels 3-4), while the CIBSE Apprentice of the Year Degree (Levels 5-7) accolade went to Louis Kimber, of Atkins.
Head judge Professor Tim Dwyer said: 'This excellence of this year's finalists provided the judges with the most challenging task of choosing a winner and runners up – possibly the most taxing that I can remember.
'Sana Hafsa's style connected with the audience. Her slightly informal but structured presentation method that culminated in a strong concluding message, maintained our rapt attention for the whole five minutes. Her skilful address picked her out as the unanimously agreed winner.'
CIBSE young engineer award winners and runners up
CIBSE ASHRAE Graduate of the Year 2022
Winner: Sana Hafsa, AESG and Heriot-Watt University
Second place (£600 prize provided by the CIBSE Patrons): Conor Deane, JV Tierney & Co. Consulting Engineers and National University of Ireland
Third place (£300 prize provided by the Manly Trust): Eyob Kibrom, Aecom and LSBU
CIBSE Apprentice of the Year Technician (Levels 3-4)
Winner: Harvey Hudson, Vital Energi
Second place: Xantha Smee, Otis
Third place: Daniel Bailey, Derry Building Services
CIBSE Apprentice of the Year Degree (Levels 5-7)
Winner: Louis Kimber, Atkins
Second place: Lewis Coleing, CPW
Third place: Matthew Nash, Jacobs
Hafsa's passionate and riveting talk focused on how Heriot-Watt students had collaborated to deliver an innovative solar-powered demonstration home as part of the Solar Decathlon Middle East 2020. An architectural engineering graduate, Hafsa led a team of 120 cross-disciplinary students from the UAE and Scotland to build the solar home in Dubai.
She told the audience that every successful project for a high-performing building had a vision shared by all team members: 'With a vision consistent through all the stages, from the briefing to actual operations, that is when you can create a truly holistic project, where every single discipline collaborates in the most efficient way possible.'
The aim was to introduce timber and innovative M&E technologies into the UAE and for team members from academic disciplines to gain experience on a live project. The university built and designed the pilot home itself and gained the support of 40 partner organisations.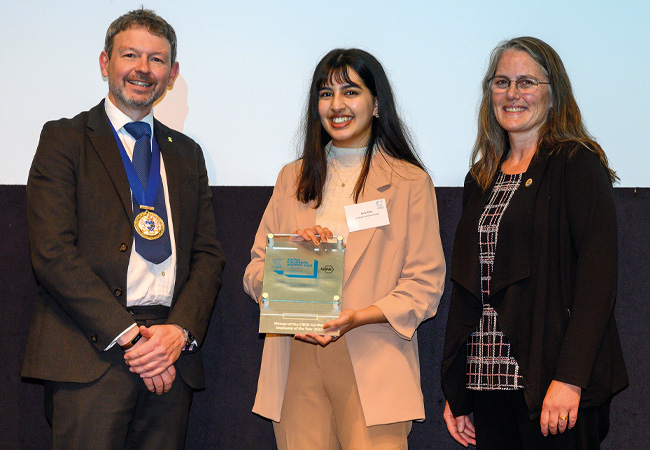 Graduate winner Sana Hafsa with CINSE President Kevin Mitchell FCIBSE and past ASHRAE President Sheila J Hayter
Hafsa said the vision had to encompass the views of every team member, which included academics from a range of disciplines, including structural engineering, mechanical engineering and data science. 'To create that building, we had to consider all perspectives,' she added. 'They are all important.'
Interactive workshops at the design stage ensured everyone had an input, said Hafsa. 'We want to make sure that the project we're creating has everyone involved from the start. For example, if you commission agents earlier, you are far less likely to have issues in your actual operation of the building.' Feeding information from the end user back into the design process is also key, she added.
The project was successfully completed and demonstrated at Expo 2020 Dubai, where Hafsa appeared as a panellist in a Future Skills conference. The project is still live and the team hope that a developer will take it on to demonstrate new solar technologies.
Runner-up Deane used an analogy of climbers scaling a mountain to demonstrate the challenge engineers face in delivering high-performance buildings.
'We're the mountaineers. We are a diverse group of people – men and women from all cultures and nationalities,' he told the audience. 'We are problem-solvers, and we're creative and innovative. We think outside the box and are curious.' He said it was up to engineers to lead high-performance teams, and overcome the challenges along the way, which he summarised as the three Cs: climate change, comfort and costs comfort.
Without engineers, the summit would never be reached, said Deane, and he warned: 'If we don't act now, there may be no mountain to climb.'
Kibrom's presentation was judged the third best of the evening. The LSBU graduate highlighted staff shortages in the industry and noted that 19.5% of engineers in the UK were set to retire by 2026. The experience gap could be solved by engineers sharing information and knowledge across generations and between disciplines, he added.
'Disciplines have a lack of awareness of other disciplines. They work in their own bubble and have little say or knowledge about other disciplines,' said Kibrom.
He suggested employers have a rotation programme across disciplines, and that companies identify and reward individuals for their contribution towards delivery of high-performance buildings.
Hafsa will be enjoying a paid trip to the ASHRAE Winter Conference in Atlanta next February.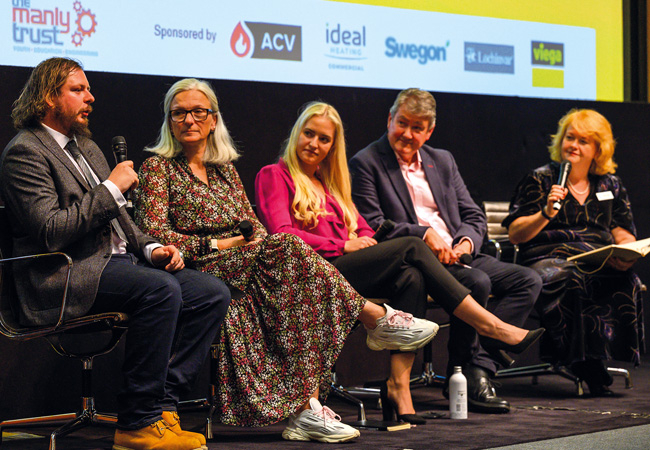 Panellists, from left: Joe Russell, Laura Mansel Thomas, Gemma Taylir and Mike Burton
The power of mentoring
While the judges decided on the winning graduate, CIBSE chief executive Ruth Carter chaired a debate between engineers on the power of mentoring to inspire the next generation.
Ingleton Wood partner and CIBSE Board member Laura Mansel-Thomas, CEng FCIBSE, said that while engineers were usually good at talking, it was listening that was the key skill for being a mentor.
'A mentor should be someone who can listen and anticipate,' added Joe Russell, SoPHE YEN chair and public health engineer at WSP, while Aecom director Mike Burton said that, as a mentor, he appreciated learning other people's perspectives.
On the question of having internal or external mentors, Russell said mentoring outside of work meant you weren't hindered by your workload. 'It's nice to have a break and separation from your job,' he said.
If you're not dealing with a mentor day to day, you can be much more honest, agreed Burton.
Gemma Taylor, MCIBSE, said she liked what she called 'unstructured mentorship', where you are learning something from others every day, without the formality of a one-to-one chat. 'It's not about putting too much pressure, but allowing yourself to absorb experiences,' she said.
Burton reminded the audience that the CIBSE Fellows network was, in part, a mentoring programme. 'That's available for all our CIBSE members. Do make the most of them,' he said.