Max Fordham secured top honours at the CIBSE Building Performance Awards 2022, with the engineering practice named as both Building Performance Champion and Building Performance Consultancy of the Year (51-300 employees) at the Park Plaza Westminster Bridge in London.
Celebrating the 15th year of the awards, the industry gathered for a face-to-face ceremony for the first time since 2020. Max Fordham secured the top award for its work on St John's College, Oxford, Library and Study Centre, which was also named Project of the Year – Public Use.
Judges praised its consideration of net zero strategies before it had become common to do so. Aecom also won two awards, with Mike Burton winning Engineer of the Year and the firm winning Project of the Year – Healthcare, for the Clatterbridge Cancer Centre in Liverpool, a Breeam Excellent-rated new hospital facility.
The winner of CIBSE's inaugural Embodied Carbon Award was the Michael J Lonsdale Group, which, the judging panel said, has acted as a champion of the embodied carbon model in the building performance sector, paving the way for clients and other companies to think critically about their carbon output. Buro Happold won the award for Consultancy of the Year (over 300 employees) for the fifth year running.
There were three product or innovation winners, with Knauf Insulation & Knauf Energy Solutions, Water Kinetics, and Signify winning the thermal comfort, wellbeing, and air quality awards respectively.
Guest speaker Jo Da Silva, director of international development at Arup Group paid tribute to Max Fordham, who died earlier this year. She said: 'Max Fordham has left a legacy in the buildings he has designed but more importantly in the thousands of engineers who he inspired during his career. He encouraged them to collaborate and to be curious, creative and courageous.'
The winners
Building Performance Champion and Project of the Year – Public use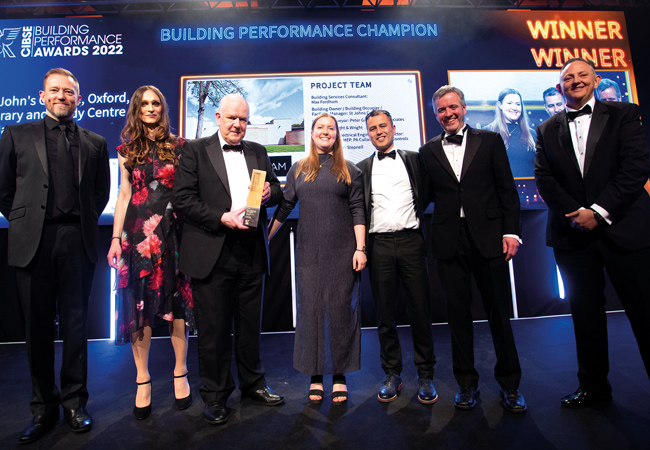 Winner: St John's College, Oxford, Library and Study Centre – Max Fordham
The brief for this project was to explore options for a carbon-neutral study centre and archive in St John's College, Oxford. Max Fordham designed a building with a stone-clad concrete frame to reduce peak temperatures and stabilise the internal environment, along with roof lights and slot windows to enhance natural lighting. The new study centre has proven highly effective in heat loss regulation and passive ventilation, with the ground floor consistently staying at, or below, 24°C.
Engineer of the Year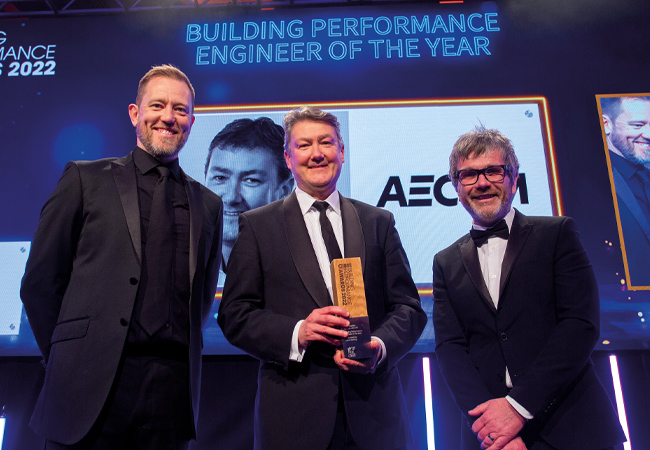 Winner: Mike Burton – Aecom
Mike Burton was selected for this year's Building Performance Engineer of the Year award because his passion, knowledge and holistic approach make him a shining example in the field of engineering.
His achievements over the past four years have been commendable. From his completion of the award-winning BBC Wales headquarters to his extensive work on the Institute of Physics headquarters in London, Mike's portfolio that year demonstrates his trailblazing approach to building performance. 
'The depth of knowledge and experience Mike showed was commendable,' the judges said. 'He has great pride in his profession.'
Consultancy of the Year (up to 50 employees)
Sponsored by Mitsubishi Electric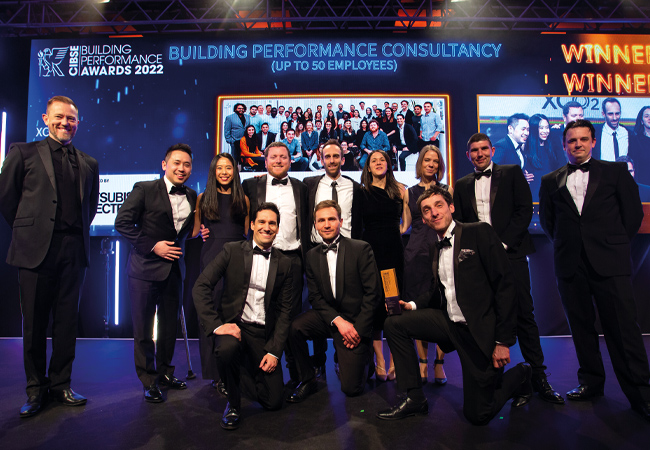 Winner: XCO2
Net zero can be a difficult goal for consultancies to work towards but, in the past two years, environmental engineers XCO2 have risen to the challenge, putting into practice their core values of relationship-building, equality, creativity and teamwork. The team has done an admirable job of reaching its goals during the pandemic and has made considerable strides in its ongoing zero carbon schemes including Eden North in Morecambe. 
Judges said: 'XCO2 kept the low carbon ambition at the heart of everything… a model for repeat success.' 
Building Performance Consultancy of the Year (51-300 employees)
Sponsored by Airflow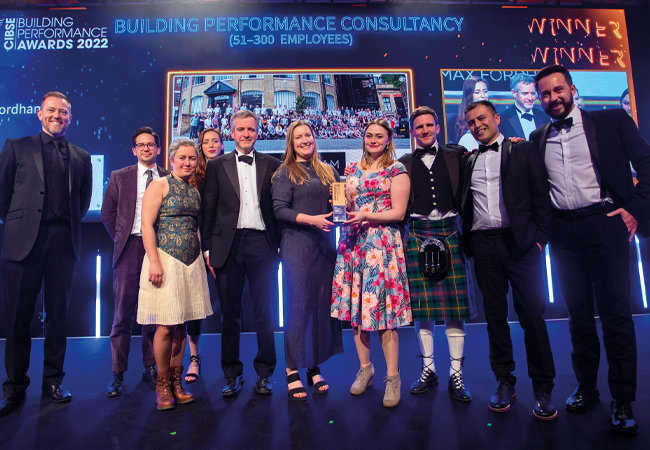 Winner: Max Fordham
The judges described Max Fordham's entry as an 'impressive, passionate submission, with honest real-life data on completed projects' that showed 'substantial engagement with peers and industry.' The panel said the firm 'showed a true commitment to building performance' and had 'a real focus on soft landings methodology and introducing post-occupancy monitoring on every project'. Its sustained engagement with the net zero goal, and commitment to inclusion and diversity, make it an ideal candidate for this award.
Building Performance Consultancy of the Year (over 300 Employees)
Sponsored by ABB

Winner: Buro Happold
In April 2021, Buro Happold reached its goal of becoming a net zero carbon organisation and is the first of 14 companies selected as Business Champions for the collaborative industry change programme CO2nstructZero. Its continued innovation and commitment to inclusion and diversity made it a standout candidate for this award. The judges were impressed with the firm's versatility, the quality of its data collection tools and its ability to establish itself as a high-calibre consultancy even in the context of the pandemic. 
Collaboration of the Year
Sponsored by Lochinvar

Winner: FairHeat – Echo Court
Judges said FairHeat and other contributing teams on the Echo Court heat network project had demonstrated  the true spirit of collaboration with the client and contractor. Building an efficient heat network for a large residential scheme is no easy task, but FairHeat rose to the challenge with a truly collaborative approach that capitalised on the strengths of each party. Its industry-leading practices and design processes, combined with Imex's technical expertise and the rigorous goal-setting process put forward by Origin and the Hill Group, led to a heat network that now operates within all nationwide performance and heat-loss requirements.
Learning and Development
Sponsored by SFS

Winner: Indo-Swiss Building Energy Efficiency Project (BEEP)
The Indo-Swiss BEEP student camp is an annual, hands-on educational camp aimed at nurturing the next generation of sustainable building design professionals in India.
Originally conceptualised as an immersive in-person workshop, the project took the challenges of Covid-19 in its stride and the end result was an outstanding online educational experience with high attendee satisfaction.
Sustainability is central to the camp's ethos, and the judges were impressed with Indo-Swiss BEEP's ability to weave environmental issues into the educational programming of the event.
Facilities management

Winner: Hoare Lea
Hoare Lea and Legal & General Investment Management's (LGIM's) fresh approach to facilities management made it a clear standout in this category. In collaboration with Hilson Moran, Hoare Lea appointed a technical building performance engineer (TBPE) within each building's FM team who would bridge the gap between landlords and technical teams, a vision that took shape in 2019.
The judges were impressed with how information was shared between different parties, and how this encouraged a planning approach that connected design, commissioning and construction. They said the project was 'true facilities management work' and applauded the team's drive to improve the building performance sector.  
Innovation of the Year – Thermal Comfort

Winner: Knauf Insulation & Knauf Energy Solutions
Currently operating in two pilot projects in Manchester, Knauf Insulation and Knauf Energy Solutions' groundbreaking sensor technology uses machine learning to measure real energy performance accurately, aiming to bridge the gap between notional and actual thermal comfort levels of existing buildings.
The judges said: 'The product addresses the real-life issue of poor insulation and heat loss. It clearly identifies where improvements can be made… to improve heat loss and occupants' wellbeing and comfort.' 
Product or Innovation of the Year – Wellbeing
Sponsored by Tamlite

Winner: Water Kinetics – Eco-Duo
Eco-Duo is the world's first and only pipe-within-a-pipe recirculation system that is guaranteed to keep hot water hot and cold water cold, which is essential for controlling the spread of water-borne pathogens and biofilm, while still being highly energy-efficient. A single Eco-Duo fitting can save 2.27 tonnes of carbon over 30 years, equal to more than 6,800 tonnes per building on average.
The judges, who commended the firm for including a whole-life carbon-saving calculation for the product, described the system as 'a novel, innovative product that addresses a real-life challenge robustly.'
Product or Innovation of the Year – Air quality

Winner: Signify – Philips UV-C Upper Air Disinfection Luminaires
Judges called the upper-air disinfection luminaires 'a thoroughly thought through and researched product that addresses the current need to disinfect indoor air'. They commended its novel application of existing technologies to address the threat from Covid-19, and the comprehensive information it provided on the product's operation and maintenance.
The luminaires can provide the equivalent of up to 30 air changes per hour, a rate that would be 10 times more expensive using a traditional HVAC strategy, and the lack of active parts makes for minimal ongoing maintenance. 
Project of the Year – Retail/leisure
Sponsored by Crane Fluid Systems

Winner: McDonald's Global Flagship – Cyclone Energy Group
McDonald's at Walt Disney World in Florida, believed to be the world's first quick-service restaurant, has benefitted from a state-of-the-art outdoor dining veranda designed by Cyclone Energy Group, complete with custom-built glass with amorphous silicon photovoltaic (aSi PV) solar cells that are outperforming predicted energy production by more than 200%. In this project Cyclone Group has enabled the building to produce 705,000kWh of energy this year, with a net positive gain of 39,000kWh.
Project of the Year – Healthcare

Winner: Clatterbridge Cancer Centre – Aecom
The brief was to design a visually striking 110-bedroom specialist facility that creates a positive, uplifting environment centred on patient and staff needs. The Breeam Excellent design integrated modern methods of construction and standardisation to maximise the building's flexibility and adaptability.
It also helped to reduce material wastage, as well as the number of onsite trades required. As cancer patients can be sensitive to light and temperature, the façade systems give good levels of natural light and reduce glare without compromising thermal comfort.
Embodied Carbon Award

Winner: Michael J Lonsdale Group
In the last two years, the Michael J Lonsdale Group (MLG) has acted as a champion of the embodied carbon model in the building performance sector, paving the way for clients and other companies to think critically about their carbon output. MLG's innovative approach to measuring, tracking and analysing embodied carbon figures, as well as its commitment to external knowledge-sharing on the subject, makes the company a standout candidate for this award. 
Efficient data processing is a crucial aspect of embodied carbon reduction and the MLG Group has demonstrated a strong commitment to ensuring its methodologies are well adapted to new requirements.