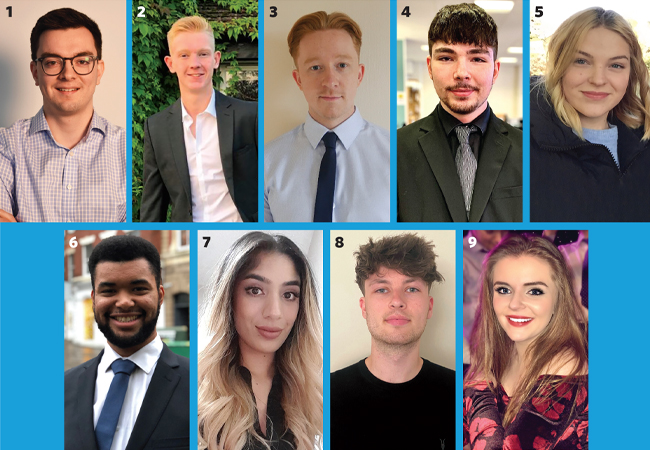 Apprentice of the Year shortlist: 1 Adam Daulby, Aecom; 2 George Field, ChapmanBDSP; 3 Bradley Heppell, Mace; 4 Benjamin Horton, Couch Perry Wilkes; 5 Louise Johnston, Schneider Electric; 6 Alexandro Justin, Waterman Group; 7 Iqra Pervez, WSP; 8 George Suddery, Hoare Lea; 9 Megan Whitbread, Troup Bywaters + Anders
Nine apprentice engineers have been shortlisted for CIBSE's inaugural Apprentice of the Year competition.
The winner will be announced on 8 October during a special online version of the Young Engineers Awards, which will also host the CIBSE ASHRAE Graduate of the Year and Employer of the Year competitions.
Launched in 2020 to coincide with the 25th anniversary of the Young Engineers Awards, the Apprentice of the Year award allows the CIBSE community to recognise the contribution made by apprentice engineers and those in the early years of their careers.
The apprentices had to submit a short video presentation on the topic 'Why the role of a building services engineer is a good career', and the nine shortlisted entrants impressed the judges with their passion, pride, drive and commitment to the sector.
Vince Arnold, chair of the judges for the Apprentice of the Year, says he has been 'encouraged' by the quality of the candidates. 'Apprentices – and graduates, of course – are the future of our industry,' he says. 'They bring enthusiasm for sustainable design and building performance across the full range of construction and maintenance.' (See page 73 for a Q&A with Vince Arnold.)
The winner of the award will receive £500, while those in second and third place will get £300 and £200 respectively. A compilation video of the shortlisted Apprentice of the Year videos will be available after the event.
Eight newly graduated engineers have been shortlisted for the CIBSE ASHRAE Graduate of the Year award, while the Employer of the Year has six firms in the final (see CIBSE News on page 12 for the shortlist). The chair of the judges for Employer of the Year is Kevin Mitchell, who won the first Graduate of the Year Award in 1995.
Graduate finalists will be challenged to show off their presentation skills on a given topic in front of a panel of industry judges at the online final. This year's winner will enjoy a fully paid trip to an ASHRAE Winter Meeting in 2021.
Ewen Rose, Graduate of the Year judge, said: 'We are delighted that the award is able to celebrate its 25th anniversary with this wonderfully impressive line-up of finalists. This award has matured into one of the most sought after professional accolades for young engineers. Everyone who attends the final online on 8 October should be hugely reassured about our profession's future when they see the range and depth of talent on show.'
The Young Engineers Awards, will take place on 8 October between 3.30pm and 5pm. They will be delivered in partnership with CIBSE Patrons, and sponsored by Kingspan Industrial Insulation, Baxi and Ideal Commercial Boilers and Swegon Air Management. The awards are also supported by the Manly Trust. To register to attend the awards online on 8 October, visit www.cibse.org/yea
Young Apprentice of the Year shortlist (see pictures, above)
1  Adam Daulby, Aecom
Adam Daulby joined Aecom in January 2019 as an apprentice mechanical engineer and is studying at London South Bank University. He has excelled in his role working on key projects such as South Bank Place, Wood Wharf and Fleet Street Estates. He has a keen interest in building information modelling and has helped to develop Aecom's technical library.
2  George Field, ChapmanBDSP
George Field is a 20-year-old apprentice mechanical engineer. He started at ChapmanBDSP after finishing his A levels and is now working while studying at university. For the past six months, Field has been extremely fortunate to have learned his profession on site at Battersea Power Station, one of Europe's largest regeneration projects.
3  Bradley Heppell, Mace
Bradley Heppell works in Mace MEP as an MEP apprentice engineer, a role in which he won Apprentice of the Year 2019. Bradley says he has a strong passion for engineering, particularly around mechanical, electrical and public health systems. Understanding how these services make a building come to life is particularly rewarding, he says.
4  Benjamin Horton, Couch Perry Wilkes
Benjamin Horton has been gaining design experience as an engineering apprentice at CPW for two years. He attends Derby College on day release, and is working towards an HND qualification. He says he thoroughly enjoys his job and his objective is to progress as high as he can in his field.
5  Louise Johnston, Schneider Electric
Louise Johnston joined Schneider Electric in 2019, fresh from A levels (which included a Technical Level in engineering). Since joining the company, she has been able to work on many sites as a building services engineer, including the The National Gallery in London.
6  Alexandro Justin, Waterman Group
As an apprentice mechanical engineer with Waterman Group, Justin's growing skillset and experience have resulted in him contributing to all of the Nottingham office's recent major projects. He recently completed his end-point assessment with CIBSE and will soon start the third year of the Level 6 building services design engineer apprenticeship at Coventry University.
7  Iqra Pervez, WSP
Iqra Pervez has been a part of WSP since 2015 and is now starting the fourth year of her undergraduate degree programme at Coventry University. Pervez works primarily on large- and small-scale electrical projects, and uses programmes such as CAD, Revit, DiaLux, ReLux, and MagiCAD to carry out her assigned tasks.
8  George Suddery, Hoare Lea
George Suddery is currently working at Hoare Lea in Cambridge, within the electrical team, while studying at London South Bank University (LSBU), where he has just started his second year. He enjoys playing for his weekend football team, and is captain of the office football team.
9  Megan Whitbread, Troup Bywaters + Anders
Whitbread is an apprentice building services engineer at Troup Bywaters + Anders in London. She started her apprenticeship in 2015, completing her BTEC Level 3, and is now on track to complete the final year of her degree apprenticeship at LSBU with first-class honours.
Graduate of the Year shortlist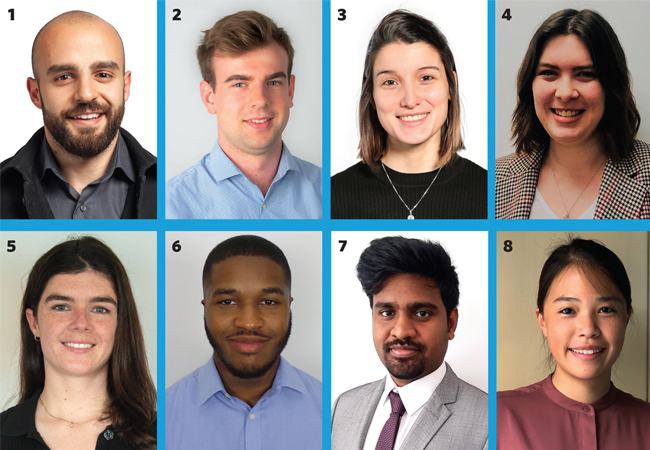 1 Joey Aoun joined Foster+Partners in 2018, as an environmental design assistant, and has worked on large-scale infrastructure projects. He has a Master's in architecture, a postgraduate diploma in green building technology, and an MSc in urban energy (Newcastle University). His academic work was awarded IBPSA-USA's Project StaSIO 2019, and the highest-marked postgraduate dissertation prize at Newcastle University. A registered architect in Lebanon, Aoun is an incorporated engineer through CIBSE, and a RIBA Affiliate member, pursuing chartership. He is a Stem ambassador, a contributor to the LETI 2020 Retrofit Workstream and winner of this year's Ken Dale Travel Bursary.
2  Tom Burton, FairHeat
Tom Burton spent four years at the University of Cambridge, studying for a Master's in chemical engineering, during which he developed his interest in reducing energy use, CO2 emissions and water use. His role as a graduate engineer involves working on the design of new heat-network systems and developing the skills to deliver cost- and energy-saving measures to clients. He also spends time on site, carrying out commissioning reviews and acceptance testing. At FairHeat, Burton is gaining experience in a wide range of areas from high-level design questions to the detail involved with installation and testing.
3  Laura Cattaneo, Foster + Partners
Laura Cattaneo graduated with a MEng in mechanical engineering from Imperial College London, achieving first-class honours and reaching the Dean's list in her final year. Since joining Foster + Partners in September 2019, she has worked on a variety of projects centred on sustainable design systems and energy optimisation, working with architects, engineers and designers on a daily basis in an integrated design approach. Her work focuses mainly on mechanical HVAC systems and thermal and energy modelling, which links seamlessly with informing architectural design on sustainability and occupant comfort.
4  Jennifer Cox, Aecom
Jennifer Cox is a graduate electrical engineer working within the buildings and places team in Aecom St Albans. She graduated from Heriot-Watt University with a MEng in architectural Eengineering in 2018. Shortly afterwards, she joined Aecom as a graduate engineer in their Edinburgh office, working on mechanical and electrical design. In August 2019, she transferred to the St Albans office and has continued to work as an electrical engineer. Cox is a graduate member of CIBSE and has applied for ACIBSE membership. She is the general secretary of the London CIBSE YEN Committee and a Stem ambassador.
5  Rochelle Kirby, WSP
In 2018, Rochelle Kirby graduated from the University of Auckland with a Bachelor's degree in mechanical engineering (honours). This year, she was named a finalist for the New Zealand Green Building Council Future Thinker of the Year Award. She has been recognised with the WSP Undergraduate Scholarship, the Rotary Youth Leadership Award, and the Hine Kahukura Trust Scholarship. She was also selected by Engineering New Zealand and the Association of Korean Woman Scientists and Engineers to be one of two representatives from New Zealand at the International Young Woman Scientist Conference in Korea. As the leader of the Auckland Pathways Committee, Kirby organises events that promote personal and professional growth for the young professionals at WSP.
6  Khalil Mboob, Buro Happold
A graduate mechanical engineer, born and raised in London, Mboob had a passion for maths, art and buildings while at school, and studied architecture and environmental engineering at the University of West England. There, he discovered a passion for building services and was given an opportunity to intern at Buro Happold as a mechanical engineer. He changed his degree to focus on building services, as he wanted to know more about the engineering and operation of buildings. Mboob achieved a first-class honours in building services engineering.
7  Joshua Vasudevan, Mitsubishi Electric R&D Centre
Having completed his BEng in civil engineering, Vasudevan started a low-energy building services Master's degree at Loughborough University. He graduated in 2019 with distinction and won the Aecom prize for the highest-performing building services student. His Master's research was based on machine learning using thermal imaging cameras to predict thermal comfort in building. He won the ASHRAE paper competition at ASHRAE's Orlando conference. He started as a research intern at Mitsubishi Electric R&D Centre working on monitoring and controlling IEQ. He has earned a fully funded PhD from Mitsubishi. He mentors Loughborough University students and participates in CIBSE and YEN.
8  Michelle Wang, Hoare Lea
After attaining a BSc in architecture and an MA in environment, politics and globalisation, Wang joined Hoare Lea as a graduate sustainability consultant in 2018. She has helped her team explore alternative ways of representing data and concepts around sustainability, energy and wellbeing. Her interest in human-centric design has also seen her contribute to Hoare Lea's workplace POE study, on which she presented at the CIBSE ASHRAE Technical Symposium. Michelle is the youngest member of industry think tank The Edge, and contributed to the #ConstructionIsOpen campaign to support EU27 nationals post-Brexit.