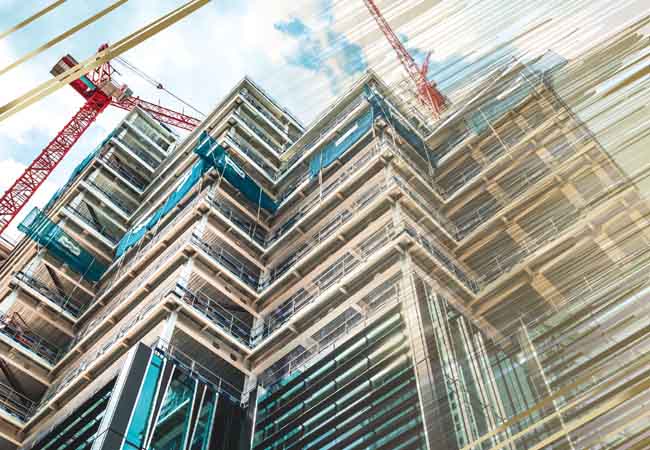 The Building Safety Act is a significant change and it is rapidly approaching. There will be no excuses for non-compliance. The time to start preparing is now.' 
This was the rallying call from CIBSE technical director Hywel Davies at CIBSE's first Golden Thread conference last month.
He told delegates that everyone working in the industry would be affected by the legislation and he warned that they risked potential liability if they did not comply with the law to ensure the safe delivery and operation of buildings. 'What is clear is that we can no longer do a bad job and simply walk away; it will be noticed,' said Davies. 'The Act is intended to keep both buildings and people safe, now and in the future.'
The first of a series of CIBSE events on the Building Safety Act took place at RIBA's headquarters in London. The one-day conference, The Building Safety Act: the consultation period and the golden thread, featured experts from across the industry in a series of keynote speeches and panel debates.
The golden thread, as defined by the Department of Levelling up, Housing and Communities and Local Government is the 'information that allows you to understand a building and the steps needed to keep both the building and people safe, now and in the future'.
It was recommended by Dame Judith Hackitt in her report Building a Safer Future. She said that a 'robust golden thread of key information' needed to be passed from the project teams to the building owners so they could 'underpin more effective safety management throughout the building life cycle'. The government committed to implementing Dame Judith's golden thread recommendation and said it would apply to all buildings that fell within the scope of the regime described in the Building Safety Act. (See panel 'What is the golden thread?')
What is the golden thread
1. The golden thread will hold the information that those responsible for the building require to identify, understand, manage and mitigate building safety risks to prevent or reduce the severity of the consequences of fire spread or structural collapse throughout the building lifecycle. Information stored will be reviewed and managed so that the information retained at all times achieves this purpose. 
2. The golden thread covers both the information and documents and the information management processes used to support building safety. The government has defined the information as including all the information necessary to understand and manage risks to prevent or reduce the severity of the consequences of fire spread or structural collapse in a building. 
3. The golden thread information should be stored as structured digital information. It will be stored, managed, maintained and retained in line with the golden thread principles. The Government will specify digital standards which will provide guidance on how the principles can be met. 
4. The golden thread information management approach will apply through design, construction, occupation, refurbishment and ongoing management of buildings. It supports the wider changes in the regime to promote a culture of building safety. 
5. Building safety should be taken to include the fire and structural safety of a building and the safety of all the people in or in the vicinity of a building (including emergency responders).
In the first keynote of the conference, Davies stressed that the main Building Safety Act regime applies to all buildings, not just higher-risk buildings (HRBs). The Act names the Health and Safety Executive (HSE) as the new Building Safety Regulator in England, which will oversee building control bodies and advise on existing and emerging building standards and safety risks.
HRBs are covered by a new regulatory framework that introduces requirements around competence, inspections, mandatory reporting, and keeping a golden thread of information. (See panel on page 24, 'Measures for higher-risk buildings'). 
Legislation to make the collection of 'golden thread' building performance information mandatory is expected to be published as early as spring 2023.
The Building Safety Act – what will it change?
Hanna Clarke, digital and policy manager at the Construction Products Association (CPA), said she had a 'strong sense' that people did not understand the urgency of the situation. She told building service engineers in her keynote that it was vital to understand now what the practical implications of the Act are.
'When the Act comes into the picture, there will be real-life penalties,' said Clarke, who described how managers could be liable for unlimited fines and up to two years in prison.
'If you haven't got it right, you will be in bother,' agreed Davies. 'If something goes wrong, the HSE will be round, and they will crawl over everything.'
Clarke, who sits on the CPA competence steering group, discussed how a legal requirement will be imposed on clients to ensure building and works are properly monitored in compliance with regulations. She explained how Part 4 of the Act creates the new role of 'accountable person', the duty holder in occupation. Appointees must not start work until they are satisfied that the client is aware of their duties. It is vital to understand individual levels of accountability and responsibility to determine who is qualified to do what, said Clarke. 
Anyone appointed to carry out building or design work must be competent, she said. 'The moment anyone recommends a product, makes a procurement, a decision, they become a designer, and it is necessary for them to demonstrate competence,' she warned. 
There was a mistaken belief that everyone in the industry is competent, Clarke added; however, identifying competence in another industry sector is difficult. 'To do this, we must be able to speak a similar language when we talk about competence,' she said. 
A new white paper from the CPA proposes a competence standard for construction products. Clarke said the paper effectively proposes a single language for discussing products and helps meet Part 5 of the Building Safety Act, which states that all construction products on the UK market should be regulated (see News, page 9).
The BSI has also drafted a core criterion for building safety in competence frameworks, which is to be used by regulators. This standard details how to look at experience and behaviours through an established checklist. Behaviour is construction's biggest challenge, said Clarke, who believes behaviour is a skill that can be improved, and that there are ways for companies to address this. She finished her keynote by asking delegates whether they can demonstrate their own competence. 
Measures for higher-risk buildings
Competence requirements: those appointed to work on a higher-risk project must have the relevant skills, knowledge, experience and behaviours necessary to undertake the role. Organisations must have the right organisational capability
Dutyholders: these will have accountability and statutory responsibilities when buildings are designed and constructed
Gateways 2 and 3: at these points there will be rigorous inspection of Building Regulations requirements, ensuring that building safety is considered at each stage of design and construction
A 'golden thread' of building information must be created, stored and updated throughout the building's lifecycle. Mandatory reporting is required to the new Building Safety Regulator of fire and structural safety occurrences that could cause a significant risk to life safety
In discussions about the key impacts of the new regime Anthony Burd, associate director and head of built environment at BSI, said requisite competency would be more important to ensure that buildings comply with regulations – and he predicted that some people would no longer be able to operate in the industry as they did before.
'The most significant thing will be a culture change, where people actually design buildings that prioritise safety,' added Richard Clark, senior fire engineer, National Fire Chiefs Council. 
In the past, Clark said building safety information that was handed over did not have to be understood by the occupier. However, with the golden thread, information must be understandable by all. 
Burd agreed: 'We saw systemic failure across the industry, with a dearth of understanding of who is responsible for what – the act will make it very clear who is responsible'.
The responsibility and competence of the designer regarding construction products was a recurring theme. Davies referred on multiple occasions to Part 2 Section 6 of the Act, which states that any product substitution on a HRB will have to be approved by the regulator. 
'You cannot substitute without approval; the contractual mayhem this could wreak is huge,' he said.
The panel suggested that engineers will now have to account for multiple products with similar performance data, so, if one fell through, there would be another to fall back on.
'Products are specific, they are not general. If you change a product, you change the system,' said Clark. 'There may be significant repercussions, even with insignificant changes.' 
The question of how the regime will be enforced was discussed. Davies said that it's not just about prosecution, and he suspects the HSE will give constructors a chance to revise compliances. However, the HSE will not offer a solution. 'Push back is where the enforcement starts,' says Davies.
The 2018 Hackitt report raised unanimous concern about the ineffective operation of the current rules on fire safety. Aman Sharma, managing director at Totus Digital, addressed the challenges of onboarding new knowledge and skills for better management.
The golden thread should allow the right people at the right time to have the information to support compliance with all applicable building regulations, he said, adding: 'Managing information is a key part of the golden thread, to ensure that people can trust that the information is accurate and up to date.' 
BS8644-1 is a new standard for digital management of fire safety information, drafted as a strategic information management approach for the fire safety sector. It can be considered part of the framework for the golden thread. 
The standard is relevant to buildings using BIM and non-BIM protocols. It aims to enhance knowledge and understanding of the BS EN ISO 19650 series and the UK BIM Framework. Crucially, it demands that information should be usable and accessible at any point during a built asset's life-cycle.
Sharma introduced FIREie, which he called a 'suitcase by which information moves from one point to another'. It is the non-proprietary information structure for sending and receiving fire safety information about an asset for all relevant parties. The framework is made up of seven suggested information exchange points, dealing with who, what, when, where and why.
Sharma emphasised again that the golden thread during design and construction should facilitate the availability of the information that is needed to support compliance with all applicable Building Regulations.

If you haven't got it right, you will be in bother. If something goes wrong, the HSE will be round, and they will crawl over everything
There are many standards that can help create a golden thread of information, according to Dan Rossiter, interim head of built environment at BSI. He reiterated Sharma's point about the importance of digitised information and the Information Management Mandate, published by the Infrastructure and Projects Authority, which recommends BIM as a means of achieving the golden thread. 
The UK BIM Framework is the holistic process of creating and managing information in the built environment, integrating structured, multidisciplinary data to produce a digital representation of an asset throughout its life. 
There are eight standards set out within the UK BIM Framework, which offers free guidance on complying with regime requirements. 
Rossiter outlined some of the requirements of the golden thread, including how information is reviewed and managed. To support this, he recommended BS EN82045-1, which specifies principles and methods to define metadata for the management of documents associated with objects throughout their life-cycle. 
He also emphasised the requirement for the golden thread to be stored as structured digital information, and spelled out the documentation recommended for long-term storage. 
The golden thread in practice
Johnny Furlong leads the BIM strategy for housing association L&Q, and is vice-chair of the Golden Thread Initiative, launched in 2020. He investigated the test phase synergy of collecting and storing golden thread information throughout the life-cycle of a building and produced a process map for creating a golden thread.
Testing in a real-world scenario, L&Q – in partnership with industry – piloted the production of a standard, digitised golden thread for existing property assets and new builds. Furlong said it was essential to have a safety case regime in place from the start, and to be managing all the information on a golden thread.
L&Q commissioned 10 subgroups, divided into major categories including design consultancy, technology, and procurement. Each group went off to develop a subsection of the building thread and came up with proposals for the ways it would operate. These could then be tested in existing and new buildings going through the gateway process. 
'The groups reported back to us, and we have got some really interesting takeaways, the details of which will all be in the final report,' Furlong said. 
The final debate asked what the implications would be on working lives, and the consequences for product specification was flagged by Arup's Judith Schulz. 
'If change in construction material is not controlled very carefully, there will be lots of unintended consequences,' she said. 'While change control might be quite expensive, uncontrolled change might cost us a lot more.'
Davies asked whether innovation would be inhibited if designers became wary of taking risks. Schulz said engineers needed to be 'very cognisant of how innovation is enabled based on proper understanding of the regulations'. 
Ultimately, the panellists recognised that the Building Safety Act is trying to create an environment that delivers on the fundamentals of making buildings safe for the various users for whom they are being designed. 
In his concluding remarks, CIBSE's head of digital engineering, Carl Collins, said: 'We shouldn't be fearing this challenge, we should be embracing it.'
For future events in the series visit here.