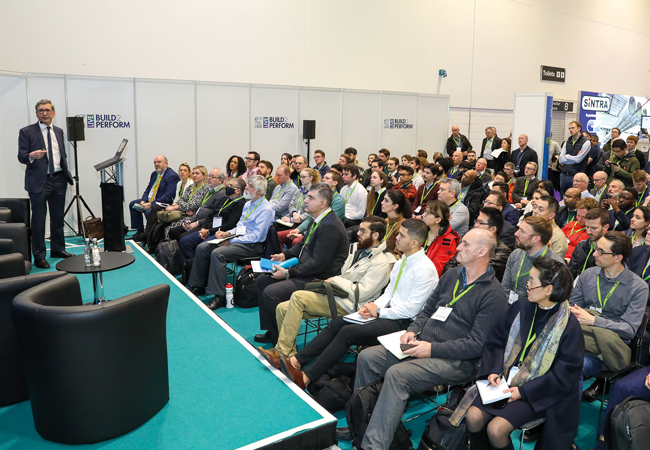 A packed theatre at last year's CIBSE Build2Perform Live
The eighth CIBSE Build2Perform Live will return to ExCeL London on 5-6 December 2023, with 125 speakers, 100-plus exhibitors, and more than 70 hours of presentations and debates, covering every facet of the building services industry.
For the first time, the event will incorporate Light2Perform, with an extensive programme curated by the Society of Light and Lighting (SLL) and the Lighting Industry Association. Also co-locating with Build2Perform Live is the Chartered Association of Building Engineers' (CABE's) Built Environment LIVE, which has themes of performance, compliance and safety.
A CIBSE-accredited CPD programme will run alongside Build2Perform. Curated by CIBSE Divisions and Special Interest Groups, and the Build2Perform Live advisory committee, it will feature invited specialist speakers from across the built environment.
Build2Perform's key themes this year are heating for net zero, climate adaptation, electrical services, smart technology, building safety, and health and wellbeing. 
B
uild2Perform key themes
Delivering net zero and adapting to climate

Hydrogen, heating and heat pumps for net zero

Electrical services for a zero carbon environment

Adopting digital tools and smart and secure technologies

Implementing the building safety reform programme

Health and wellbeing
Net zero, safety and overheating
The keynote session on day one will discuss how the UK Net Zero Carbon Buildings Standard will impact environmental design. This will be followed by an session on virtual, augmented and virtual realities, which will delve into artificial intelligence and discuss the benefits and pitfalls of handing building control to the machines. 
Representatives of the government and the Building Safety Regulator (BSR) will explain how the Building Safety Act is revolutionising the way buildings are procured, designed and maintained. Building safety is also the theme of a session organised by the Society of Façade Engineering. 
Thermal comfort is key to health and wellbeing, and Build2Perform will feature a session on the latest research and industry developments in assessing overheating in buildings. Speakers include Kevin Lomas, Susie Diamond and Becci Taylor. 
On day two, the keynote will cover CIBSE's TM65: Embodied energy in building services, and look at TM65 guides specifically for Middle Eastern and North American regions. 
Winners of the annual Society of Digital Engineering Awards will also be announced at Build2Perform. 
The CIBSE Resilient Cities Group is hosting a seminar on advances in urban digital planning and modelling for climate-resilient and healthy cities, and other sessions will look at indoor air quality and guidance on avoiding mould and damp. 
In the CPD theatre, the CIBSE Lifts Group, with Adam Scott, will present on the whole life carbon of lifts, while Nick Mellor, of the Lift and Escalator Industry Association, will discuss building safety and the evacuation and use of lifts by firefighters.
Light2Perform
Key themes of Light2Perform include emergency lighting, external lighting, dark skies light pollution, decarbonisation, health and wellbeing, regulation, and sustainability. 
The conference will feature the launch of LG7 Lighting for offices and LG14 Control of electric lighting, and the Young Lighter of the Year competition will be announced.
Light2Perform's technical programme will cover ever-tighter eco-design requirements and the challenge of reducing embodied carbon, and has been organised by leading lighters Bob Bohannon, Sophie Parry and current SLL president Helen Loomes.
The BSR's deputy chief inspector of buildings, Chris Griffin-McTiernan, will give a keynote at Build2Perform Live, and there will be sessions on fire safety, new-build housing quality, building retrofits, and zero carbon building performance.
The event is a fantastic opportunity to network and be on top of all the huge changes happening in building services as we strive for net zero and building safety. The Journal hopes to see you there.
Featured Exhibitors:
Hamworthy Heating
Stand number 258
Hamworthy Heating is a trusted British commercial heating manufacturer that provides low carbon heating and hot-water products to suit a wide range of requirements and heat loads. 
Founded in 1914 in Poole, Dorset, where its main offices remain today, Hamworthy Heating's range offers low carbon solutions that deliver on comfort, cost, and sustainability.
 As well as bringing heat pumps and hydrogen-ready products to market, the Hamworthy Heating range includes more than 90 wall-hung and floor-standing condensing boilers, such as the popular Wessex Modumax model. Also available are more than 40 hot-water products, such as the new Dorchester DR-SG stainless steel condensing water heater range.
The impressive knowledge of its service engineers and sales managers can make a real difference. From help with sizing hot water products to replacing commercial boilers, Hamworthy's team offer a friendly and knowledgeable service.
Website: hamworthy-heating.com
Email: sales@hamworthy-heating.com 
Telephone: 01202 662500
Armstrong Fluid Technology
Stand number 106
Armstrong Fluid Technology is a leading global player in HVAC solutions, designing and manufacturing innovative fluid flow equipment and high-efficiency solutions for a broad range and scale of applications (including, but not limited to, district energy schemes, data centres, fire systems, commercial buildings, hospitals, hotels, retail, and education facilities).
 Our expertise is in the integration of fluid dynamics, heat transfer, variable speed, and demand-based controls, integrating mechanical equipment and digital controls in a way that no other company can match. The foundation of our core competencies are demand-based control, digitalisation, fluid flow, and heat transfer, where we are uniquely positioned to combine
high-quality hardware, controls intelligence, and related services into fully integrated building energy solutions. These offer optimum lifetime building performance through maximum design, build and operating flexibility, lowest project and operating risks, and lowest installed and life cost.
Website: www.armstrongfluidtechnology.com
Email: UKhvacsales@armstrongfluidtechnology.com
Telephone: 0161 223 2223
Ideal Heating Commercial and ACV
Stand number 206
Working closely together, Ideal Heating Commercial and ACV UK provide total plantroom solutions.
Ideal Heating Commercial is the UK's leading manufacturer of high-efficiency commercial heating solutions. Operating from Hull since 1906, it is one of the few true British manufacturers left in the heating industry. Established in 1922, ACV is a leading specialist in the design, manufacture and distribution of hot-water products. Its products range from water heaters and cylinders to condensing and electric boilers, for commercial and residential heating applications.
Ideal Heating has developed low carbon heating solutions for commercial properties, from hydrogen-ready condensing boilers and commercial heat pumps to heat interface units. ACV specialises in stainless steel and is the home of the Tank-in-Tank concept. It provides a range of electric boilers that includes wall-hung electric boilers, floor-standing heat-only and combination boilers, and a mobile electric boiler for heating and screed drying.
Website: idealcommercialboilers.com/contact-us
Website: www.acv.com/gb/contact