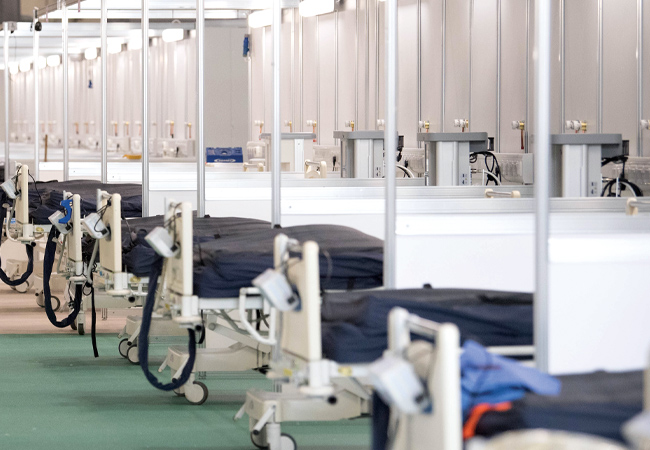 Four teams involved in the delivery of the Nightingale Hospitals have been recognised in CIBSE's first Covid Achievement Awards. The accolades recognise the remarkable work that building services professionals, with their supply chains, have undertaken to contribute to the nation's efforts to combat the effects of Covid-19.
Created for 2021, in association with CIBSE Journal, the awards take account of the challenges faced by individuals, teams, organisations and projects, across the full range of built environment activities.
Buro Happold, the 2021 Building Champion in the CIBSE Building Performance Awards, was also recognised for its use of modelling and analytics in helping universities reopen after the first lockdown.
There were four entries from teams involved in the creation of the UK's Nightingale Hospitals, which were constructed as the UK went into its first lockdown. Such was the achievement of delivering these Covid-19 hospitals in extraordinary circumstances that the judges decided not to single out any one particular entry.
Ed Wealend, head of research and innovation at Cundall, said: 'All the shortlisted entries turned around something pretty incredible in a short period of time. They all deserve the same amount of credit.'
The judges recognised the uniquely challenging circumstances. 'It wasn't just about the design,' said Hywel Davies, chair of the judges. 'It was the long hours, with half the supply chain trying to shut down on them.' They also praised the level of collaboration. 'All of the hierarchical structures that you usually have went away,' said Susan Hone-Brooks, chief engineer for construction at MTC.
The judges believe it is vital the construction industry learns from the NHS Nightingale Hospitals. 'These teams created some incredible outputs,' said Nick Buckingham, UK managing director at Colt International. 'Imagine what we could build if we worked in this way all the time.'
The following teams have been recognised:
Hoare Lea Healthcare team – NHS Nightingale Hospitals, UK
Over two time-critical months, and across seven locations, Hoare Lea provided MEP and fire engineering design, testing, witnessing and validation to support the design and construction of the UK's Nightingale field hospitals.
The first site needed to be delivered in 17 days, so Hoare Lea's teams had less than 12 hours to mobilise. The needs of each site differed – and as more was understood about the Covid-19 virus, the engineers had to evolve the building services. Major procurement challenges resulting from the national lockdown were overcome by a flexible design approach, as the teams delivered around 5,000 intensive care beds and supporting facilities.
Hoare Lea's chartered CIBSE/IHEEM engineers also helped resolve vital issues with ventilation, temperature control, oxygen pipework routing, oxygen concentration calculations, and water quality. [/well]
Ridge and Partners – NHS Nightingale Hospital, Bristol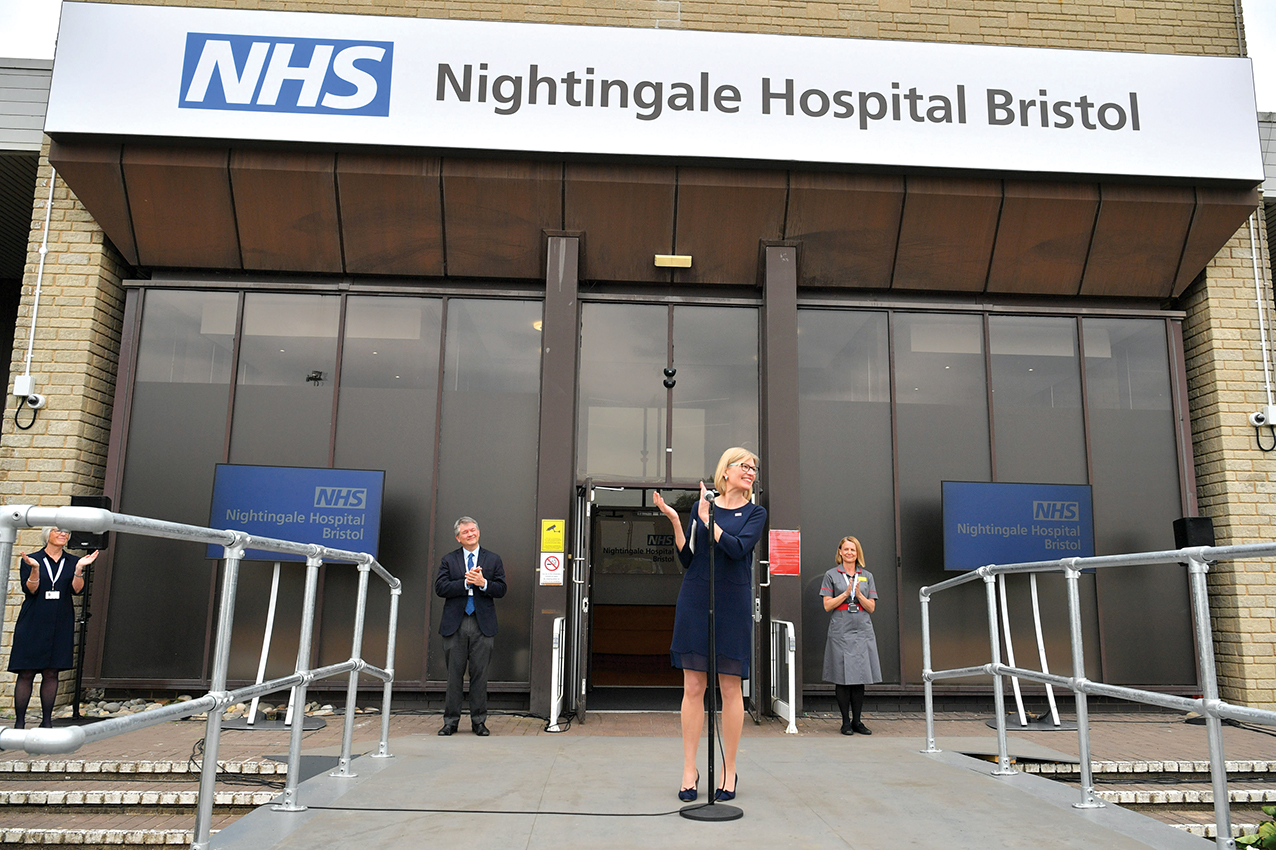 Ridge's brief was to deliver more than 300 intensive care beds in the mothballed University of the West of England Exhibition Centre, in Bristol, within four weeks. By midday the same day, floor tiles were being lifted and services modified to enable critical timescale items to be targeted first.
Ridge compared the potential of the existing MEP infrastructure to the relevant Health Technical Memoranda for intensive care provision. New services that were required were all achieved through intrusive surveys/validations recorded in a matter of days, before moving on to evaluation and adoption/reconfiguration design.
Ridge was based on site 12 hours a day, seven days a week. It modelled the intensive care beds using BIM, to ensure timely approval by NHS clinicians, while keeping the overall design flexible to suit the availability of products.
RSP/BDP – NHS Nightingale Hospital, London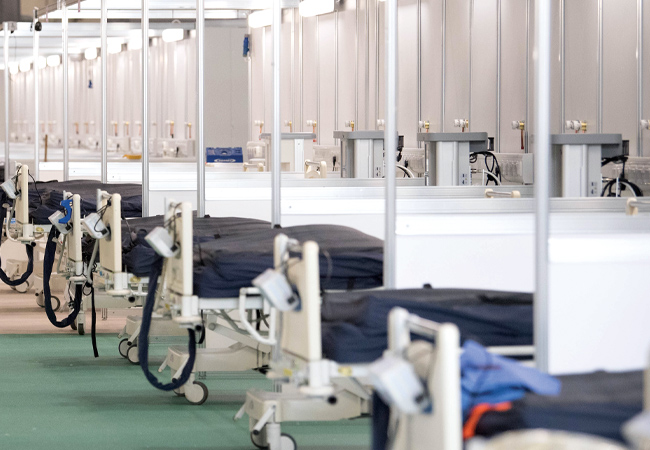 BDP and RSP worked collaboratively to convert the ExCeL London exhibition centre into an emergency Covid-19 hospital with 4,000 intensive care beds, delivering the first 500 in nine days.
Consultants from different practices worked with a huge team of contractors, suppliers, specialists and the Army. BDP's architects took on the role of lead consultant, coordinating the design proposals and providing engineering services, alongside RSP and Eta Projects.
Teams had to make immediate decisions to allow construction to progress in parallel with design. Solutions had to be flexible, rapid to construct, and cope with changing requirements. Where possible, maximum use was made of the ExCeL's existing infrastructure and temporary systems, with existing services upgraded and enhanced where necessary. For more details see 'Rapid response' CIBSE Journal, May 2020.
Services Design Solution – NHS Nightingale Hybrid Facility, Exeter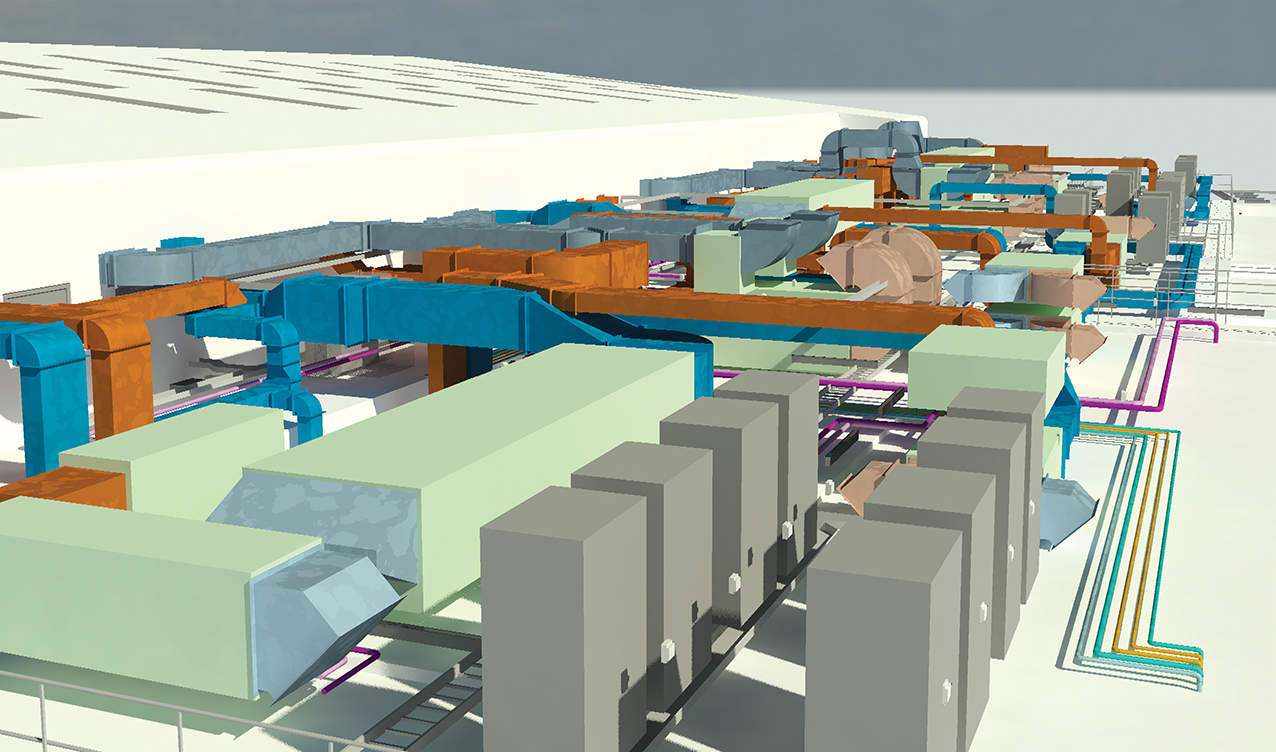 A former warehouse, the Nightingale Hospital in Exeter was built to treat Covid-19 patients, but now also offers diagnostic testing so the region's five other hospitals can continue to deliver essential clinical services.
The 116-bed, mini general hospital took less than 57 days to complete, with Services Design Solution (SDS) acting as the building services consulting engineers. Its engineers were based on site , allowing direct communication with the design and construction teams. This was vital because of the speed and changing requirements of the project, including updated official guidance from scientific advisers as the pandemic developed.
A 3D survey of the existing warehouse was carried out by SDS to understand its constraints. This informed the BIM model, produced to deliver a 'right first time' approach.
Buro Happold Analytics team
Buro Happold's Analytics team worked with seven UK and Irish universities to help them facilitate social distancing and promote the health and wellbeing of students and staff. The number and complexity of interrelated issues made planning complex, involving a range of stakeholders, from timetabling and estates staff, to department heads and student and staff representatives.
Buro Happold used innovative modelling to optimise the capacity of different teaching spaces and applied this to thousands of spaces to determine the overall capacity of a university's campus.
Real-time analytics and 'what if' modelling enabled collaborative decision-making with stakeholders, while 'day in life' modelling highlighted potential social-distancing hot spots around campus.
Buro Happold also considered the flow of people inside buildings, and then detailed interventions that could improve their circulation and facilitate social distancing.
The judges commended the firm for the big impact its work had on getting the universities open again.