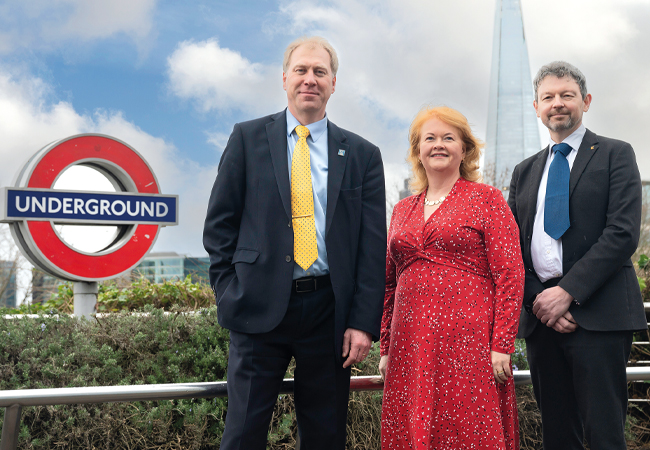 From left to right: CIBSE President-elect Adrian Catchpole, chief executive officer Ruth Carter and CIBSE President Kevin Mitchell
CIBSE is on the move. After 44 years in Balham, the Institution is looking to leave London's Zone 3 for a new head office close to the city centre. Years of discussion over potential locations have concluded, and CIBSE has decided to sell the Balham site and move to a new office.
Chief executive Ruth Carter says members she has spoken to have been positive about the potential move. 'When members visit Balham, they look at it with affection and give a wry smile – but while they may reminisce about their interviews, their reaction is "great, when are you going",' she says.

We are in a growth phase in terms of membership, reach, impact, turnover, voice, and the money we make. We want to keep on that path and be at the centre of the building services sector
The CIBSE Board did consider redeveloping the existing site, but the cost of turning it into a modern, sustainable facility would have been prohibitive and left the Institution with a seven-figure overdraft, says Carter.
President Kevin Mitchell says talks about leaving Balham have been going on since he joined the Board six years ago. 'Every time we've had those discussions, everyone agrees that what we currently have doesn't meet the Institution's aspirations,' he says. 'It doesn't really represent what CIBSE is and what it wants to be.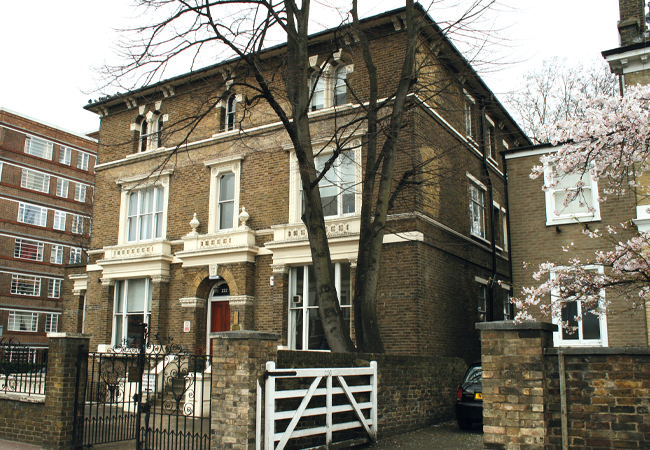 The Balham office has served CIBSE for 44 years
'Every time we have stepped through how to develop the existing site into something we all feel proud of, we come up with many challenges in terms of practicality, programme and price.
'Of course, being good engineers, we solve these challenges and end up with a solution – but then we always come back to the question: is Balham really right for us? Is this the right location?'
Carter is more direct: 'We looked at what we needed as a world-class, world-leading institution. We wanted somewhere that was flexible, and where people want to work. The answer isn't Balham.'
To oversee the move, CIBSE has set up a Premises Advisory Committee (PAC), chaired by Paddy Conaghan FCIBSE. Sub-groups will look at different aspects of the project, such as building performance and finance, and represent CIBSE's Regions, Societies and Groups. 'There are clever and smart people at CIBSE, so let's use them,' says Carter.
Members of the advisory committee
Paddy Conaghan FCIBSE (chair)
Kevin Mitchell FCIBSE, CIBSE President
Adrian Catchpole FCIBSE, CIBSE President-elect
Vince Arnold, CIBSE treasurer
Desiree Blamey, CIBSE director of finance and operations
Ruth Carter, chief executive officer
Les Copeland FCIBSE, CIBSE Vice-President
Hywel Davies, chief technical officer
Seven project deliverables have been laid out by the Board. The top three objectives are that the new head office is tailored to CIBSE's requirements, has a central location for staff, and aligns with the goals of decarbonisation and building safety.
The others are that the office: suits CIBSE Members and partners; is affordable; supports modern, global working practices; and acts as a net zero demonstration project.
One of the first tasks of the board was to assess possible locations, which included a site outside London, in Oxbridge, and on the edge of the city centre. After looking at the options, the PAC decided that a property on the fringes of the city, close to the Tube, was most suitable.
'The Circle Line is perfect for accessibility and, in terms of affordability, you get really good bang for your buck,' says Carter.
'We are in a growth phase in terms of membership, reach, impact, turnover, voice, and the money we make. We want to keep on that growth path and be at the centre of the building services sector.'
One of the key considerations for a move to central London is accessibility for the growing international membership of CIBSE, which now makes up 29% of the total.
Location, location
The Premises Advisory Committee carried out four feasibility studies looking at potential locations for CIBSE's new head office. These were:
Project Droitwitch A move outside London to 'relocate and level up' was considered, but was not considered as an option because it would result in the loss of London-based staff. 'If we are growing, we want to retain staff,' says Carter.
Split premises A small head office in central London with a back office in Peterborough, Colchester or Croydon was dismissed because CIBSE wasn't deemed large enough, and because the main functions – membership, training and events, and governance – work best from a central location.
Project Oxbridge An office in Cambridge or Oxford was deemed unsuitable because it would be as expensive as London and because CIBSE is not an academic-run organisation, according to Carter.
Project Moorgate As well as affordability, one of the key benefits of a City fringe site, close to the Circle Underground line, was proximity to other professional engineering institutions, industry bodies and Whitehall. 'Project Moorgate survived the interrogation,' says Carter.
Collaborative approach
CIBSE is keen to be transparent about the move and wants to engage the wider CIBSE community to create an exemplar building that inspires others on the path to net zero.
'We want to make sure, in this move, that everyone has had an opportunity to get involved,' says Mitchell. 'We have so many experts within CIBSE, from all aspects of the built environment, that it would be a big miss if we didn't involve that community.'
Communication is very important, he adds: 'We've got to go through that process of listening, understanding and processing, and then feed back information to the PAC.'
The new head office must be modern, inviting and technically very good, with an excellent internal environment and great sustainability criteria, says Mitchell. Retrofitting a building to a high standard in London can be challenging, however, because of the age and variety of building stock. 'It is the lessons learned in this process that will be so valuable to other building occupiers looking to decarbonise,' he says.

The PAC will report to CIBSE as soon as suitable premises become available. At that point, it will be looking to the CIBSE community to turn the building into a head office fit for the Institution
'We are going to deliver on those objectives in the real world, and provide an exemplar project that others can follow and learn from. The new office won't be a laboratory, so we are looking at purchasing a real-life building.'
CIBSE President-elect Adrian Catchpole FCIBSE says any building being considered will be assessed to evaluate the role it can play in CIBSE's aspiration for net zero and in demonstrating best practice. 'When you buy, sell or rent a property, you get an Energy Performance Certificate, which is a rating of the asset. As a professional engineering institution, we need to go much further than this, in the same way that our members are doing every day with clients,' he says. 'We're taking a lead in showing what can be done in terms of actual operational performance and what responsible people ought to be doing.'
'The assessment will look at the potential for upgrading measures to ensure that the building truly performs for us. We may not be able to do everything at once, but we need to have a clear plan, as to what can be achieved and over what period of time.'
CIBSE wants to change the way people think about a building purchase, says Catchpole. 'Clients that can afford to invest heavily in a building from day one are able to produce something wonderful, but that's not the reality of most businesses, or often of our members and their clients. It's up to us to demonstrate pragmatic ways to achieve the best [performance] from all our buildings, for a modest amount of money.'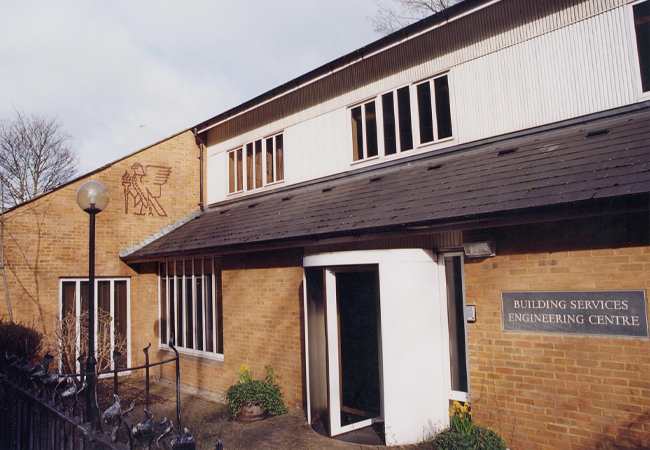 The Building Services Engineering Centre in Balham
The retention of CIBSE's history will be at the heart of any move, says Carter. 'We're proud of our heritage, and a new building is about building on that.' The PAC will work with the CIBSE Heritage group to ensure that important artefacts, books or records are retained.
The PAC is currently assessing available property in London and will report to CIBSE as soon as suitable premises have become available. At that point, it will be looking to the CIBSE community to turn the building into a head office fit for the Institution.
'The CIBSE tentacles work really hard. We are looking forward to working with the chairs of the Societies, Regions and Groups. They have been put on standby and are ready to help,' says Carter.
Mitchell adds: 'A new facility presents an opportunity to show what we are and what we want to be. This is the biggest project we have done in a generation and the Board, executive and staff are really excited about it.'