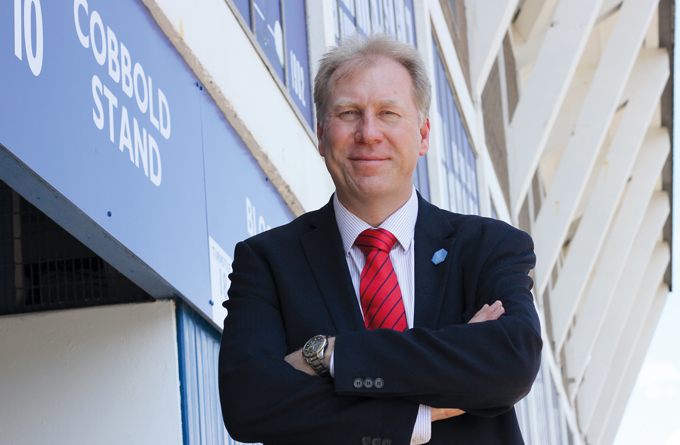 Catchpole stands outside the entrance to the Cobbold Stand at Ipswich Town FC
In his CIBSE Presidential Address, Taking a lead, Adrian Catchpole FCIBSE called on building services engineers to step out of their comfort zone to guide and inspire others to cut carbon emissions in the built environment.
Speaking to a packed room at The Royal Society in London, CIBSE's incoming President said it wasn't just organisations that needed to meet the challenges of cutting carbon. 
'As engineers, we must help move the built environment from being a significant contributor to global emissions to being an exemplar of how to reduce them,' said Catchpole. 'Each one of us needs to step forward with solutions and commit to taking a lead.'
To decarbonise building stock and respond to the requirement of the Building Safety Act, there needs to be increased competencies, innovation and collaboration, said Catchpole. 
During his address, he announced CIBSE initiatives aimed at attracting talent, upskilling engineers and increasing dialogue across industry. They are: a STEM Ambassador Scheme, designed to attract more young people into the industry by matching engineers with secondary schools; CIBSE's new Chartered Organisation Programme, which will enable organisations to demonstrate competence; and a cross-industry collaboration on improving procurement procedures to ensure that net zero carbon buildings meet their design intent.  

We must help move the built environment to being an exemplar of how to reduce global emissions. Each one of us needs to commit to taking a lead
Catchpole says he is delighted by the response to his address: 'People called it challenging, inspirational and presidential. It's been overwhelming and LinkedIn messages haven't stopped.' 
Like many building services engineers, Catchpole's route into the industry wasn't by design. He wanted to be an architect and, at 16, applied for a job as an architectural technician at Ipswich multidisciplinary consultant Johns Slater and Haward (JSH). He didn't get the job, but impressed the company enough to be offered an opportunity in M&E engineering. 
'It's the best thing that could have happened to me,' says Catchpole. From there, he went to work at Ipswich Borough Council and it sponsored him through his degree at the University of Hertfordshire, which involved a five-hour return trip to Hatfield. 
'East Anglia is still one of only three regions in the UK without a CIBSE-accredited degree course in building services,' laments Catchpole, who returned to JSH in 2001 and is currently a director at the firm.
While he has spent his career in Ipswich, it has not limited his opportunities. 'Building services engineering is so wide-ranging,' Catchpole says. 'I've done everything, from a one-off domestic heating installation that changes the life of a disabled person, to overseeing dock developments in Liberia.' 
One of his most important career moves was 30 years ago, when he decided to volunteer for CIBSE. 'I wanted to give something back,' says Catchpole, who started as education secretary at the CIBSE East Anglia Region and, more recently, was CIBSE treasurer for four years.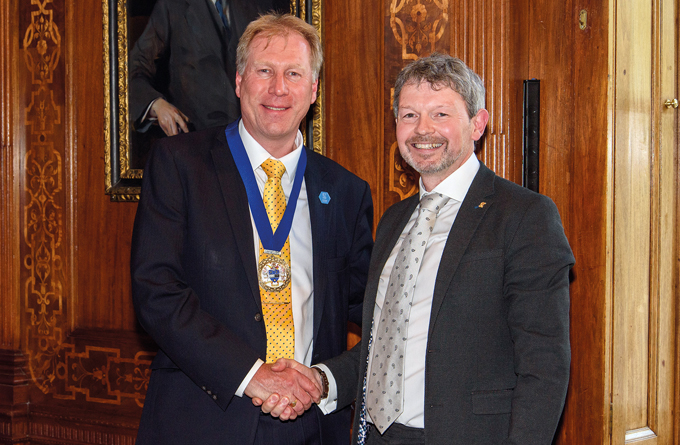 Past president Kevin Mitchell passes the Presidential Medal to Catchpole
The value of collaboration
Working across CIBSE taught him the value of collaborating with others to spread knowledge and new approaches. 'We don't do it enough,' says Catchpole. 'You achieve so much more when you collaborate, whether it's in your own offices, with colleagues, or with wider industry partners. Engineers tend to sit in silos and do their own thing.'
In his presidential address, Catchpole highlighted the cross-industry coalition behind the development of the Net Zero Carbon Buildings Standard (NZCBS) as a prime example of successful collaboration.  
For UK buildings to stand a chance of meeting the new NZCBS, which is expected by the end of the year, there will need to be a change in industry procurement practice, he says. Encouragingly, RICS, iStructE and RIBA have agreed to discuss how industry could collaborate more effectively.
Catchpole wants to see performance metrics incorporated into procurement processes, and more emphasis on testing and commissioning and post-contract evaluations. He wants a fundamental review of how value engineering is assessed, so it is not just focused on short-term capital gain, and wants to see its impact on building performance, whole-life operating costs, maintenance and safety.
'Collaboration makes us so much more successful, individually and with our wider industry partners,' Catchpole said in his address. 'As engineers, we have great skills to break things down, analyse the individual parts and make improvements. Each one of us needs to be prepared to do this more often, so that the full benefit of knowledge and process sharing can be realised.'
Demonstrating competency
The competency of engineers was a key theme of Catchpole's address, particularly in the context of the Building Safety Act, under which new duties will increase the accountability, transparency and oversight of all industry participants.
CIBSE is developing a new Chartered Organisation Programme, which will help building services firms demonstrate their competency. It will allow organisations to work towards a set of predetermined criteria, to show that they are competent and professional, operate to high business and ethical standards, and are committed to developing and maintaining qualified staff.
Proposals for a competency framework are currently being peer-reviewed, Catchpole says, and could lead to the inclusion of carbon-reduction plans, enhanced levels of continuing professional development for individuals, and personal development plans.
'This will be a badge that will make it easier for businesses to demonstrate their competencies,' he adds. 'The idea is that those employing consultants will insist on an M&E company that is a CIBSE Chartered Organisation. As a mark of quality, it will allow organisations to differentiate themselves.'
Call for STEM ambassadors
A key focus of Catchpole's presidency will be initiatives to attract more young people into building services. He wants to inspire secondary school children to become engineers and believes the industry's combination of technology and sustainability is very attractive to 16 to 18-year-olds.
'We have computers, building simulation, 3D modelling and data exchange. If you roll all of that into the role we play in saving the planet, surely we can attract more people to join us,' he says.
The STEM Ambassador Scheme announced by Catchpole aims to match engineers' skills with schools, and he is challenging CIBSE's 17 regions to each recruit 10 STEM Ambassadors over the next 12 months. He was inspired to create the scheme because he found it so difficult to get into schools when he was the region's education officer. 
'Basically, we were cold calling, and if we did find the right person to speak to, there was a chance they had left by the next term,' he says. 'Whereas if they are logged into the portal and asking for someone with building services skills, they can easily find us.'
Catchpole wants employers to show leadership by supporting this scheme and encouraging their staff to participate. 'It's only by working together that we will really make a difference,' he says, adding that all engineers should take the opportunity to lead by example. 
For his part, Catchpole has been on his own carbon neutral journey, by offsetting 200% of the remaining carbon for himself and his family that cannot be further reduced through practical and pragmatic home improvements or lifestyle changes.
His presidential address ended on the theme of individual responsibility, with a plea to his fellow engineers: 'Each one of us needs to step forward with solutions and commit to "taking a lead"
15-minute town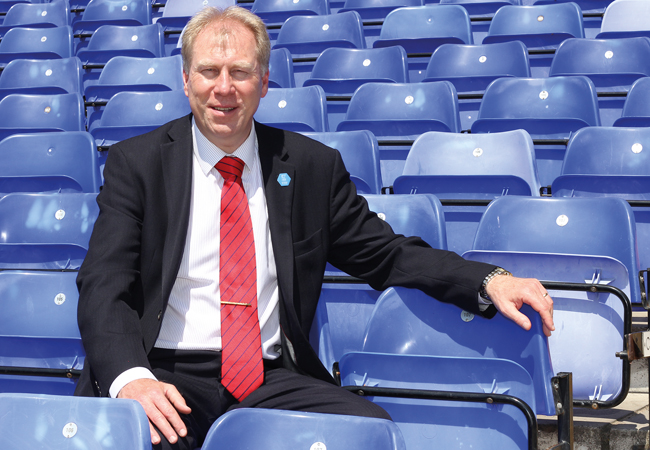 Catchpole grew up with the successful Ipswich Town sides of the 1970s and '80s
Catchpole is grateful that many of JSH's M&E projects are only a 15-minute walk from his office overlooking the yachts of Neptune Marina in central Ipswich. He presided over an innovative conservation heating retrofit at the nearby Grade-I listed Christchurch Mansion, for instance, and his practice, Johns Slater and Haward, is currently working on a number of projects at nearby Ipswich Town Football Club.
Catchpole is an avid fan of the 'Tractor Boys', who have just been promoted to the Championship. Investment by the club's ambitious American owner has given it a financial lift, and his colleagues are helping deliver major improvements to the club's Portman Road ground. These include a new TV studio and a state-of-the-art hybrid pitch of natural and artificial grass, served by a new sprinkler system and undersoil heating. 'The club's success is a real boost for the town,' says Catchpole.