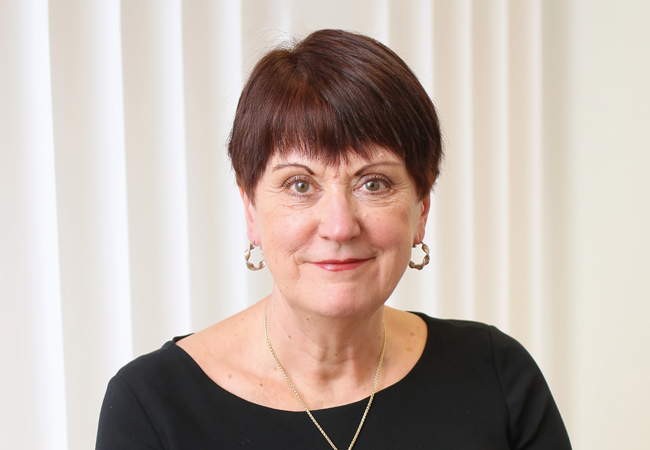 Dame Judith Hackitt was made an Honorary CIBSE Fellow in July
Young engineers are in the ideal position to challenge dangerous and outdated ways of working in the construction industry, according to Dame Judith Hackitt, who was made an Honorary Fellow by CIBSE last month.
The author of Building a safer future: Independent review of Building Regulations and fire safety says: 'This is a really great time for young people to be entering the sector and challenging the old and outdated practices in the industry. Most people come into the industry to improve the lot of society. Young people driven by purpose and the moral imperative of wanting to do the right thing can drive this culture change.'
In her review, which looked at building safety in the wake of the Grenfell Tower fire, Dame Judith concluded that the current system is not fit for purpose and that a culture change was required to support delivery of safe buildings.
The report's recommendations form the bedrock of the Building Safety Act, which has resulted in the biggest overhaul of Building Regulations in a generation. Last month the government announced secondary legislation for the Building Safety Act, which included new regulations for higher-risk buildings (HRBs) and major changes to the Building Regulations, focusing on required duties and competencies. These come into force on 1 October.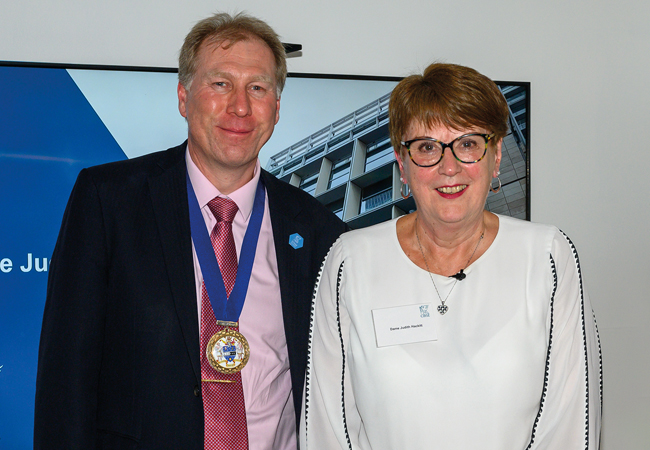 Dame Judith with President Adrian Catchpole
The newly formed Building Safety Regulator (BSR) will oversee the safety and standards of all buildings from April 2024, help the built environment industry improve competencies, and lead the implementation of a new regulatory framework for HRBs.
Young engineers can turn to the BSR if they are concerned about unsafe practices. 'What the new framework does is create space for young people to challenge the old and unacceptable practices they see in industry and say "I don't think we should be doing it like that any more",' says Dame Judith.
A confidential reporting system aimed at structural safety has been extended to cover fire safety, and can be used by anybody to report incompetence and poor practice. The Collaborative Reporting for Safer Structures UK (Cross-UK) publishes examples of bad safety practice anonymously, so lessons learned can be shared widely.
In her review, Dame Judith found that poor practice around fire safety was endemic. 'What I regard as standard practice in any other sector isn't being followed in construction,' she says. 'It really, really surprised me the extent to which things are done on the hoof.
'There is no proper record of what's been changed and why, making it impossible for anyone managing a complex building to know what they are working with.'
She is clear on the main reasons for the fundamental failure – lowest-price procurement and the lack of responsibility for the project outcome. 'Buildings are done on the cheap, so the whole procurement process is set up in such a way that whatever is built probably doesn't have sufficient funds allocated to do the job. Whoever wins the contract on the lowest price is looking to cut corners from the outset.'
A diffuse system of responsibility means no-one feels accountable for a project outcome, adds Dame Judith. 'People come in, do their work and leave. The overall sense of who is responsible for providing a building that is fit for purpose is missing.'
She is concerned that the industry will not be ready for the legally enforceable changes due on 1 October. This includes the registration of occupied high-rise buildings, which will be managed by the BSR.
The role of the Building Safety Regulator
The BSR will have three main functions: overseeing the safety and standards of all buildings; helping the built environment industry and building control to improve competence; and leading implementation of the new regulatory framework for high-risk buildings. 
It will regulate buildings with seven or more storeys or that are 18 metres or higher, and that have at least two residential units, are hospitals or care homes. 
The building safety reforms introduce a new regulatory framework for high-risk buildings, which includes:
Making the building Health and Safety Executive a statutory consultee for planning applications

The BSR becoming the building control authority for high-risk buildings

Decision points during design and construction; clear accountability and statutory responsibilities for dutyholders

The requirement for a golden thread of building information

Mandatory reporting of fire and structural safety occurrences to the BSR.
There will also be registers of occupied high-risk buildings, and of building inspectors and building control approvers.
The BSR is expecting around 15,000 HRBs to be registered, but only 30% had been by mid-August, says Dame Judith. 'If anyone thinks that, by not registering, they are going to avoid this, they are being naive,' she adds.
'It's a requirement of the law. I expect there will be some enforcement action and that will trigger people to think "OK, I need to do it now". It's a sad reflection of the culture of the industry that rather than [registering] because they know they should, people are waiting to see if enforcement happens.'
Dame Judith is focusing on getting the new safety regime up and running. For the past four years she has been chairing the Industry Safety Steering Group, which is responsible for supporting industry and reviewing and challenging the progress and action it is taking in improving safety. She also chairs the transition board that is setting up the BSR.
Construction products regulations
In addition, Dame Judith is closely involved in another area critical to building safety – construction products regulation. 'We have a big chunk of work to do around ensuring that the right materials are specified and used, properly tested, and fit for purpose,' she says. 
In May the government published an Independent review of the construction product testing regime. Written by former government chief construction adviser Paul Morrell and barrister Anneliese Day, it said the current Construction Product Regulation (CPR) only accounts for about one-third of products, leaving 20-30,000 unregulated, and that many standards are outdated, inconsistent or non-existent.
The review proposes bringing all construction products within the scope of the CPR through a 'general safety requirement', and the introduction of a new safety regulator, which will work with the BSR. It also calls for honesty from manufacturers and 'full disclosure' when submitting products to assessment bodies. 
Dame Judith has been focusing on best practice in construction regulation around the world and chairs the International Building Quality Council (IBQC), which recently published Building product performance part 2 – Good practice regulatory framework. 
'There are things we can learn from other countries,' she says, referring to the US' structured code system for product specification and Germany's robust interpretation of the EU CPR.
The Morrell and IBQC reviews can be used together, she adds: 'If you overlay the work, you'll see a lot of consistency. It enables us to look at where the gaps are.'
Higher-risk building register
CIBSE's Technical Team, supported by CIBSE members, has been involved in the review and consultation with government on the Building Safety Act.
The Institution also established a Building Safety Working Group that has been supporting the Engineering Council with developing the competences required for its Higher-Risk Building (HRB) Register.
This new standard sets out the competences and commitments expected of engineers and technicians who work in the built environment sector, in particular on higher-risk buildings. CIBSE is in the application stage to offer assessments against this register and you can find out more by visiting www.cibse.org/hrb.
Why all buildings are in scope
The BSR has responsibility for all buildings, not just HRBs, which means no-one can ignore the changes. 'Fire safety is, clearly, extremely important, but whatever you are working on – be it acoustics or thermal insulation – if it's not done properly the building will not be fit for purpose,' says Dame Judith. 
Which is why she has pushed so hard to change the culture of the industry. 'It's a wake-up call to the whole industry to say quality matters. You have to think about how you go about this work and it has to be a continuum.'
Dame Judith's review is not the first on tackling dysfunction in the construction industry. Her commitment to tackling the whole process, however, and her ability to convince government of the changes necessary mean the sector will finally be made culpable for its failings and be given the opportunity to deliver safe, sustainable buildings of which it can be proud.
Throughout the process, she has never forgotten what led to the fundamental changes. 'People have asked me, "what makes you think people will do anything this time?" I tell them "I'm going to stick around and make sure it happens", because this is important – we owe it to the 72 people who died in Grenfell Tower.' 
A CIBSE conference Building Safety: Meeting the Building Regulations and delivering the Golden Thread is on 28 September in London. For details visit: 

bit.ly/goldenthread1