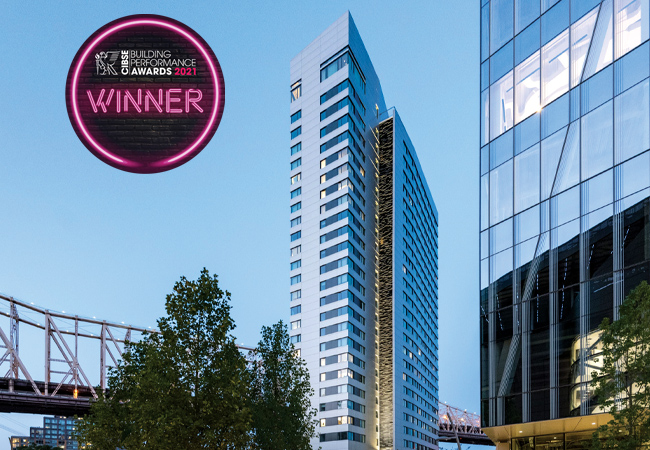 Buro Happold has been named 2021 Building Performance Champion at the CIBSE Building Performance Awards.
The awards were held virtually for the first time last month, when the global engineering consultancy went one better than last year by claiming four accolades in total.
It was named Consultancy of the Year (over 300 employees) – and was praised by the judges for taking 'a holistic view of building performance that draws back into wider sustainability views', and for going 'beyond the standard engineering offer'. This was evident in The House at Cornell Tech, which won Project of the Year – Public Use. The judges called it an exemplar for future-proofed, multi-family residential design , and said it 'delivers Passivhaus on a large scale, which ties in social aspects and lessons learned from the building performance to educate occupants'.
The firm's staff training and continual development were also acknowledged by the judges, who were impressed by the consultancy's many collaborations. One such effort, working with UCL on its post-project review guidelines, helped Buro Happold win the Learning and Development Award.
The judges felt that Buro Happold's willingness to champion sustainability, work with others and learn from projects made it a worthy overall winner. Chair of judges Hywel Davies said: 'Buro Happold has shown clear leadership and demonstrated how to deliver low carbon buildings at scale and reduce the impact of existing buildings, which remains a huge challenge across the building stock.'
● Watch the event at bit.ly/CJMar21BPA
Building Performance Consultancy of the Year (over 300 employees) –
Winner: Buro Happold
Award sponsored by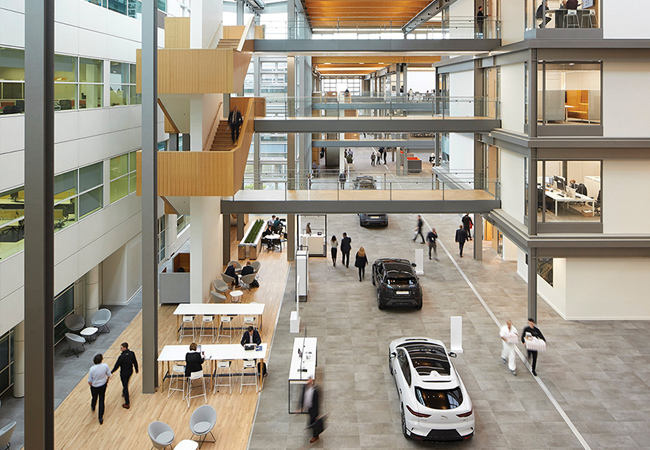 Jaguar Land Rover Advanced Product Creation Centre engineered by Buro Happold
The judges hailed Buro Happold as a 'company our industry should aspire to be', and praised it for the holistic view that draws back into wider sustainability, reaching beyond the standard engineering offer.
Having declared a climate emergency, the firm encouraged others to do the same by launching its Engineers Declare platforms. In 2020, it published its first global sustainability report, committing its business operations to be net zero by April 2021. It is aiming for all new buildings to by net zero in operation by 2030, with all projects net zero by 2050.
It is a Pioneering Delivery Partner for the Design for Performance initiative, an early signatory to the World Green Building Council (GBC) Net Zero Carbon Buildings Commitment, and active in the CIBSE Energy Performance Group and Health and Wellbeing Working Group, as well as the new Knowledge Generation Panel. Buro Happold is also a leading contributor to the Society of Façade Engineering and its work on façade safety.
Collaboration is central to the success of its projects, and the firm employs a variety of techniques to promote it. One example is its extensive work with C40 Cities around the world.
The judges praised Buro Happold's innovative tool development, offered open source to industry, funding of research through its PhD programme, and staff training.
Project of the Year – Public Use
Winner: The House at Cornell Tech – Buro Happold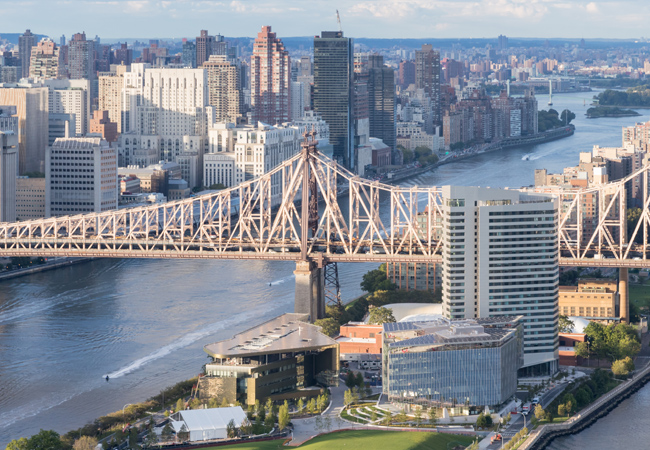 The Passivhaus-certified House at Cornell Tech in New York
The hub of student life at Cornell Tech, The House forms the cornerstone of the university's Roosevelt Island Technology Campus in New York City.
This 26-storey building, which contains 352 apartments for student and faculty housing, won the award with its holistic integration of engineering, social aspects and lessons learned.
At the time of its design and construction, it became the world's tallest and largest Passivhaus-certified project. By achieving dual certification for Passivhaus and LEED Platinum, the design approach at The House provides an exemplar model for future-proofed, multi-family residential design.
The building is a flat-slab concrete structure with careful attention to thermal breaks at the boundaries. The envelope is a pre fabricated metal panel system, with triple-glazed windows inserted and sealed. Fresh air is tempered and delivered via energy-recovery ventilators, with heating and cooling provided by air-cooled VRF in a floor-by-floor design to overcome height and refrigerant charge restrictions.
Judges praised the Buro Happold team for using the annual re-education of new student tenants to improve performance. They were also impressed that future-proofing was built into the building's fabric, not just the technology.
Learning and Development
Winner: University College London (UCL) Post-project Review Guidelines and Buro Happold
Award sponsored by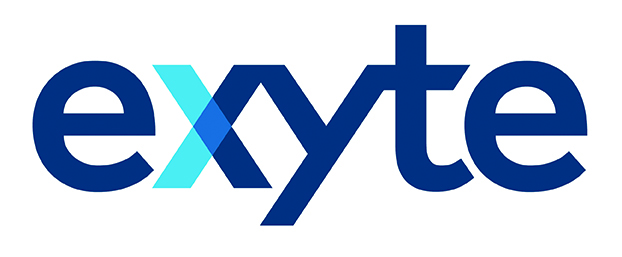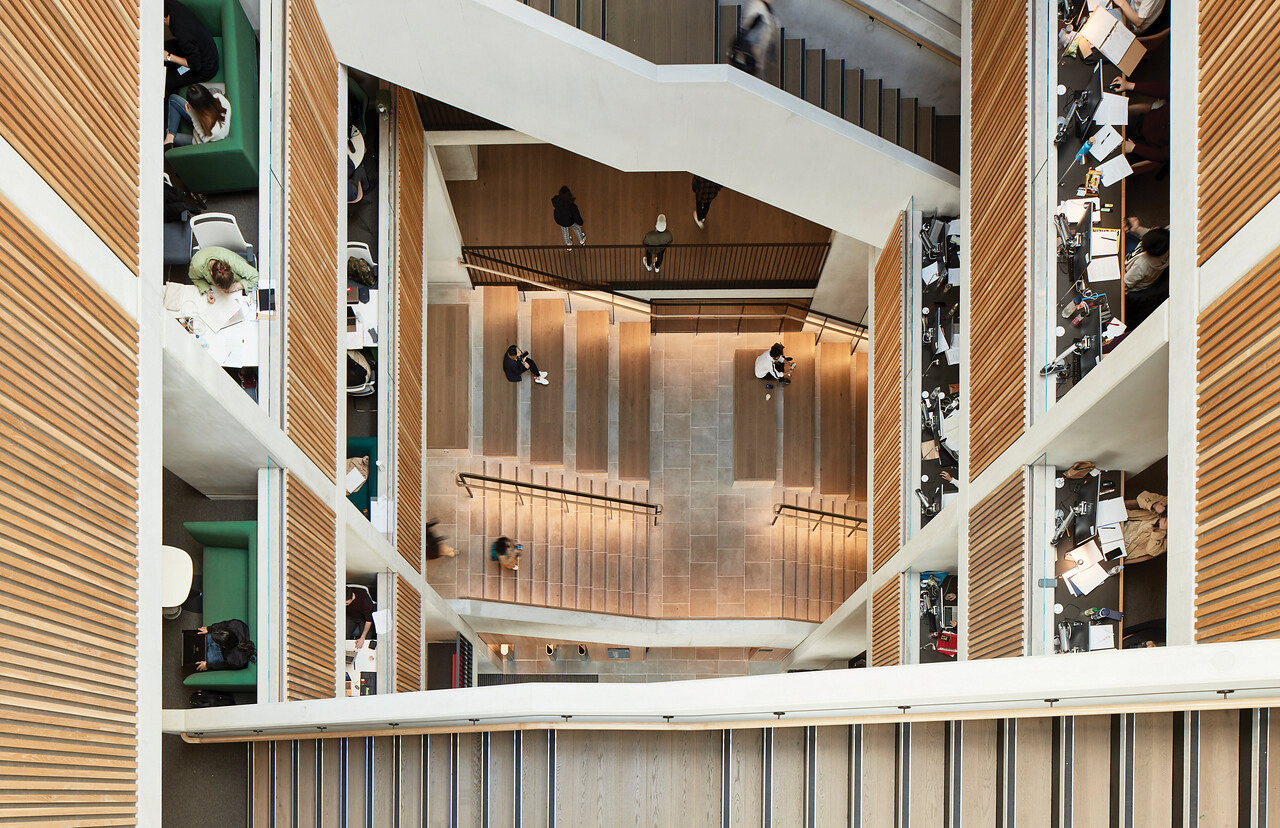 UCL's post-project review guidelines ensure learning feeds into existing projects
A client-led, collaborative process, with clear impact and tangible outcomes were highlighted by the judges, as Buro Happold and UCL's post-project review (PPR) guidelines won this award.
The judges were impressed by a well thought through approach to post-occupancy evaluation (POE), and the standardisation and clear application of a difficult process.
UCL is in year six of a 10-year £1.25bn capital programme, with 14 projects on site, and 177 completed and in operation. With Buro Happold and Alexi Marmot Associates, it launched PPR guidelines to ensure buildings are performing as intended.
For all projects, the PPR includes a project implementation review (PIR), while for projects of more than £10m – or that are business critical – a full POE is also performed. A suite of resources has been created, and there is a central 'lessons learned' tracker, from which UCL's team feeds learning into new and existing projects.
In its first two years, the PIR process has been applied to 10 major projects. The first to complete a PIR and POE was 22 Gordon Street, the £22m refurbishment and extension to UCL's Bartlett School of Architecture. A 60% reduction in operational energy use per m2 was demonstrated, despite floor area increasing and greater environmental control throughout the building.
Project of the Year – Commercial/ Industrial
Winner: Amorepacific HQ, Seoul – Arup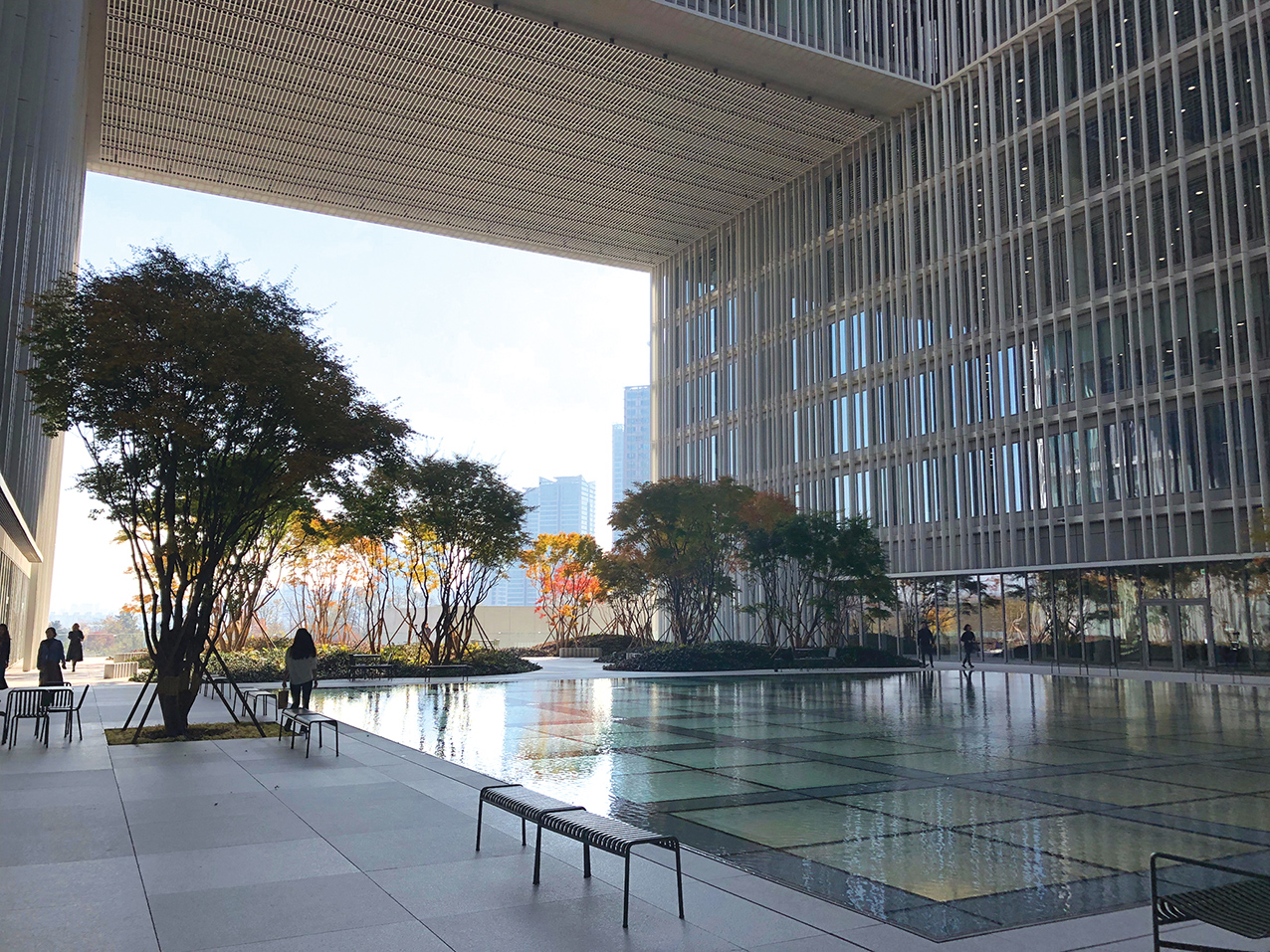 The stunning Amorepacific building was praised for its range of features that address local challenges and the global climate agenda. Over 29 storeys and 216,000m2, the landmark HQ for South Korea's largest cosmetics firm includes company facilities, a public atrium, museum, auditorium and conference centre. Arup's brief was to create an exemplar for low energy and sustainability, and this influenced design decisions from the macro scale – volume, height and shape – to the micro scale , with controls, metering and custom luminaires. The result is a building that has the form, materials and systems to provide an excellent working environment that is low energy in use. This is borne out by the operational energy performance, which is 50% below South Korean benchmarks for commercial buildings.
Delicate brise soleil cladding contributes significantly to the aesthetic and environmental performance , while the natural ventilation, shading and underfloor air conditioning are integral to the low carbon approach. It was awarded LEED Gold (Core and Shell 2009) by the USGBC.
The judges commended the project for its contribution to the quality of life for the building's occupants and visitors.
● Highly commended: DaiyaGate Ikebukuro – Nikken Sekkei
Project of the Year – Residential
Winner: Camden Mews – Max Fordham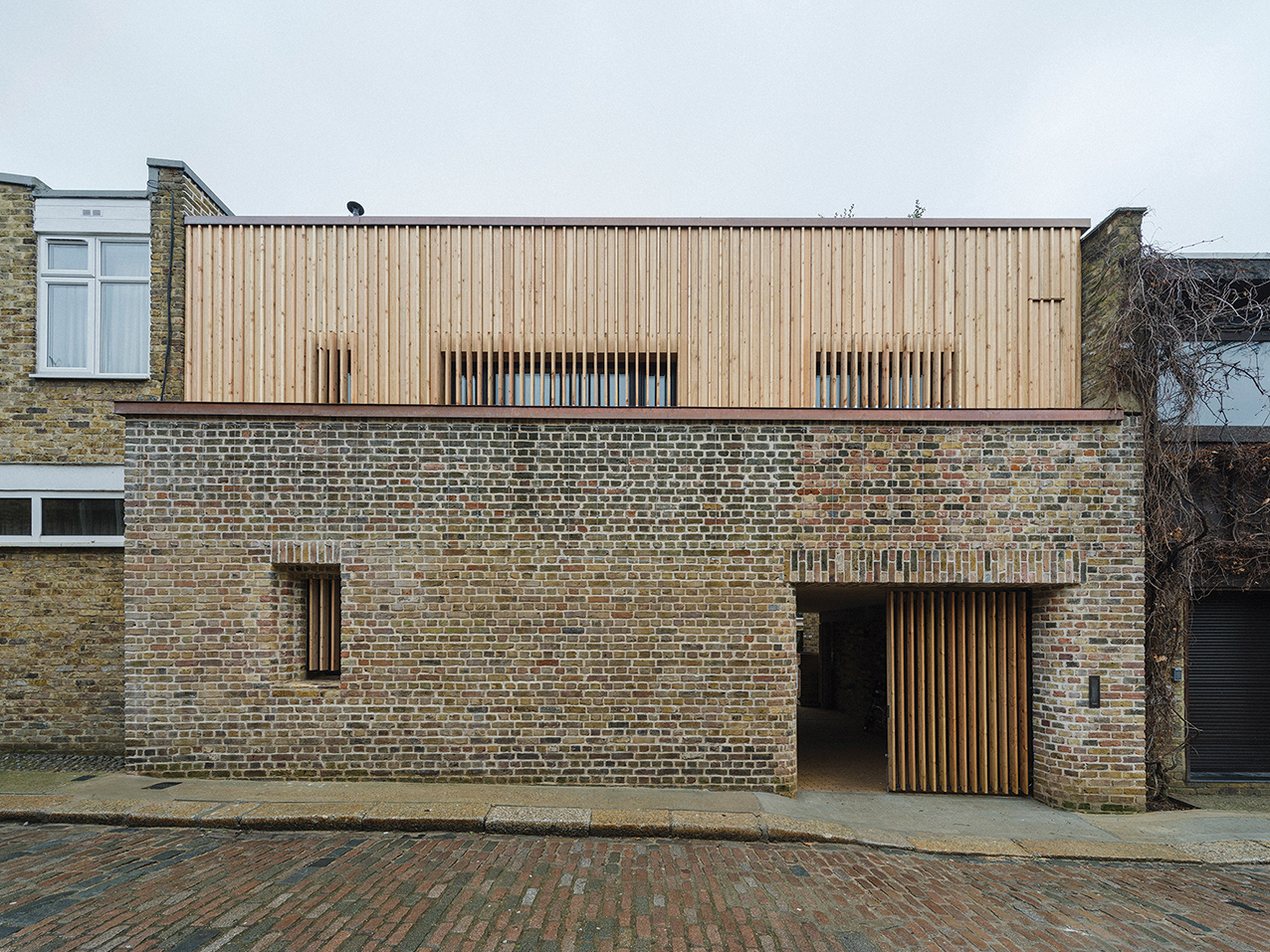 This winning project's design intent of zero heating impressed the judges, who were interested in the range of innovations and how they might be scalable and replicable.
Using the Passivhaus standard, the building was designed so the heat loss on a cold winter's day would be no more than the heat generated by the people within. It was expected that a rooftop PV array could meet the annual energy demands of the house.
With its thermally massive structure, effective window opening areas, glossy white external finishes to window shutters, and effective night-time ventilation, the building is also designed to stay comfortable in extremely hot weather (its peak measured internal temperature was 28°C on 25 July 2019, when London reached 38°C). Building a new house on a small infill site in a narrow, cobbled mews brought spatial and planning constraints, however. Planted terraces were needed to reduce overlooking by neighbours, but this meant a bigger thermal envelope and smaller roof area for the PV – ultimately thwarting the zero-heating aspiration.
The judges noted the maximisation of daylight and warm lighting, while inclusivity aspects and separation for ageing occupants also impressed – as did the consideration of embodied energy, well ahead of requirements.
Project of the Year – International
Winner: DaiyaGate Ikebukuro – Nikken Sekkei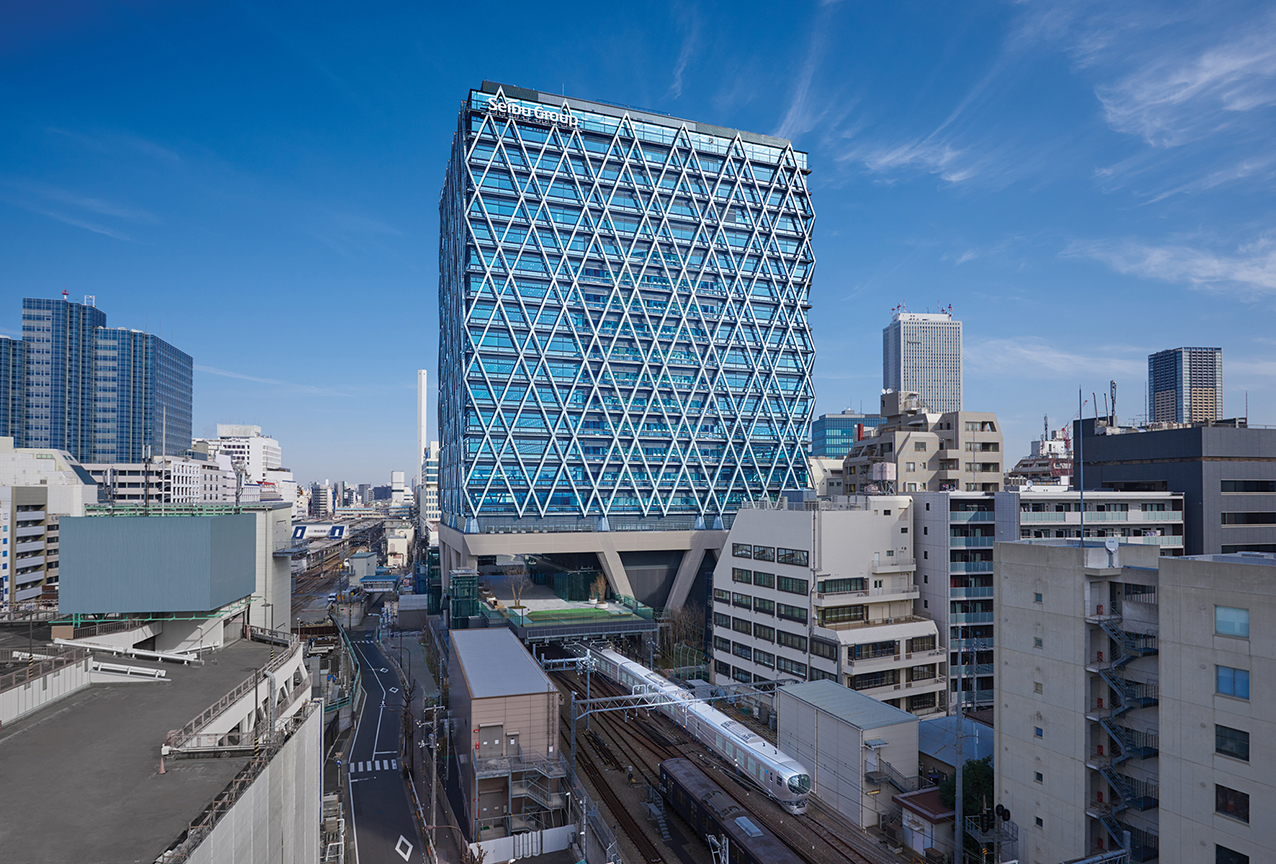 Nikken Sekkei's multidimensional approach to building performance was key to the success of DaiyaGate Ikebukuro in Japan. Despite being a very complex project – it is connected to and constructed over Tokyo's busy Ikebukuro Station – the judges said the project was a great example of a 'digital twin'.
With earthquakes a risk in Tokyo, the building had to be capable of providing refuge for up to 85,000 people. The MEP design also had to achieve robust seismic resilience and redundancy, effective and flexible office space, occupant comfort, energy conservation, large floor plates and high environmental performance.
Part of the solution was the development of a new perimeter through-wall-unit , using exhaust heat recovery, for independent cooling/heating and ventilation of each office area . Actual primary energy consumption was reduced by about 50% compared with a baseline building , and the peak power demand of the whole building is very low, at 38W/m2
.
● Highly Commended: Monash Gillies Hall – Aecom
Project of the Year – Retrofit
Winner: Abu Dhabi Department of Energy (DOE) Energy Retrofit Pilot Project – GRFN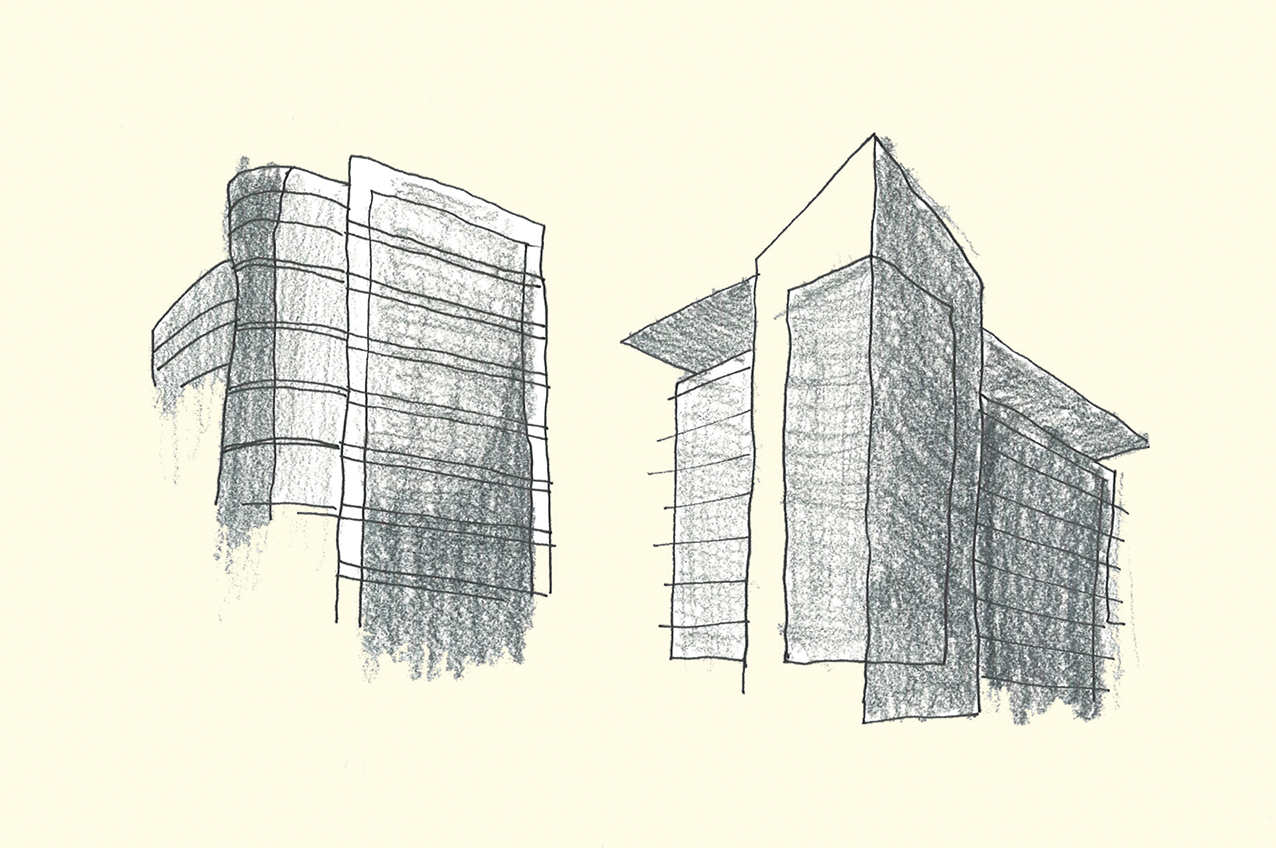 Realising significant energy savings with minimal intervention helped GRFN land this award. The target was to retrofit eight buildings owned by the Department of Energy (DoE) in Abu Dhabi and the city of Al Ain. It is part of the DOE's strategy to reduce electricity and water consumption in the Emirate's public sector by 22% and 32% respectively by 2030 (compared with 2013).
GRFN retrofitted the building systems, from the plantroom through to the occupied spaces. The judges praised the relatively light-touch approach and us e of proven technology, which produced significant improvement in performance. The eight buildings saw an average baseline energy use index of 470kWh. m-2 per year reduced to 293kWh. m-2 per year – a saving of around 38% over an 11-month implementation period, with less than seven years' payback on investment. [/well]
Building Performance Engineer of the Year
Winner: Aleksandra (Sasha) Krstanovic – mstep (formerly of Aecom)
Award sponsored by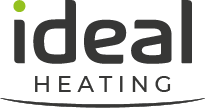 Sasha Krstanovic has been named Building Performance Engineer of the Year after impressing the judges with her enthusiasm for inspiring the next generation of engineers to take an active role in building performance.
The judges described her proactive approach to informal post-occupancy evaluation as unique, allowing her to discover and ameliorate issues, particularly in innovative systems. They felt Krstanovic's passion for the role of engineers in mitigating climate change makes her a great ambassador for CIBSE .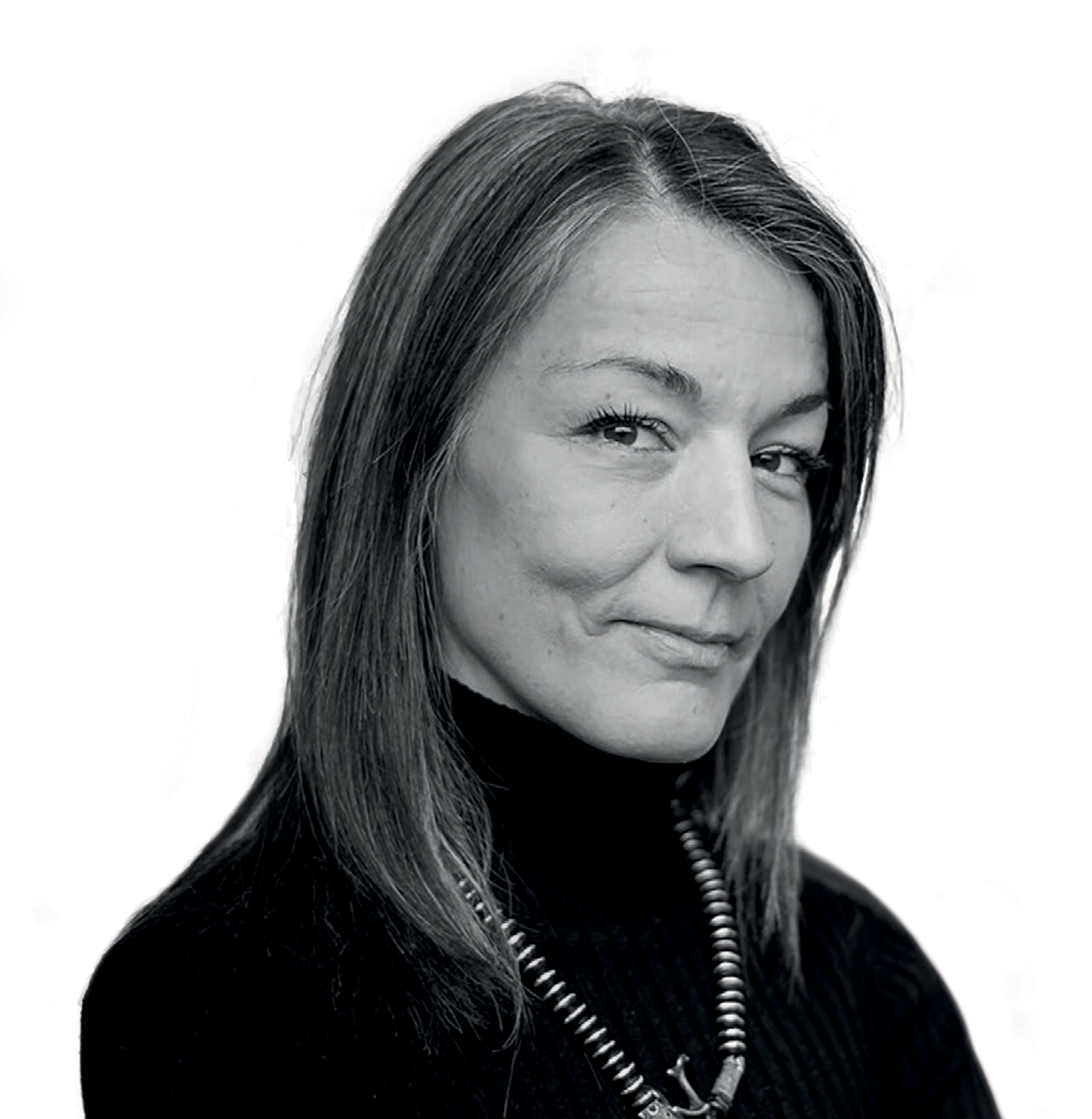 Sasha Krstanovic
'Sasha's view that the challenges we face as an industry must be tackled not only with our skills, but also with a completely different mindset is very refreshing and inspiring,' the judges said.
In an industry with few female role models in leadership positions, the director, chartered engineer and Fellow of CIBSE has broken the mould. As an experienced designer, Krstanovic challenges the norm, and has delivered exemplar low energy/carbon projects, including:
University of Nottingham, Energy Technology Building – world's
first zero carbon laboratory
The Apex, Bury St Edmunds – a music auditorium heated and cooled by an underground lake
The Turnmill – London's first speculative commercial office to rely
solely on ground source heat pumps for heating and cooling.
Krstanovic recently started her own MEP/environmental engineering
consultancy mstep. With Aecom, she recently helped transform the UN's headquarters in Geneva, introducing smart working, while using circular economy principles to bring this historic building into the 21st century.
To produce better multidisciplinary design, Krstanovic created the Better Buildings group at Aecom, which has led to new design standards, to include sustainability and building performance checks in reviews at each stage of a project.
She also tutors at Nottingham University School of Architecture and on the Loughborough University Intelligent Buildings Course, giving monthly talks and workshops for architects, engineers and clients on the practical application of low energy/low carbon solutions. As a CIBSE volunteer mentor, Krstanovic helps women at the mid-stage of their career . She also guides engineers towards chartership.
The nominees in this category were outstanding, the judges said, and inspired them to consider how critical the building services engineer's role is to achieving our ambitions for safe, net-zero buildings.
Consultancy of the Year – Up to 50 employees
Winner: Lawler Consulting
Lawler Consulting is 'walking the talk', the judges said, with the FitWell analysis of its head office in Kilkenny, Ireland, which has numerous features that support the wellbeing of its employees. The multidisciplinary consultancy – which also has offices in Dublin, Cork and London – submitted a comprehensive and well-evidenced entry, the judges added, with strong and relevant supporting documentation.
It provided real evidence of work done and achievements with local authorities and commercial firms, including Dublin City Council and Meubles Furniture Store.
The judges were impressed by Lawler's focus on the net-zero carbon agenda, and on occupant and client satisfaction. In particular, they commented on the company making delivery of energy performance a standalone service offering.
An upfront bond is provided to the client and withheld until the intended energy performance is achieved, typically after 12 months' occupancy. This encourages an 'energy in use' approach, which Lawler claims is a much more effective way of delivering actual performance. It has led to greater understanding beyond design and commissioning, it said, and enabled it to see the physical implementation, monitoring and verification, and product total life-cycle costing.
The judges also highlighted Lawler's experience of using the NABERS system for improving building performance.
Consultancy of the Year – 51-300 employees
Winner: Carbon Intelligence
London-based Carbon Intelligence was described by the BPA judges as being 'ahead of its time in its service to clients'. In winning a closely fought category, the sustainability consulting and data company impressed with its specialist building performance knowledge – in particular, its expertise in the net-zero carbon buildings agenda, and occupant and client satisfaction.
Carbon Intelligence provides advanced smart data solutions for monitoring building performance, and works with businesses as a trusted partner and adviser, placing its team within the client team to deliver their expert services. Its ADAPT platform collates, verifies and analyses data, using machine-learning to create performance benchmarks and highlight and even diagnose problems, alerting site teams and engineers to appropriate actions.
During the Covid-19 lockdowns, this approach has helped several clients reduce their energy consumption by more than 70% – well above the average reduction of 16% – resulting in significant cost and carbon savings. It is now being applied to support clients to safely and successfully reopen workplaces. Carbon Intelligence has worked with UK-GBC and others to develop technical guides, and participates in working groups looking at advancing net zero buildings and developing energy performance targets for net-zero carbon offices.
Facilities Management
Winner: London South Bank University Campus – London South Bank University
Award sponsored by
'A true FM submission that focused on more than just building performance' was one reason cited by the judges for London South Bank University (LSBU) Estates Department winning this award. They also noted the praise of academic stakeholders for the team, while the entry contained excellent instances of knowledge transfer and training of future engineers.
The university hosts more than 17,000 students across 14 campus buildings in central London, and the judges were impressed by the examples of overcoming the challenges of working within live, densely occupied and ageing city centre buildings. Over the past decade, the FM team has reduced carbon emissions across the campus by 85%. It has also cut water use by around 25 million litres per year.
Among the projects LSBU has implemented is the installation, maintenance and optimisation of a balanced energy network – the first 5th-generation heat network in the UK –which uses high-temperature heat pumps to offset gas use in two of the largest buildings on campus. It also replaced four ageing ground source heat pumps in one building with two reversible heat pumps providing low carbon heating and cooling. [/well]
Product or innovation of the Year – Wellbeing
Winner: Productivity mapping; making the business case for wellbeing – Cundall
Award sponsored by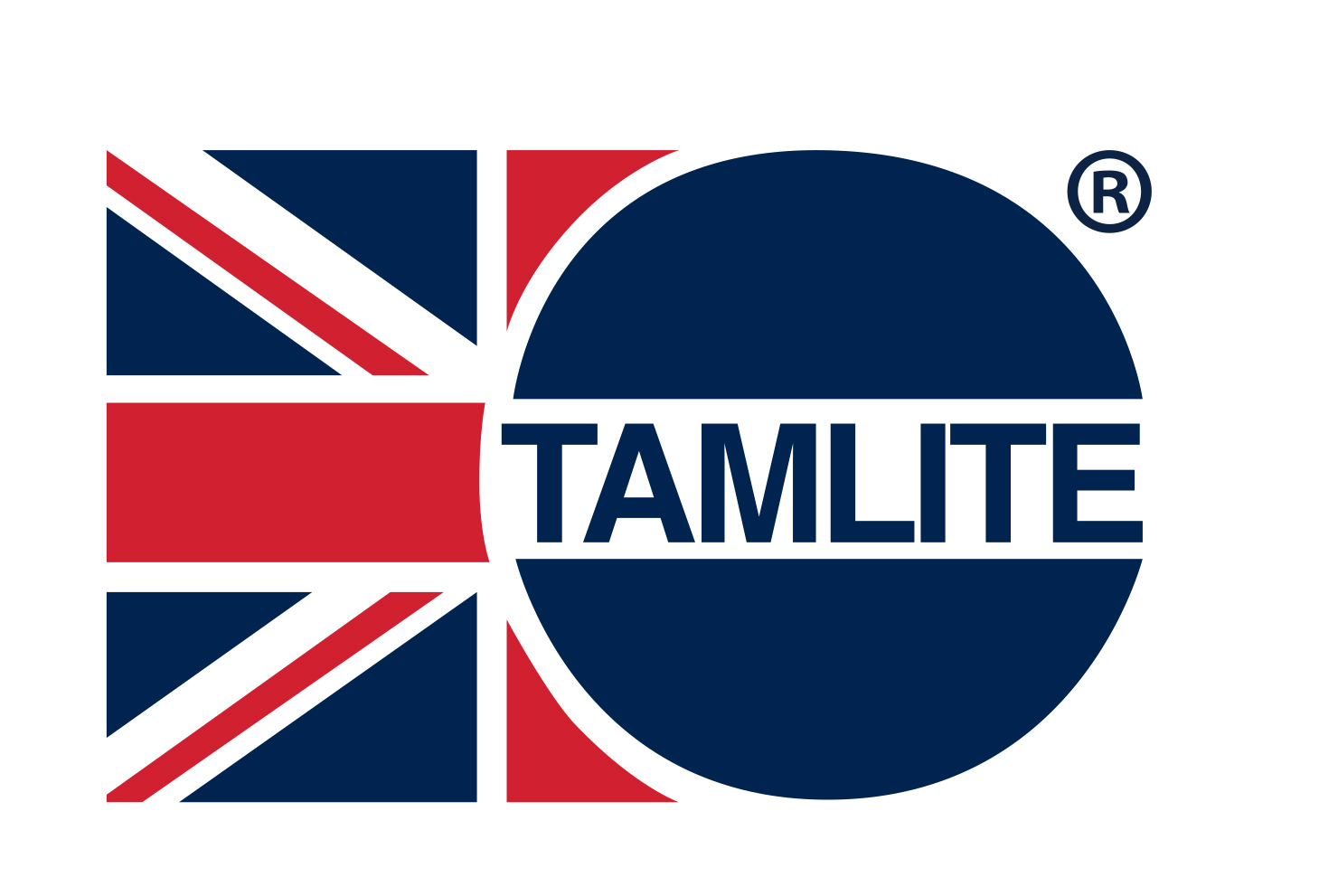 Cundall has developed a toolkit that makes the case for investing in workplace design by demonstrating how it can increase wellbeing and productivity – and, ultimately, save on overall operating costs. Its productivity mapping tool quantifies elements of the indoor environmental quality, such as temperature, CO2 levels and daylight, and can be used to measure and optimise employee productivity in existing workplaces, as well as at the design stage of new buildings.
The company used the latest academic and industry research to produce a bespoke parametric modelling tool that demonstrates where occupant performance metrics are linked with the environmental parameters of thermal comfort, CO2 and daylighting on an hourly basis.
The data can be used to aggregate the loss of productivity, which – when combined with an organisation's revenue or the salary costs of the occupier – provides an assessment of the financial impact for a range of measures. When linked with the capital costs, it can be used to show the financial return on investment of each intervention.
Praising the mapping tool for the effective way it demonstrates to clients the impact of wellbeing, judges said Cundall had found a novel way to assess wellbeing and link it to productivity
Product or Innovation of the Year – Thermal Comfort
Winner: VirtuPVT – Naked Energy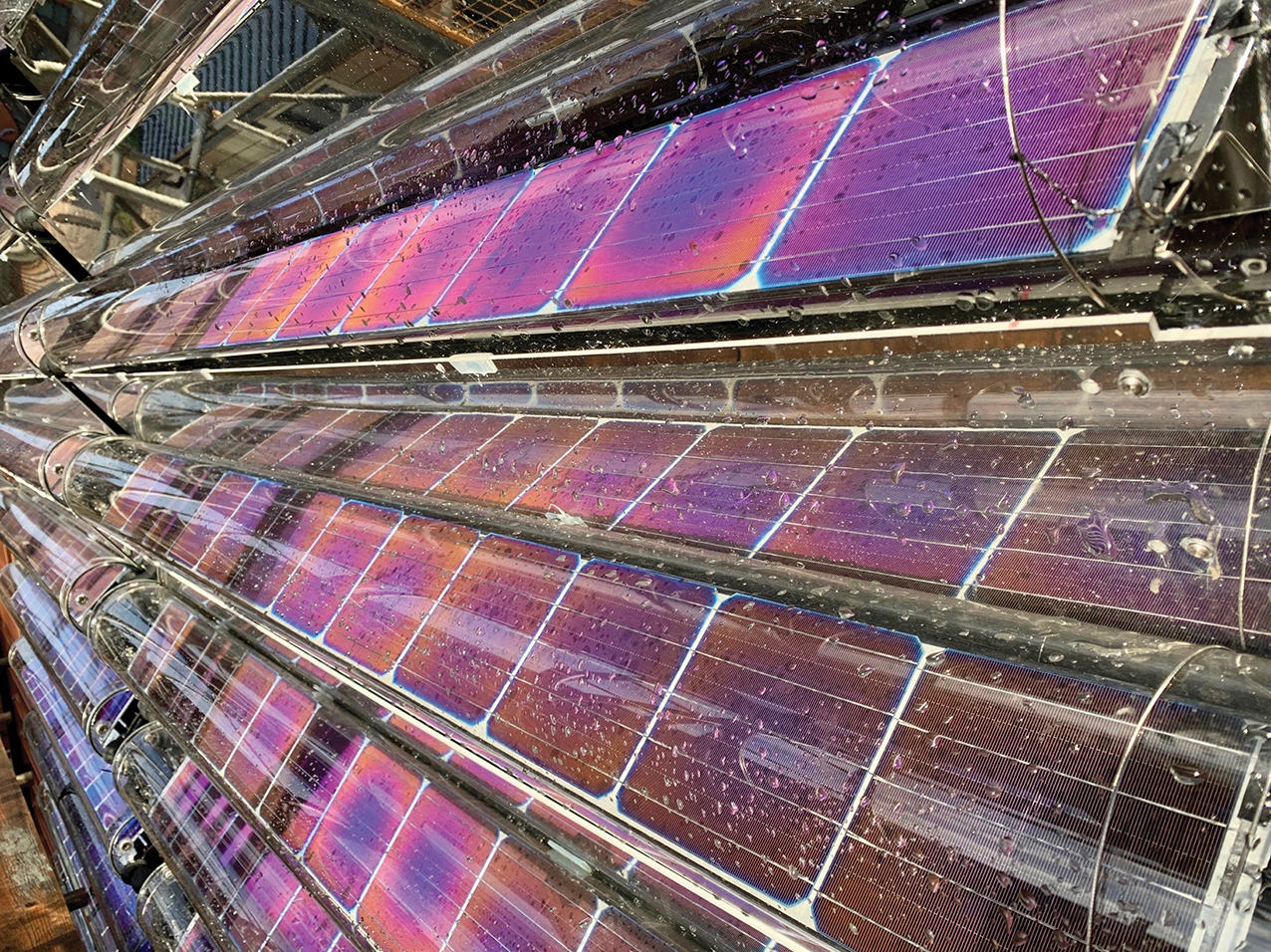 Naked Energy's VirtuPVT stood 'head and shoulders above the rest', according the judges, who said it achieves cleaner integration of renewable technologies in buildings to meet 21st-century energy needs.
VirtuPVT combines thermal and solar PV, and allows buildings to offset gas and electricity consumption. Its unique vacuum-tube PVT design means it can deliver heat up to 70°C, so can contribute to domestic hot water, space heating and process heat, while simultaneously producing electricity for onsite consumption or export.
The tubes can be mounted vertically or horizontally, and are optimised for visual impact and wind loading. Each tube can deliver a maximum of 275kW thermal and 70kW electrical, and – in the UK – typical yield is expected to be around 213kWhth and 60kWhe per tube.
By adding the 20% efficiency of PV cells to the 60% efficiency of a solar thermal collector, VirtuPVT can achieve total efficiencies of up to 80%, making it the highest energy-density solar technology in the world. [/well]
Collaboration
Winner: Streatham and Clapham High School – OR Consulting Engineers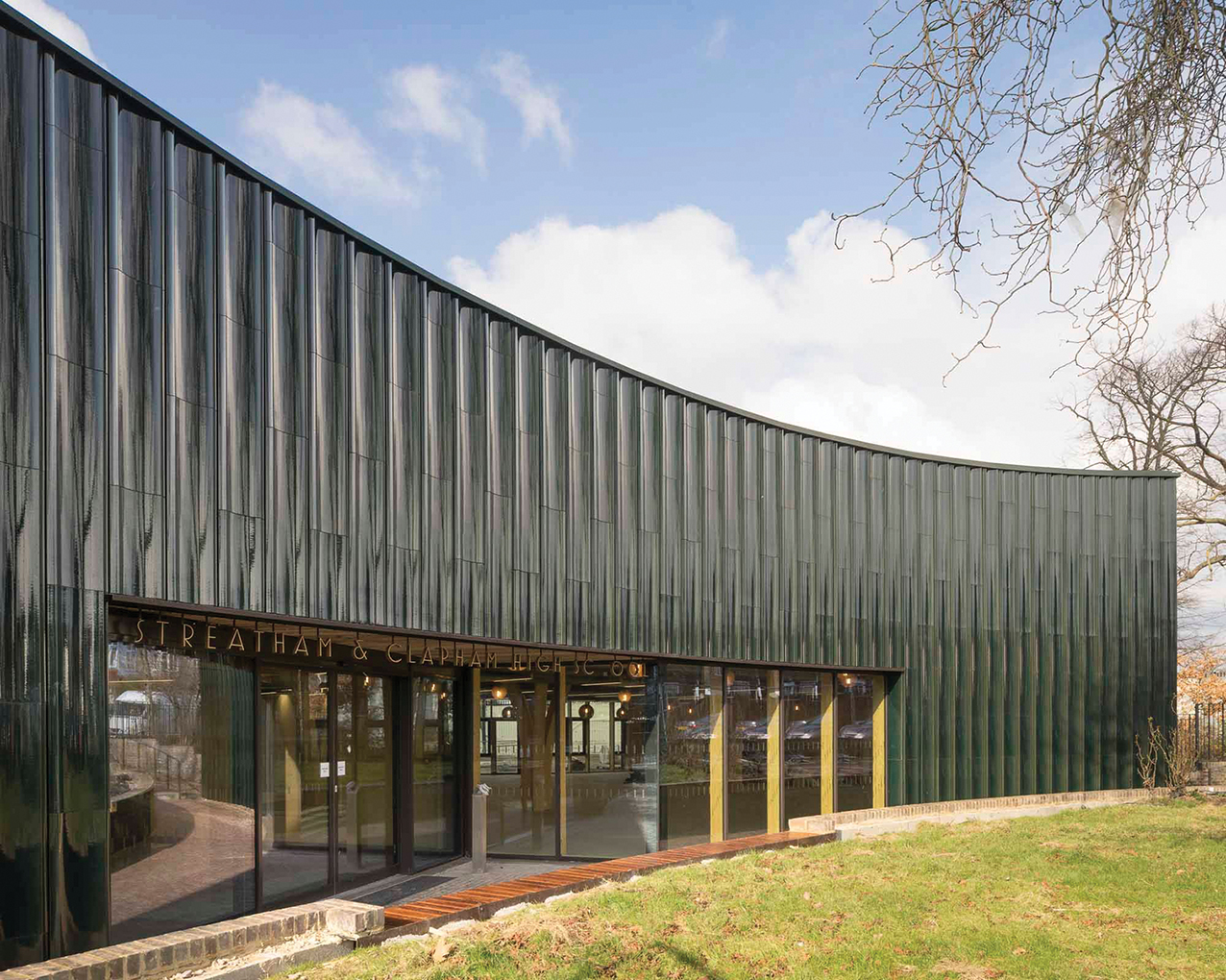 Extending a busy London high school while keeping it fully operational and adopting a 'green' design strategy was a challenge OR Consulting Engineers met, thanks to close collaborative working with stakeholders.
The Girls' Day School Trust, wanted to extend the school to cater for new flexible teaching, a sixth form and dining spaces, but increasing the footprint of site excavation or introducing boreholes was not permitted.
At every step, the team undertook workshops for the client, teachers, pupils and neighbours to ensure all parties understood what was being proposed.
A document-sharing portal was set up, Revit and SketchUp were used to communicate ideas, and simple mock-ups were built to test plans. Judges said the project showed a clear structured and collaborative approach – with an exemplar use of post-occupancy evaluation.