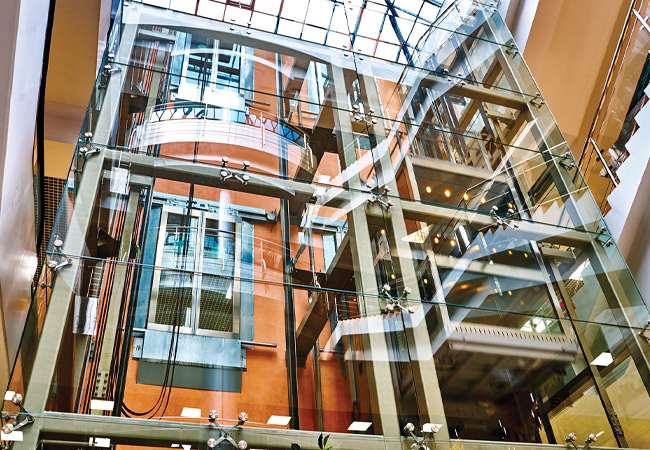 An updated edition of CIBSE Guide D: Transportation systems in buildings has  been published.
First published in 1993, the guide has been updated on a regular five-year cycle, and offers a one-stop-shop for practitioners involved in building transportation.
It will be of interest to architects and developers, along with facilities and building managers who may not be directly concerned with the design and installation of lifts and escalators but need to understand specialist advice.
The guide should also be of value to students embarking on a career in mechanical, electrical or building services engineering and those already practising in these disciplines who wish to enhance their knowledge.
The guide notes how some things, such as components, change slowly, while others – such as drive systems – continue to evolve. These developments, together with the increased knowledge of this area, are presented in the new guide.
The design of any lift of escalator system must commence with a consideration of the traffic flows through the building. The guide covers the relevant factors for consideration, along with the guidance on the location and arrangement of lifts, escalators and moving walks.
It also covers lift design simulation and lift traffic design calculation, considering them together. The recommended design parameters have been updated to align more closely with those proposed by the British Council for Offices.
The guide offers a thorough review of the various types of vertical transportation systems and has been updated with new products, and applications, including bike lifts and rigid chain technology.
The section on firefighters' lifts and evacuation lifts has been completely rewritten to cover extensive changes in codes and standards.
The proper commissioning, thorough examination, inspection and preventive maintenance of lifts, escalators, moving walks, lifting platforms and stairlifts is critical to ensure that the safety and capital value of these assets are maintained, and this areas has also been extensively revised in this new edition.
The publication provides guidance and recommendations and makes extensive reference to British and International standards throughout.
Guide D is available on the CIBSE Knowledge Portal cibse.org/knowledge.
For CIBSE Guidance on managing lifts during the current pandemic cibse.org/coronavirus-covid-19/emerging-from-lockdown