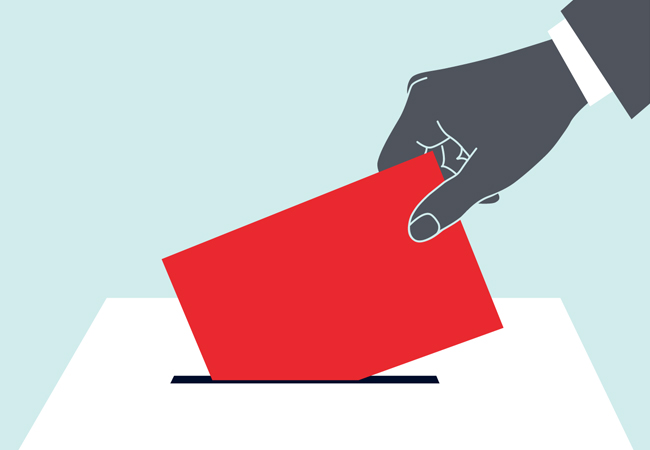 CIBSE will run a ballot to elect officers and board members to take office following the AGM on 5 May. The ballot, organised by the Electoral Reform Services on behalf of CIBSE, will – as far as possible – be conducted electronically.
All corporate members – Fellows, Members, Associates and Licentiates – are entitled, and encouraged, to vote.
An email, with a unique code allowing you to vote, will be sent from the Electoral Reform Society this month to all corporate members. Where no email address is available, a letter will be sent.
Candidate information will also be provided on the ballot website.
The board has a vital role in ensuring that CIBSE has a successful and vibrant future, so please take this opportunity to have your say in the selection of its members.
The board is the governing body of the Institution, made up of seven officers – president, president elect, immediate past president, three vice-presidents and honorary treasurer – plus five elected board members.
Officers and elected board members are the trustees of CIBSE – a registered charity – and are responsible for all the Institution's activities. They are also accountable to the Charity Commission for ensuring that CIBSE follows its charitable objectives.
Elected board members serve a three-year term; the president elect, vice-presidents and honorary treasurer are each elected for one year. The president elect automatically takes office as president in the subsequent year, before becoming immediate past president.
Nominations for the positions come either from the board or from CIBSE corporate members. The board is required by the Institution's regulations to nominate candidates; suggestions are put forward by the nominations panel after careful consideration, taking into account the balance of board membership, skills and experience required, and the need for succession planning. Nominations are then formally confirmed, and published in CIBSE Journal.
The Institutions Regulations provide for additional nominations to be made by Corporate members for any of the positions open for election. These candidates must be supported by at least 10 nominations for corporate members.
When additional nominations are received – such as on this occasion – a ballot is held for all positions for which there are more candidates than vacancies.
Under the Institution's regulations, only corporate members are entitled to vote.
We want as many members as possible to vote if they are eligible to do so, so please make sure your details are up to date and that they include a valid email address.