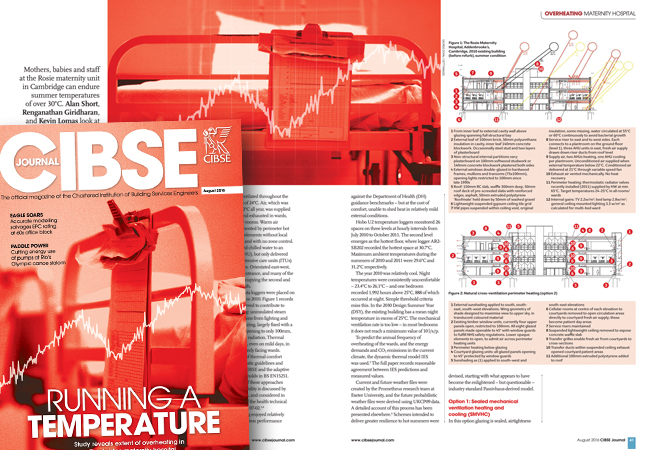 The Napier Shaw and the Carter Bronze Medals have both been awarded to papers exploring the impact of climate change and rising temperatures – one on maternity wards, and one looking at indoor air quality.
Alan Short, from the University of Cambridge, Giridharan Renganathan, from the University of Kent, and Kevin Lomas, from the University of Loughborough, have won the Cater Bronze Medal for their paper A medium-rise 1970s maternity hospital in the east of England: Resilience and adaptation to climate change.
The paper looked at what can be done to improve resilience to increasingly hot summers at the 1983 Rosie maternity facility at Addenbrooke's Hospital. Currently no policies exist to ensure these critical facilities remain tolerable in high heat. (For more, see 'Heat Stress', August 2016 CIBSE Journal)
Jonathon Taylor, Anna Mavrogianni, Mike Davies et al, all from the Institute of Environmental Design and Engineering at UCL, won the Napier Shaw Bronze Medal for their paper Understanding and mitigating overheating and indoor PM2.5 risks using coupled temperature and indoor air quality models.
Their paper explores the impact that rising temperatures can have on the indoor air quality of different dwellings and, in particular indoor air pollution levels from outdoor sources.
It found a significant increase in occupant indoor exposure to PM2.5 from outdoor sources in dwellings when natural ventilation is used to reduce indoor temperatures.
The Carter and Napier Shaw Bronze Medals have been awarded by CIBSE for more than 30 years, and are presented to the highest rated papers of the year on application and research respectively, published in Building Services Engineering Research and Technology (BSERT). The prizes will be awarded at the CIBSE President's dinner in October.
CIBSE members can access BSERT Journal and Lighting Research and Technology (LR&T) Journal at the Knowledge Portal.
CIBSE members actively researching building services-related fields are invited to submit papers to BSERT. For more details see http://bit.ly/2bfNEkz or email: s.j.rees@leeds.ac.uk