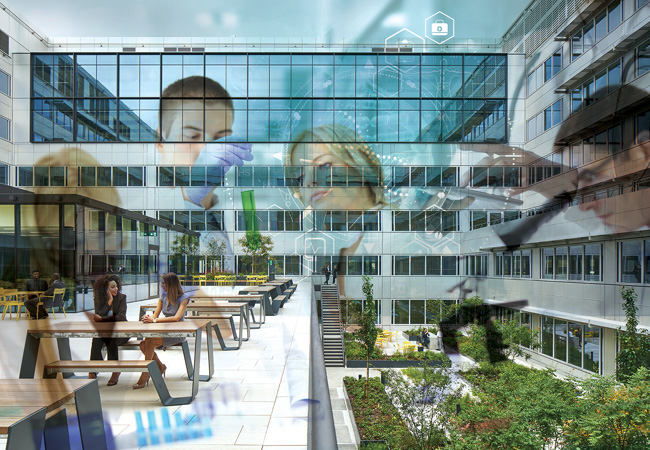 The labs and office space circle a central courtyard at the former BBC building
Last Autumn, the first scientists working for pioneering biotech company Engitix Therapeutics moved into their new laboratory in The WestWorks building, part of the White City Place development in West London.
The drug-discovery company's new 800m2 headquarters includes tissue-culture rooms, decellularisation rooms (where cells are removed from organs), a fridge-freezer room, and an autoclave/utility room, plus write-up spaces and offices. 'Engitix is at the cutting edge of scientific endeavour; we're carrying out world-class science, so we need world-class facilities,' says Stephen Brindle, chief operating officer at Engitix.
Engitix joins other leading life-sciences businesses – including Synthace, GammaDelta and Mapletree – on the fourth floor of The WestWorks building. What makes this arrangement unusual is that this scientific endeavour is taking place in an office building that previously housed the BBC. More surprising still is that the other floors are occupied by more conventional office-based businesses.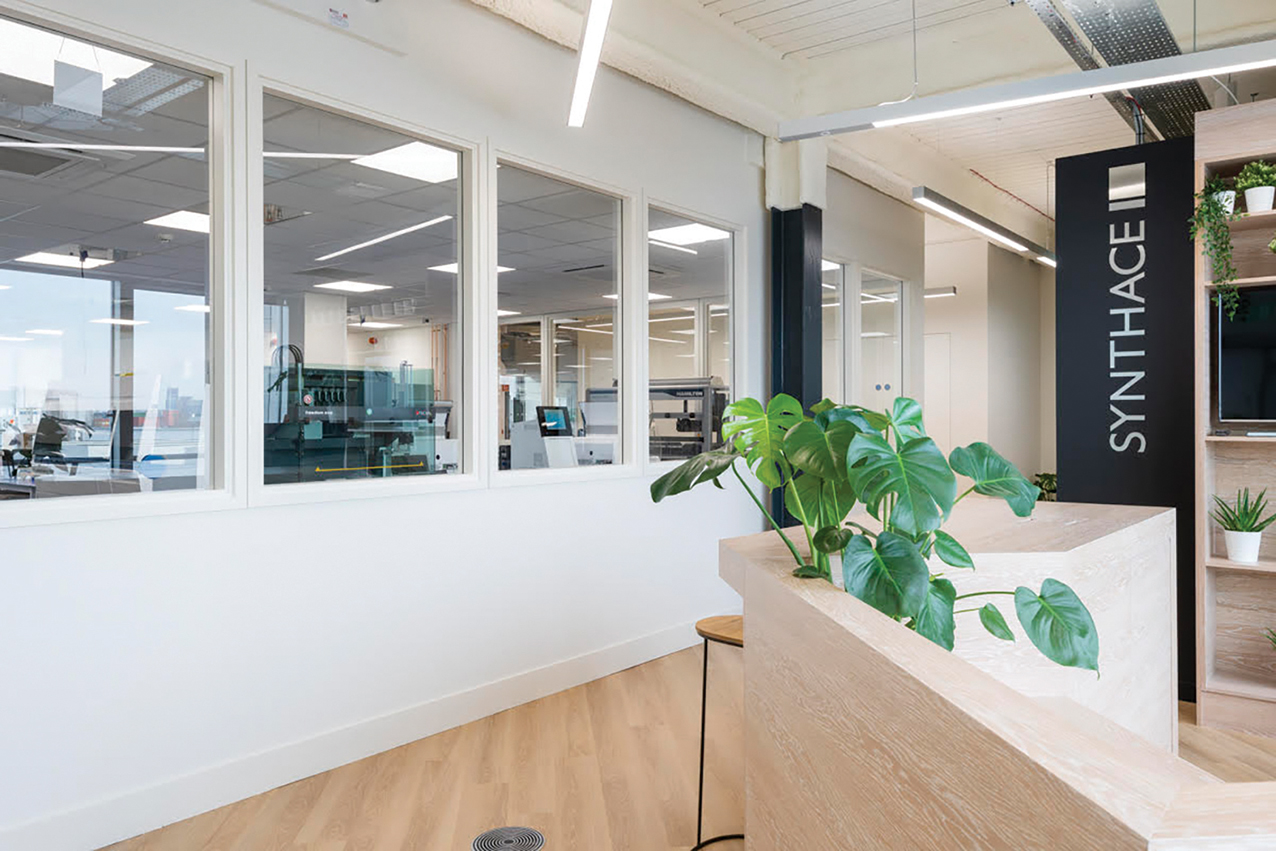 Synthace is one of several lifesciences firms at The WestWorks
'It looks like a grade A office when you enter on the ground floor but, if you go up to the fourth floor, you are entering a proper laboratory environment,' says Richard Beer, executive engineer at Sweco.
Sweco designed the building services for Engitix's new facilities. It was also the engineer responsible for The WestWorks base-build services design, following an extensive refurbishment in 2017 after the building was purchased from the BBC by developer Stanhope. In addition, Sweco designed the subsequent Cat A fit-out of the six floors of offices that circle the building's central courtyard.
Fit-out of the floors included removal of the suspended ceilings to reveal concrete soffits, and installation of an underfloor displacement ventilation system, with perimeter trench heating and cooling. The system is served by roof-mounted boilers, air handling units (AHUs) and air-cooled chillers.
'The displacement system is designed to provide cooling to the office floors, while the perimeter units temper conditions at the edge of the floors on both the outer and inner courtyard elevations,' explains Beer.
The tenant's perspective
'Synthace is an interdisciplinary team of computer scientists, biologists and mathematicians pioneering new ways of working in biology,' says Adam Tozer, head of marketing at the company. 'It develops software to enable scientists to run powerful, automated experiments, generating datasets that are appropriate for sophisticated analysis.
'The office and lab space on offer at The WestWorks were a big draw, and we were excited to become neighbours with other pioneering bioscience companies in White City, such as Novartis, Autolus and GammaDelta Therapeutics.
'Despite being a software company, we also have a wet lab, where our team of scientists use our software platform, Antha, to automate sophisticated liquid-handling robots. Our lab contains everything you might see in the lab of a biotech fi rm, including a cell culture facility.
This requires us to run a lot of scientific equipment and specialist installations, such as fume hoods and ultra-low temperature freezers, as well as to have the capability to handle scientific material and waste.
'Our labs are designed with total flexibility in mind, allowing us to draw on power and gas supplied from the ceiling, so we can create automation islands and recreate our clients' workstations. In specifying the lab, we needed to include three-phase power, a reinforced floor area for heavy equipment, and greatly enhanced air handling.
'Safety systems are built into the lab, and we worked with the landlord to build in safe gas handling and storage and waste disposal routes.
Stanhope anticipates growing demand for space from biotech firms eager to be part of the flourishing cluster of life-sciences businesses at White City. So it tasked Sweco with devising a scheme to enable the top two floors of The WestWorks to be adapted from conventional offices into Containment Level 2 laboratory spaces, making them suitable for biotech experiments. The engineer was helped by the floor-to-soffit height of 3.8m, which were high enough to allow ductwork and fume cupboard extracts to be routed at high level.
The solution involved stripping out the Cat A, and the tenants installed a new cleanroom-standard suspended ceiling. Sweco added a small, on-floor plantroom in each tenancy, to house the air handling plant required to keep the laboratories supplied with fresh air and fume-cupboard make-up air. The plantroom is connected to the outside by louvres set into the courtyard façade.
We developed a means of adapting the base-build scheme for life-sciences tenants, but the adaptations were not applied until a tenant was on board, which meant we were able to incorporate their specific requirements
'We developed a means of adapting the base-build scheme for life-sciences tenants, but the adaptations were not applied until a tenant was on board, which meant we were able to incorporate their specific requirements,' says Beer.
The on-floor AHUs are sized to deliver an air change rate of between six and 10 air changes per hour in the labs. They are supplied with heating and cooling from the landlord's system, with any additional cooling provision from tenant-installed cooling coils connected to a direct expansion system. This arrangement gives tenants the option of close control over their laboratory conditions, while the additional cooling provision ensures cooling is always available – including overnight, when the base-build chillers do not run.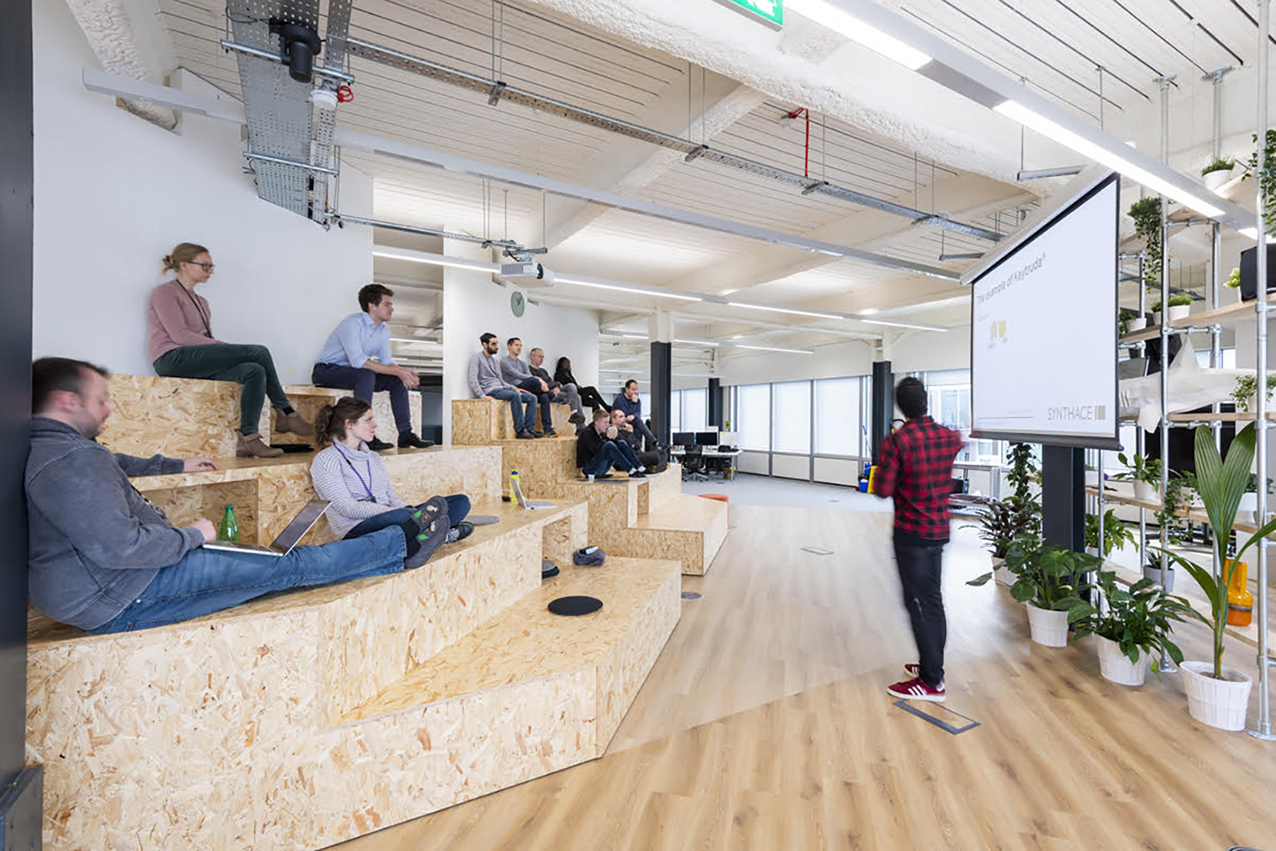 Some laboratories also need specialist gases, such as carbon dioxide and liquid nitrogen. 'The tenants' gas requirements differ, so it didn't make sense to pipe gases to the fourth floor,' says Beer. Instead, a secure bottle store has been created outside the building, along with modified controls to the goods lifts to enable it to run unmanned when delivering gas bottles to the fourth floor.
Other modifications include the addition of a dedicated Vulcathene chemical-resistant drainage system. This is linked to the mains drainage in the basement via a sampling hatch and dilution unit.
The drinking water supply has also had to be separated via a Category 5 separation tank, to eliminate the possibility of contamination. 'We did not want to mix drinking water and hand-washing sinks in a laboratory environment, so there is a break tank and booster pumps to provide a physical disconnect between the laboratories and other spaces in the building,' says Beer.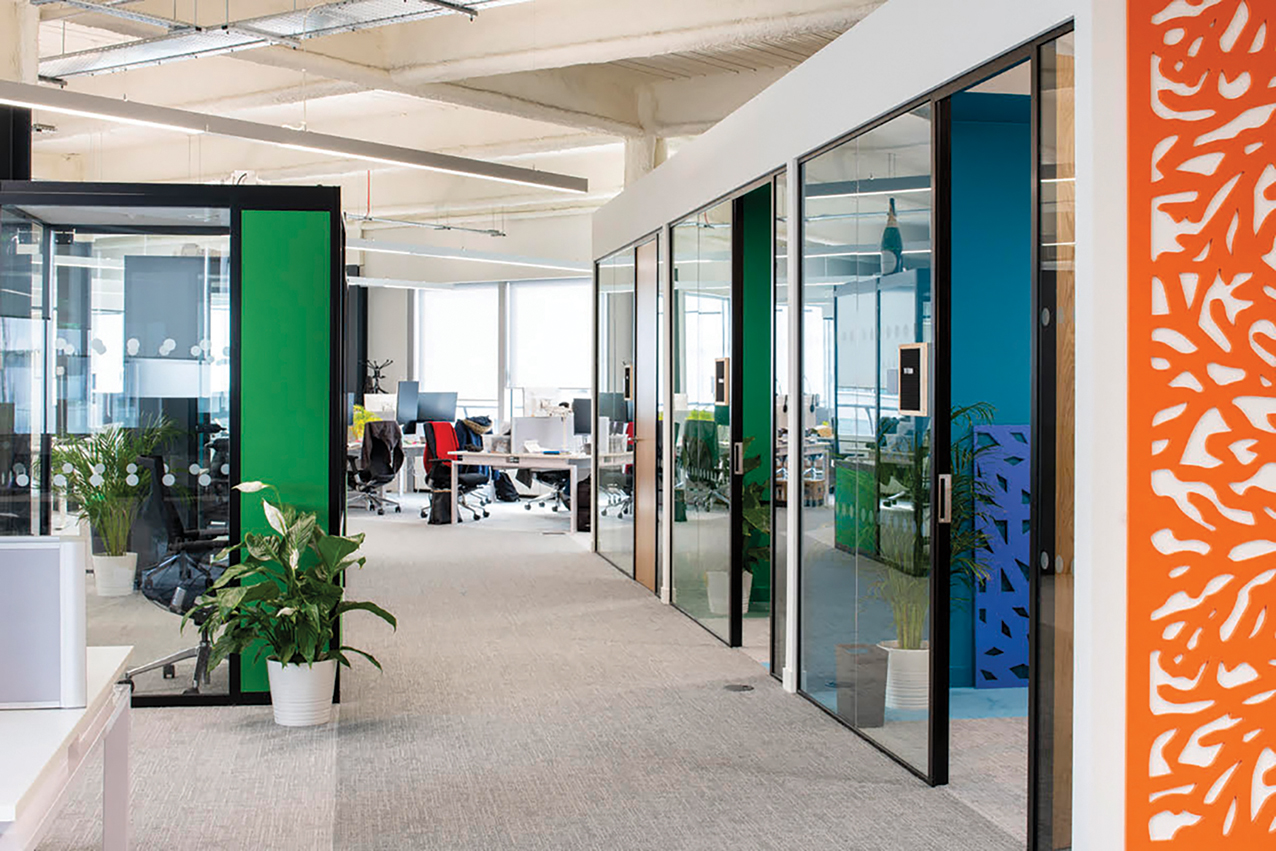 Write-up and office spaces within Synthace's facility
The electrical supply has been enhanced to serve the laboratories. 'Generally, we allow 25W.m-2 for office small power but, in the lab space, we've allowed for 100W.m-2 because of the amount and types of equipment used,' says Conor O'Donoghue, operations director at Sweco.
The WestWorks was an existing building with an existing electrical supply, so an additional power supply now serves the laboratory spaces.
'The existing energy centre serving the other White City Place buildings had spare capacity, so we took an HV [high-voltage] feed from that and used a separate transformer and feed to each tenancy,' says O'Donoghue, adding: 'As we had spare available power capacity in the energy centre that was supplied from an alternate UKPN primary substation, we used some of this spare capacity to meet the increased power demands of the lab spaces while providing diversity of supply for their critical operations.'
This additional feed has the benefit of adding electrical resilience by supplying each laboratory with power from two primary substations. It is a solution that will ensure the fridges and freezers in Engitix's new laboratory will operate come what may, so its scientists can continue with their pioneering drug-discovery work.
The landlord's perspective
When developer Stanhope purchased the BBC's Media Village in west London it set out to redevelop the site as a new business district. It rebranded the site White City Place and quickly refurbished two former BBC buildings – now renamed The WestWorks and The Media Works – to lease as office space.
At the same time, London's Imperial College was creating a new west London campus for its biomedical research and medical sciences facilities. This incorporated a new 'innovation district' and business start-up facilities to help foster the commercialisation of the innovative biotech developments being discovered at the university (see panel,
'How Hoare Lea turned an office building into the Molecular Sciences Research Hub'). These fledgling biotech businesses need space to grow. At the same time, other dynamic bio-tech business were being drawn to the area. 'We realised that there was a pent-up demand for space in London for life sciences that was not being provided,' says Charles Walford, property director at Stanhope.
Stanhope set about commercialising this demand by adapting unlet office floors in The WestWorks and The Media Works, to lease to startup and established biotech businesses as 'lab-enabled office space'. There are currently five established life-sciences companies at White City Place, in addition to several start-ups.
'We were able to accommodate them primarily because we inherited some pretty robust buildings from the BBC, with an enhanced floor-to-ceiling height,' says Walford.
In addition to converting existing buildings, Stanhope is looking to develop lab-enabled new-build offices. Walford says there is currently no speculatively built space in central London suitable to lease to life-sciences businesses, although there are schemes in the pipeline 'because this sector is growing like mad', he says.
Such new developments, however, are not without risk: 'There is no transaction evidence at the moment, so the risk for investors is that they have to spend 30% more on an office building to make it lab-enabled that might end up with office occupiers – so you will have spent 30% more on your project, but without commanding the higher rent'
How Hoare Lea turned an office into the molecular sciences research hub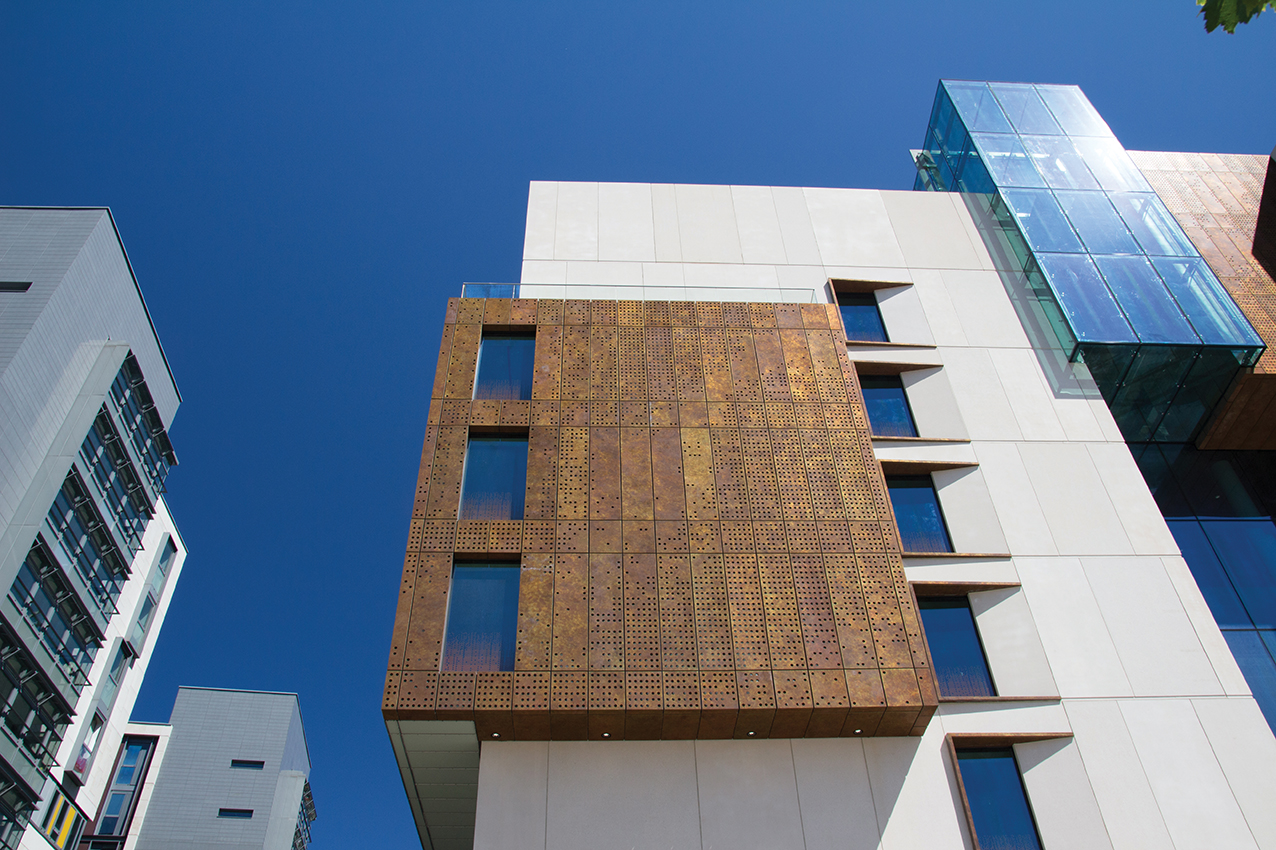 The Molecular Sciences Research Hub was fundamental to the creation of Imperial College's White City Campus. It was developed in 2018 to bring researchers and businesses together to turn scientific discoveries into commercial products, with the wider ambition that the area becomes a destination for bio-tech and digital industries.
The multi-storey building chosen to house the facility started life as a general office. Hoare Lea's task was to turn it into a world leading science facility, complete with specialist laboratories for the college.
One of the biggest challenges with the transformation was in delivering outside air to the various laboratories to replace the air extracted by the building's 330 fume hoods. Their energy efficient solution was to install a variable air volume system to supply the air needed, based on diversified loads, and then direct the supply to the laboratories based on demand.
Dedicated local cooling is provided in areas of high heat gain, while LED lighting helps reduce energy use, which contributed to the building achieving a Breeam Excellent rating