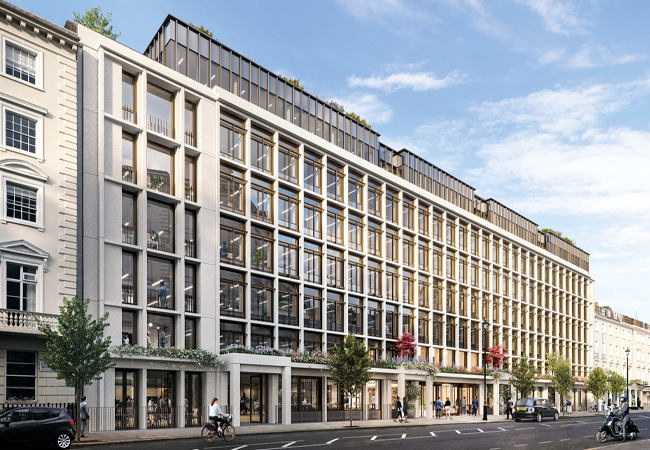 The new offices at 11 Belgrave Road are due for completion in late 2023
The property agents tasked with marketing new office premises at 11 Belgrave Road, London, have some potent marketing collateral at their disposal. The scheme is pre-certified WELL Platinum for health and wellbeing; has achieved WiredScore Platinum certification for digital infrastructure; is aiming for SmartScore Platinum for connectedness; and is targeting Breeam Outstanding.
Arguably, the most impressive of all the sustainable accolades is that the scheme has achieved a 5.5-star Nabers UK Design for Performance target rating for building energy efficiency.
It is the first office building in the UK to achieve this level of performance and one of only three buildings to be pre-certified in the UK. More impressive still, this was achieved despite deciding to target Nabers only once the design was under way.
Due for completion in late 2023, this retrofit office project is set to transform a tired, six-storey, 1950s, concrete-framed building into a modern, state-of-the-art, eight-storey workplace that will set a new benchmark as one of London's most sustainable office buildings.
Designed by engineers Max Fordham, working alongside Eric Parry Architects, the scheme has aspirations to be net zero carbon in both construction and operation, surpassing the RIBA 2030 Climate Challenge for embodied carbon by 38%.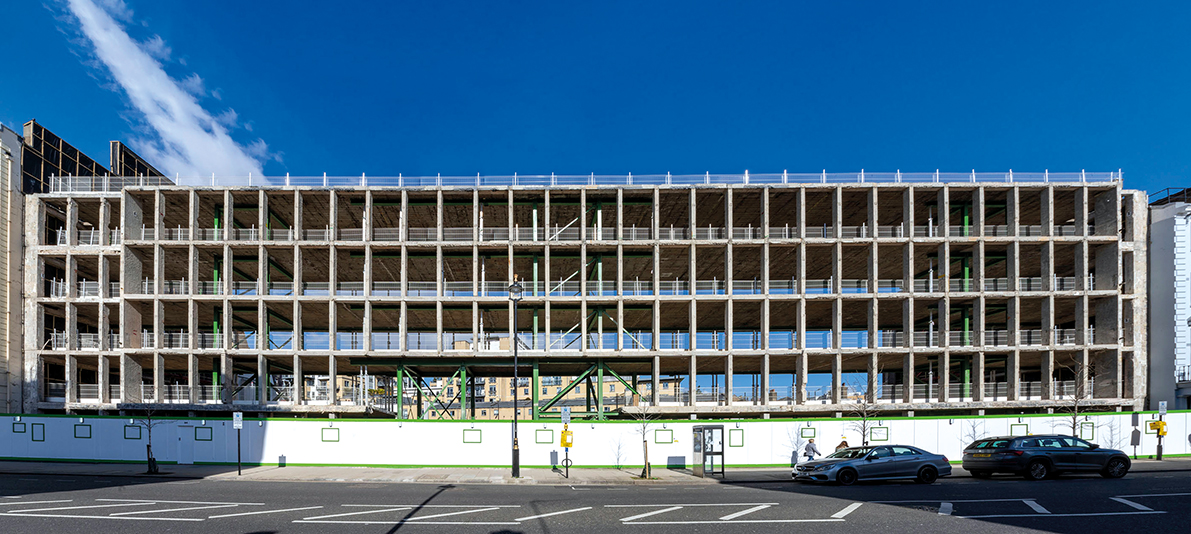 The retained concrete frame facing onto Belgrave Road
Nabers UK is an energy performance rating scheme for offices, which has been adopted from Australia. It provides a rating from one star (worst-performing) to six stars (best-performing). There are two sets of ratings: Nabers UK Design for Performance, which is given for new office development designs before completion, and Nabers UK Energy for Offices, which measures and rates the actual energy consumed in supplying building services to the base building when it is in use.
This simple system will help the owners of 11 Belgrave Road, Quadrum Global, to see how it performs against other similar buildings. 'What makes Nabers so good is that it is a way of benchmarking the HVAC energy use, over which the landlord has control,' says Dean Irvine, senior engineer and partner at Max Fordham.
To determine what HVAC energy is the responsibility of the landlord, rather than tenants, Nabers requires a thorough metering strategy, though Irvine says it's not much more onerous than current requirements in the Building Regulations
Why metering is key
There is an incentive to meter properly. All centrally supplied heat and power has to be metered under Nabers, and if the metering cannot exclude a service for a tenant, then it must be included in the landlord's energy use assessment.
Irvine says the metering requirement for Nabers is not particularly onerous. 'What you need to do for Nabers isn't a huge step up from what you're doing already in a lot of commercial jobs, because most tenants want accurate Measuring Instruments Directive 2004/22/EC compliant meters to monitor their energy use in any case.'
However, he does say that Nabers requires the designer to be 'a bit more thorough' on exclusions. For example, there is a central hot-water system that feeds the 'end of trip' basement showers, café, retail units and gym – but in the energy use assessment, the landlord only has to include the hot-water energy for the basement showers. It can exclude the energy for the other areas, as they will be sublet.
Nabers also excludes small power and lighting to tenanted areas, over which the landlord has no control.
What stepped up the challenge for Max Fordham was the decision to go for a Nabers UK rating once the project design was under way; in fact, the design was at RIBA Stage 4 – Technical Design, the final step before heading into the construction process. 'Ideally, you'd commit to Nabers at Stage 1 or Stage 2,' says Irvine.
A big difference with Nabers, he adds, is that, as part of the design, you have to do a 'quite intensive' energy modelling process for the heating and cooling systems, which is 'far beyond' that required to meet the requirements of CIBSE TM54 Evaluating Operation Performance at the Design Stage.
Heating and cooling
Heating and cooling for the building is provided by three basement air source heat pumps providing 80kW of cooling and 95kW heating. Max Fordham's initial intention was for heating and cooling produced by the heat pumps to be employed on the tenant floors using a four-pipe fan coil unit (FCU) system. However, the 2.8m floor-to-ceiling heights determined by the retained structure proved too low to accommodate the FCUs and distribution pipework.
Max Fordham's solution was to adopt a hybrid ambient loop/variable refrigerant flow (VRF) system. 'We wanted to be able to balance the heating and cooling loads and minimise refrigerants in the building, which was why we went for an ambient loop coupled to a VRF system,' says Irvine.
The heat pumps inject or reject heat to the ambient loop, which rises up the building. and is maintained between 20°C and 23°C all year round. Water-cooled condensers located on each floor of the building allow energy to be transferred from the ambient loop into a VRF system. '

Getting your homework checked by another consultant is a really important step with Nabers, because they go through your modelling and give you detailed feedback on the design
By using the smaller VRF fan coil units and pipework, we were able to make the floor plates work despite the limited height,' says Irvine. Tenants will have to fit out VRF condensers and fan coil units as detailed in the performance spec set out in the tenant fit-out guide.
The downside of using refrigerants is that leakage can have a massive impact on embodied carbon. 'We did a lot of embodied carbon work and came to the conclusion that about a third of the MEP [mechanical, electrical and plumbing] embodied carbon is life-cycle refrigerant leakage, even though the VRF only runs from the riser to the fan coil units,' says Irvine.
Minimising embodied carbon
As well as minimising operational carbon, Eric Parry Architects' design for the renewed building retains a significant proportion of the existing 1950s concrete structure and foundations, as part of an overall strategy to reduce the embodied carbon of the development.
This has reduced the scheme's embodied carbon for the refurbished areas to 324kgCO2·m–2, below the LETI target of 350kgCO2·m–2 for commercial buildings, with the project's overall embodied carbon emissions predicted to be 466kgCO2·m–2.
The retained structure supports the addition of two new office floors on the roof, which are stepped back from the existing façade in order to be hidden from the road. The entire structure is enclosed by a new curtain wall.
The ambient loop will also provide heat to the landlord's domestic hot water system via a water source heat pump. 'In summer, we're going to get free cooling and hot-water production because all the rejected heat [from the offices] will be used to heat the domestic hot water,' explains Irvine. Electric immersion heaters provide backup heat to the calorifier.
Ventilation to all the office floors is from a variable air volume (VAV) system, with control based on CO2 levels. Air is provided by a central air handling unit (AHU) and local mechanical ventilation with heat recovery units. They serve different zones of the office floorplate, which is designed to be sub-divided into three tenancies. MVHR units serve two zones and the AHU serves one.
To achieve WELL certification, outside air ventilation rates were increased from 10l·s to 12l·s per person for the offices. Design occupancy density was 1 person per 8m2. To further improve air quality for the building users, the air is cleaned using carbon filters.
Openable windows are on both the Belgrave Road and Guildhouse Street façades. Openings are manually operated, with the buildings' BMS and smart buildings platform advising occupiers the best time to open/close windows from an energy and air-quality perspective.
Once the MEP design had progressed sufficiently to enable energy use to be modelled, Max Fordham had to submit its modelling report for independent review. In this instance, the reviewer was Delta Q in Australia. 'Getting your homework checked by another consultant is a really important step with Nabers, because they go through your modelling and give you detailed feedback on the design,' says Irvine.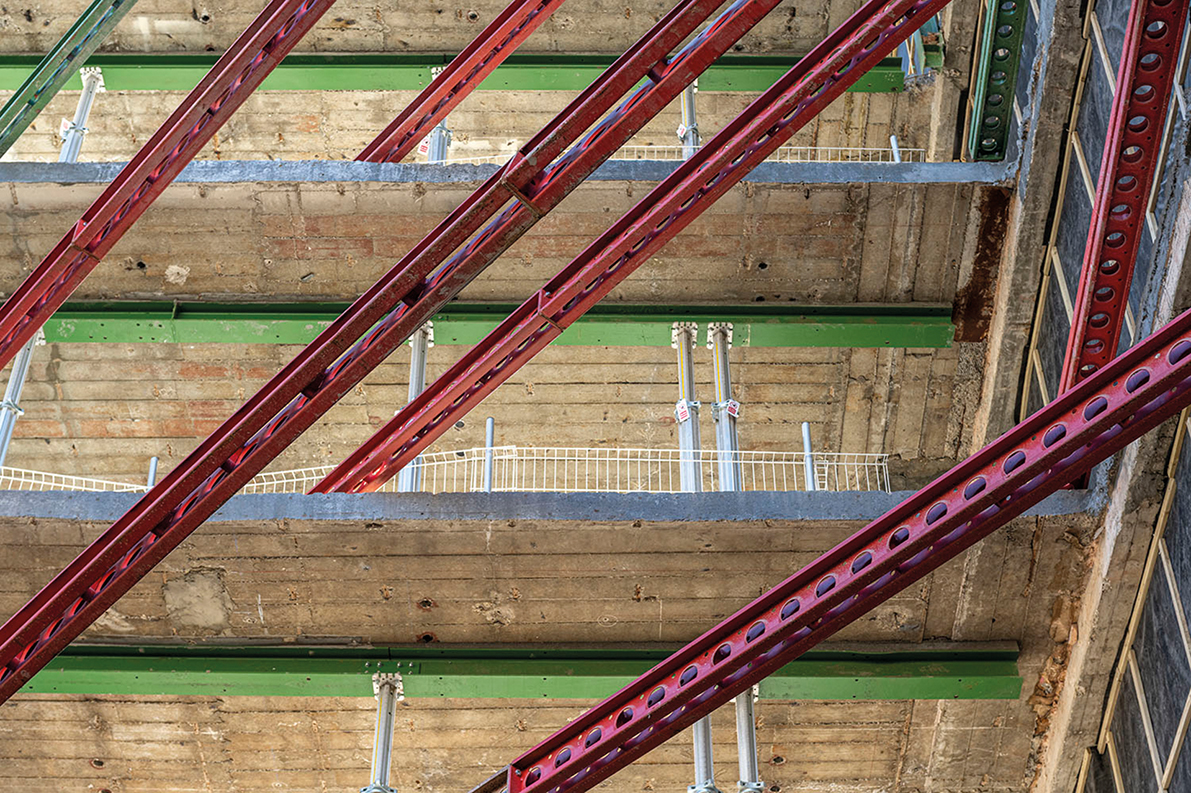 Partial reuse of the 1950s concrete frame significantly reduced embodied carbon
One downside of adopting Nabers late in the project was that Max Fordham's energy modelling was undertaken relatively late in design development, which meant it was too late to take on board all of Delta Q's recommendations. Irvine explains: 'They were commenting on the architectural form of the building and the potential to add external shading, but, at RIBA Stage 4, the project was too far down the line to do anything about shading.'
Another recommendation that could not be implemented, but which highlights the level of detail required under Nabers, was the reviewer's recommendation to refine the controls on the VAV system. This is because, in the UK, a VAV system is typically controlled to maintain a fixed pressure in the ductwork, with the VAV dampers opening and closing independently of the fan speed.
To save energy, Delta Q recommended changing the controls to keep the damper in the VAV unit on the system with the highest air demand fully open at all times, while controlling the AHU fan speed to regulate the supply air volume accordingly. 'It means that you're not adding extra pressure to the system by over-closing dampers,' explains Irvine.
Unfortunately, because the design review was happening while the job was being tendered, Irvine says 'the budget didn't stretch to the additional cost of more expensive VAV dampers and the additional controls wiring'.

While, ostensibly, Nabers only looks at landlord central energy use, if you produce a poor tenant guide 'it could end up impacting your rating
He adds that there was 'a bit of back and forth' between reviewer and designer to discuss what recommendations could be implemented. Based on the initial modelling submission, Delta Q was going to recommend a Nabers score of 5 for the scheme. However, the reviewer explained that if Max Fordham modelled additional scenarios, including reducing the cooling set point from 24°C to 23°C, the increased design granularity would enable the scheme to achieve the additional half-point, taking its score to 5.5.
In addition to the modelling, the reviewer asked Max Fordham to produce a tenant fit-out guide to explain to tenants how to complete their Category B fit-out to best integrate with the landlord's systems. 'This is what we've modelled in Nabers, so that you, as a tenant, have to install something in line with the landlord's intention, with this level of performance or better,' says Irvine. 'It's about tying down the performance spec of the fit-out.'
While, ostensibly, Nabers only looks at landlord central energy use, if you produce a poor tenant guide 'it could end up impacting your landlord rating, which is why achieving Nabers in use needs to be a collaboration between the tenant and the landlord', says Irvine.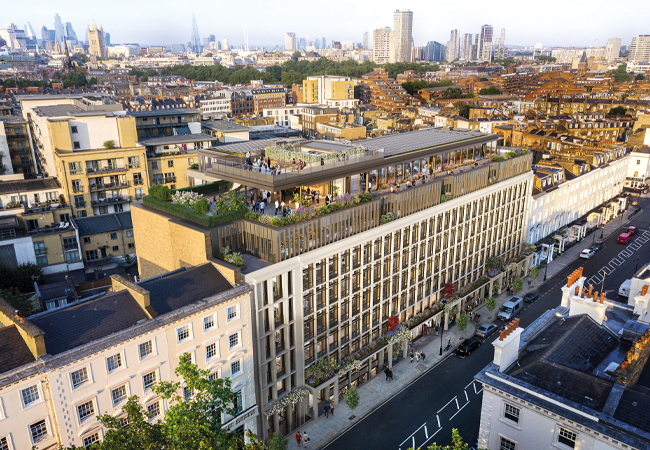 The offices designed by Eric Parry Architects include a rooftop pavilion and large gym
Even with the additional work, he adds, getting the Nabers UK Design for Performance rating of 5.5 was the easy bit. The scheme is currently under construction, with completion anticipated for the end of 2023. 'Up to this point, everything is theoretical; now we have to wait at least a year, post-completion, and the building has to be at least 70% occupied before we can submit meter readings to [system administrator] BRE for it to give the scheme its Nabers UK Energy for Offices rating.'
Even then, the rating will only be valid for one year; after that, meter readings have to be resubmitted on an annual basis to enable BRE to issue new ratings based on current performance – which should keep the facilities management team occupied for many years to come.