The main commercial considerations for specifying comfort cooling in city-based apartments include:
Specifying one HVAC solution or a separate cooling system
System modelling and capital cost
Energy efficiency
Noise levels, user comfort and control
Central plant space and maximising the footprint of a building
Long-term costs
Environmental impact and public perception.
As global temperatures continue to rise, comfort cooling is becoming increasingly popular in the UK, and this trend is evident in the growing demand for city-based apartments with effective cooling systems in place. These types of properties are commanding an additional premium on both the sales and rental markets, and so it makes sense to maximise this premium through specifying solutions that could add value to the development and maximise user comfort.
The variety of comfort cooling solutions available on the market now includes the innovative Zeroth Energy System. Designed in cooperation with leading UK developers, this solution helps to overcome the specific challenges of city based apartments.
Zeroth and the drivers of comfort cooling specification
The Zeroth Energy System by Glen Dimplex Heating and Ventilation (GDHV) is an ambient energy network of water-to-water heat pumps within each apartment connected to a central plant capable of delivering hot water, heating, and comfort cooling. The system was designed specifically to tackle the challenges around overheating and the resulting energy inefficiencies that are most visible in multi-occupancy buildings.
The growing challenge of overheating in buildings is amplified by increasing urbanisation. Properties in cities tend to suffer most from the effects of heat loss from traditional 'high temperature' heating systems being trapped by the highly thermally efficient building envelope. The result is overheating in corridors and communal spaces and eventually in apartments, requiring additional cooling or ventilation.

Not addressing overheating in a building and the relevant comfort cooling requirements at the design stage may require either a complete cooling system retrofit or post-completion alterations
The tight confines of busy city streets can limit efforts to mitigate overheating through design. External factors such as noise or air pollution often restrict the use of windows and occupiers are naturally looking for comfort cooling measures when renting or purchasing properties to increase the air quality and their thermal comforts. Passive cooling may meet some of the cooling demand, but in many cases, it can't reduce the internal temperature of a dwelling to comfortable levels alone.
Not addressing overheating in a building and the relevant comfort cooling requirements at the design stage may require either a complete cooling system retrofit or post-completion alterations to increase ventilation rates. Both can be costly and cause unwelcome disruption for the occupiers
Increasing the energy efficiency of an apartment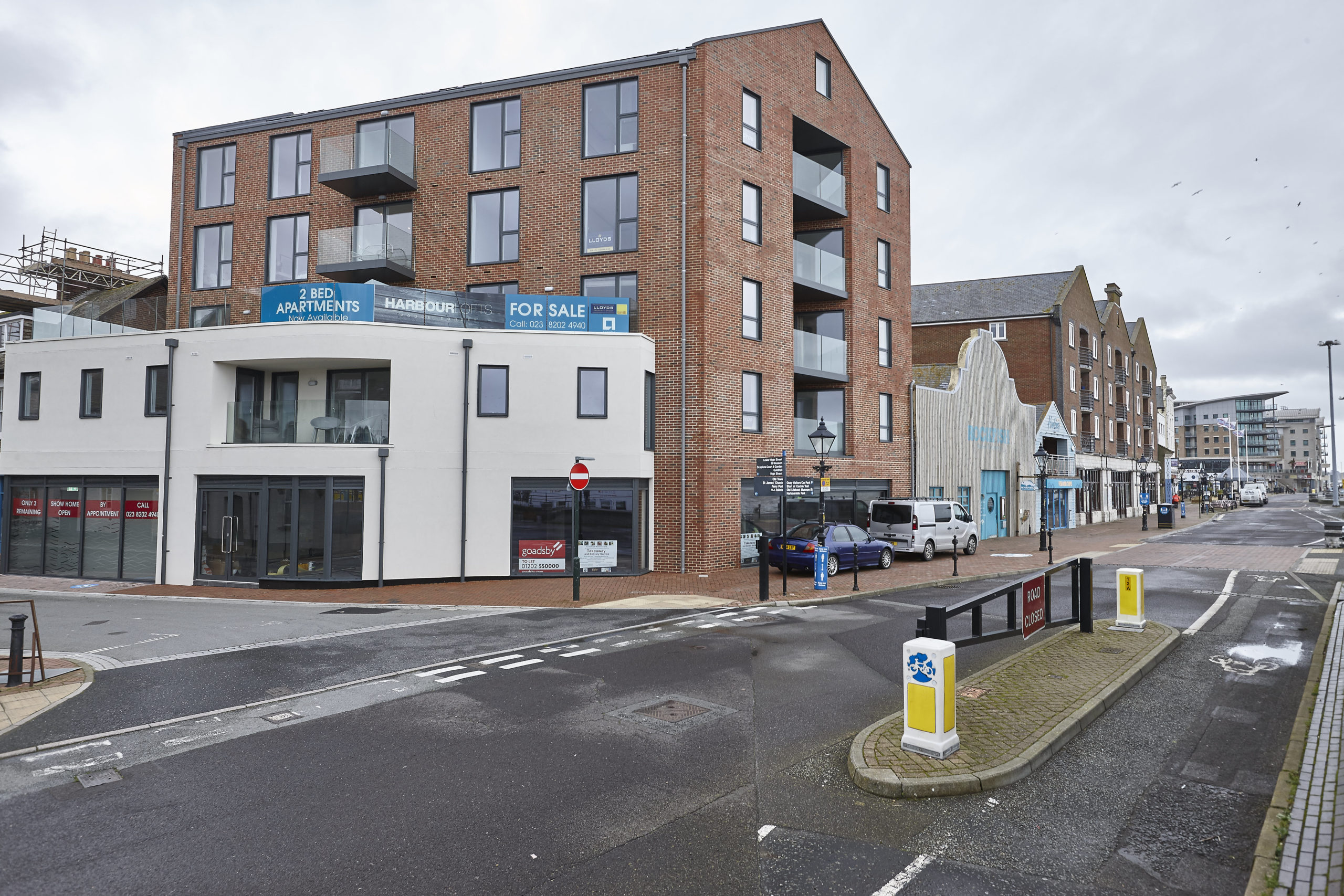 The central loop of the Zeroth Energy System is designed to run at 25°C, a significant reduction from the 80°C of a traditional high-temperature system, reducing heat loss by up to 90%. For more information on increasing the energy efficiency of your apartment building development, read our Harbour Lofts case study.
One HVAC solution or a separate cooling system
Considering the type of cooling and the overall HVAC system design is essential in the context of maximising short- and long-term financial benefits.
Successful integration of numerous separate solutions into one HVAC system may impact the overall cost and delivery time, especially if multiple suppliers and contractors are involved. This should be factored into the cost analysis.
Two-pipe systems, like the Zeroth Energy System, use the same infrastructure to deliver both heating and cooling. This means less pipework, less additional technology, fewer installers, and faster installation. The faster the project is finished, the quicker it can start returning initial investments.
Innovative heat pump technology reduces the cost of comfort cooling installation
The Factory project in London proves that renewable solutions are not always costly and time consuming specialist installations. The Zeroth Energy System came pre-wired and pre-plumbed for speedy on-site connection by a certified plumber.
System modelling and capital cost
The comfort cooling choice should support the design, function and energy strategy of a building. Detailed system modelling is a must for the accurate estimation of the cost for cooling units, the infrastructure, such as ductworks, pipes and so on, and the impact of the installation on the schedule of a project. Choosing a two-pipe solution could provide all HVAC services, and offer a relatively simpler system design and more accurate modelling.
Detailed and accurate system modelling and design are also crucial to ensure the system isn't oversized and inefficient. Oversized systems could cause issues such as unnecessarily higher capital costs that may have an impact on the overall project cost, and they can suffer from inefficiencies – making them more expensive in the long run.
The accuracy of system design is key, as the capital cost is likely to form the largest expense of an HVAC system.
Energy efficiency
Energy efficiency is a regulatory requirement and an important commercial factor. The transition to a low carbon economy means fast-changing regulations that are likely to phase out inefficient HVAC systems and also gas-operated systems. Although perhaps cheaper to install and run today, these will require retrofit in the future. It is also important to consider that energy-efficient, low carbon technologies are growing in popularity, and inevitably in demand, as the public perception of climate change and our attitudes toward carbon emissions change.
How efficient is the Zeroth Energy System?
Installation of the Zeroth Energy System can greatly improve the energy strategy of a building. When used within SAP 2012, the Zeroth Energy System, in conjunction with an air source heat pump (ASHP), can offer efficiencies up to 300% and help reduce building carbon emissions significantly. You can read more on how the Zeroth Energy System helps complete the green living arrangement in London's Church Road development.
Noise levels, user comfort and control
User comfort, availability of intelligent controls and low noise levels are major factors that impact occupant experience. Occupant satisfaction inevitably affects the value of dwellings, and the choice of HVAC system should reflect this.
Intelligent controls are becoming a common feature in modern households, with an emphasis on controls that integrate multiple functions such as heating, cooling and ventilation while offering wireless connection for convenience.
The Zeroth Energy System is available with a full variety of controls for user convenience and also for transparency and the control of energy expenditure.
The system has the flexibility to integrate with almost all other types of controls on the market and with building management systems (BMS). This offers freedom of specification and added value through better building level control and maintenance. It is worth exploring all control options of the chosen HVAC system from the outset, as these add value and help futureproof development.
Will the noise of comfort cooling become an urban legend?
Occupants should never face the choice between acceptable noise levels and thermal comfort. The design of the Zeroth Energy System minimises sound loss. The system performs at 4-5 decibels lower than other solutions on the market, making the operating noise of the system almost undetectable.
Central plant space and maximising the usable space in a building
Specification of a cooling system may generally require an increase in the size of the plant and could command additional space for the cooling units, the infrastructure, or both. The Zeroth Energy System mitigates this issue by using the same pipes and plant, only requiring cooling emitters to provide comfort cooling.
The efficient system design of the Zeroth Energy System as an ambient network frees up both plant space and space in the building. Building footprints can be maximised with larger living areas or extra dwellings. This means larger project profit, especially in a city landscape where space is at a premium.
Long-term costs of comfort-cooling systems
Maintenance and servicing are costs that will impact a system's lifetime cost, efficiency, and user satisfaction; criteria that make both sales and rental properties attractive to buyers and occupiers.
Single HVAC systems are generally simpler to maintain and have a longer life span, and intelligent building management systems can expedite servicing and streamline maintenance.
As a result, the overall service and maintenance costs are reduced, and end-user experience can be drastically improved.
As with any purchase, it is important to query the product and, if possible, see it installed in similar settings. The Zeroth Energy System has been installed and can be seen working on a functional rig that replicates residential settings with a variety of rooms and emitters.
The Zeroth Energy System comes with two-year warranty and maintenance, and there are options that extend this to five years. Warranty and maintenance options need to be considered when setting out the long-term costs, especially in build-to-rent settings.
Environmental impact and public perception
Although efforts are being made to electrify the grid and introduce legislation to help achieve net-zero carbon buildings by 2050, it is vital that the cooling technology specified is Part L-compliant. The commercial reality is that many air conditioning technologies will create additional building energy loads that may translate into additional costs and an increase in carbon emissions.
In comparison, cooling is a reverse cycle of all heat pump technology. This means cooling using the low carbon technology of heat pumps can be provided efficiently and through the same infrastructure as heating.
The significant shift in public perception of climate change and carbon emissions, especially in the past year, is likely to mean that properties designed around efficient low carbon technology and use of renewables will simply be the preferred choice for many occupants.
GDHV can advise with various aspects of specification, design and technical support. If you would like to find out more about the Zeroth Energy System or discuss how it can be implemented in your next project, please contact our team of experts. Our case studies offer more information on projects which have incorporated the Zeroth Energy System.