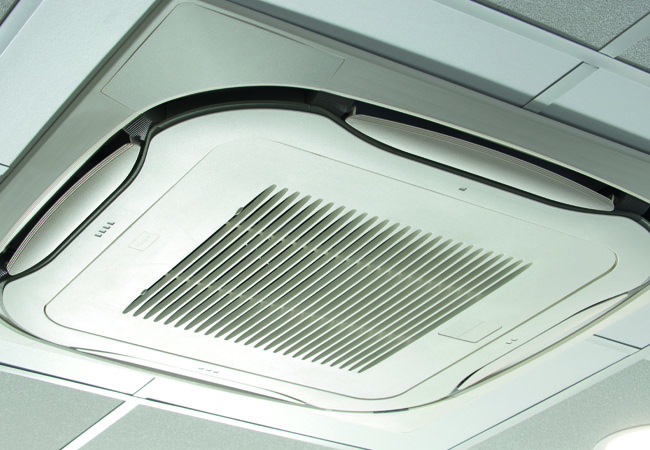 Manufacturers have been developing new refrigeration, air conditioning and heat pump systems that work with lower-GWP refrigerants for some time, in response to the global demand to reduce the environmental impact of the sector.
R32 is the refrigerant that has emerged as the front-runner for replacing R410A in comfort cooling applications – and for good reasons. First, it is a very similar gas to R410A (50% of R410A is R32), with similar thermodynamic properties. This means manufacturers have been able to adapt current equipment, rather than totally redesigning it, making the transition much quicker and less costly.
These similarities also mean that when upgrading a system from R410A to R32, often only the indoor and outdoor units need to be replaced. Typically, pipework can be retained, limiting potential disruption to occupants and, again, reducing cost.
Additionally, along with its lower GWP (675 compared to 2,088), R32 is 10% more efficient than R410A and has a higher 'volumetric efficiency', which means the charge volume can be reduced and components can be made smaller with the system delivering the same capacity. This makes units more compact, increasing flexibility in system design and making them easier to install, and reduces operating costs.
However, even with these similarities, equipment manufacturers are taking a phased approach to developing and producing new R32 products for all applications. So, while smaller split systems running on R32 have been available since 2015 – and are increasing in popularity – larger VRF/VRV units are taking longer to come to market. However, Daikin launched its first (high-capacity) R32 VRV units in Japan in 2018, so change is on its way. 
Until then, R410A will remain the refrigerant of choice for all major VRV/VRF manufacturers – as it has been for over a decade. These systems are highly flexible and extremely efficient, particularly for large-scale applications, such as hotels and offices, and will continue to be sold over the coming years, even as those operating on R32 become available.
During this transition period, it is important to select products designed specifically for using R32, to take full advantage of the benefits it brings. Many units currently on the market are still using components originally designed to work with R410A, and may not be future-proofed against changing standards and legislation.
For instance, like most lower-GWP refrigerants, R32 has a designation category of A2L, meaning it is a 'lower flammable' class, limiting the charge volumes that can be used. As a result, VRF/VRV systems running on R32 will need to reduce the amount of refrigerant used from current levels and include safety measures to meet the safety requirements, which means designing new compressors and heat exchangers. 
Future systems will also need to meet BS EN 378-1:2016 – which covers the safety and environmental requirements of refrigerating systems and heat pumps – when it is redrafted to include recent changes to IEC 60335-2-40, dealing with the safety of electric heat pumps, air conditioners, and dehumidifiers.
These changes include the requirement for inbuilt detectors and isolation valves, if the system refrigerant volume is high enough or the room size low enough – or a combination of both – as defined by the lower flammable limit of R32, although this will only affect larger systems.
It is also worth restating that R410A will not be banned under the F-gas Regulation phase-down, but refrigerant manufacturers are encouraging the switch to lower-GWP gases because greater quantities can be used under the F-gas Regulation quotas.
As a result, R410A will continue to be produced, imported and supplied for the foreseeable future, albeit in ever-diminishing quantities, with supplies supplemented by the burgeoning recycled refrigerant industry. VRF/VRV manufacturers will also continue to support their equipment with spares, servicing and maintenance over the lifetime of systems, typically around 15 years. All of this means consultants and their customers should be confident that specifying and installing a system running on R410A can be done with confidence.