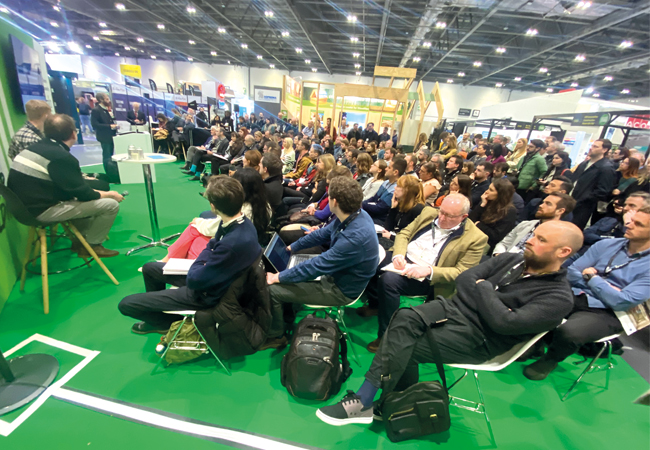 Standing room only at a UK Net Zero Carbon Buildings Standard panel discussion
Futurebuild returned to ExCeL London last month, with leading academic and industry figures discussing how the building industry would meet the challenges of delivering net zero.
The opening address was by Sarwjit Sambhi, chief executive at developer St Modwen, who discussed how smart grids could potentially halve the peak loads in new all-electric housing developments.
St Modwen is building 350 homes on the old Mini factory site at West Longbridge in Birmingham, and each one will have an air source heat pump, EV charging point and a connection to communal battery storage.
As well as reducing the peak loads by 50%, Sambhi said a smart grid, created by electrical infrastructure firm SNRG, will reduce energy bills by 30%. The reduction in demand reduced project infrastructure costs and put less pressure on the Grid, he added.
'It's brilliant for the owners of the new homes, but also brilliant in terms of not needing to invest as much in copper wire in the ground, which all the distribution networks would like us to do,' he said.
If all new developments were built using smart grids, the necessary spending on electrical infrastructure could be halved over the next 30 years, saving £120bn, said Sambhi. 'The impact of this is groundbreaking if it becomes the norm – and there's no reason why it shouldn't,' he added.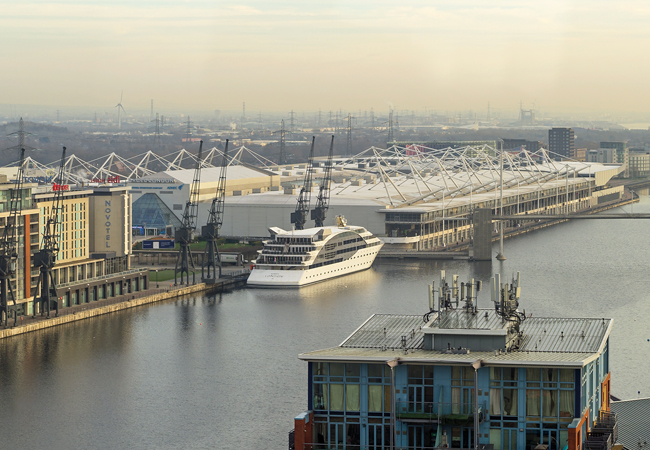 The site of ExCeL London by the Royal Victoria Dock
Some of the best attended sessions at Futurebuild were on the UK Net Zero Carbon Buildings Standard (NZCBS). Katie Clemence-Jackson, the standard's project manager, said more than 150 organisations had responded to the NZCBS call for evidence, supplying operational energy and embodied carbon performance data for their buildings. This will inform and guide the development of an agreed definition and methodology for the industry to determine what constitutes a net zero carbon building.
In a session on heat networks, Charlotte Large, director of decarbonisation and strategy, urban energy, at Equans, spoke of the challenge of decarbonising existing heat networks powered by combined heat and power gas boilers. She said Equans had installed a 3MW heat pump at the Olympic Park, which will allow new developments to connect to the heat network. 'We can't grow the networks until we get rid of gas. By installing heat pumps we can offer low carbon heat to new connections,' Large added.
Antony Meanwell, from E.ON, called the Heat Network Zoning regulation, due in 2025, a 'key catalyst for the growth of heat networks'. It would create heat zones in areas where heat networks were suitable and any development in these areas would have to connect. Any waste heat would also need to be piped into these networks.

If all new developments were built using smart grids, the spending on electrical infrastructure could be halved over the next 30 years
Cantor Mocke, head of market growth at the Department for Energy Security and Net Zero, said the government's drive for energy security meant making better use of local energy sources. 'When it comes to heat, the only system that can do that is heat networks,' he said, adding that the government had to make sure customers got a 'good deal'.
The appointment of Ofgem as the heat networks regulator would help protect customers, Mocke said, and the government's latest Heat Network Efficiency Scheme will offer £32m of grants to improve existing networks. He referred to the Heat Training Grant, announced last month, which will offer a discount of £500 to those taking short courses relevant to heat pumps (see news).
In a debate on lessons learned in improving energy performance of buildings, Paul Ruyssevelt, professor of energy and building performance at UCL Energy Institute, said there was a significant gap between knowing how to achieve net zero buildings and doing it. Over the past 10 years, the focus has shifted to existing stock, he said, but stop-start government policies have prevented real progress in this area. However, there have been successes, particularly with improved standards, guidance and training, and more interest from banks and financiers.
Ruyssevelt added that the widespread adoption of heat pumps was problematic because the electrical distribution system capacity was limited, especially as the growth of electric vehicles adds more load. A whole-system approach that considers the cost of installing renewables, the electric network's capacity, and when refurbishment makes sense is needed, he said.
The Sustainable Energy Association led a discussion on how buildings can be fit for the future, with a focus on sustainable energy and decarbonisation. Panellists agreed it required a better understanding of the basics of building insulation and the need for a fabric-first approach. 'Only by closing the performance gap can we have buildings that perform as expected,' said Simon Blackham, technical manager at Recticel Insulation. 'There is no point installing heat pumps or solar panels unless the building is well insulated to begin with.'
Katie Clemence-Jackson is project manager for the Net Zero Carbon Buildings Standard
Russell Dean, residential product group director at Mitsubishi Electric, said a national retrofit strategy was needed to improve homes to meet future standards and provide the industry with some clarity. 'The Chris Skidmore report dispelled myths that net zero isn't the way forward. However, we need to redouble efforts to meet our targets,' he said.
In a session on minimising and mitigating overheating risk in homes, Lynne Sullivan, chair of the Good Homes Alliance, stated that, in a scenario where temperatures increase by 2°C, 90% of homes in the UK will overheat.
'We need to be ready for more frequent heatwave scenarios with no night-time cool off, which will lead to more mechanical ventilation,' said Tom Dollard, partner – sustainability and innovation, at Pollard Thomas Edwards.
Rajat Gupta, professor of sustainable architecture and climate change at Oxford Brookes University, added: 'There is a risk that developers will see comfort cooling as a luxury that adds value to the sales price. However, we shouldn't put a value on this; everyone should be kept comfortable in their homes.