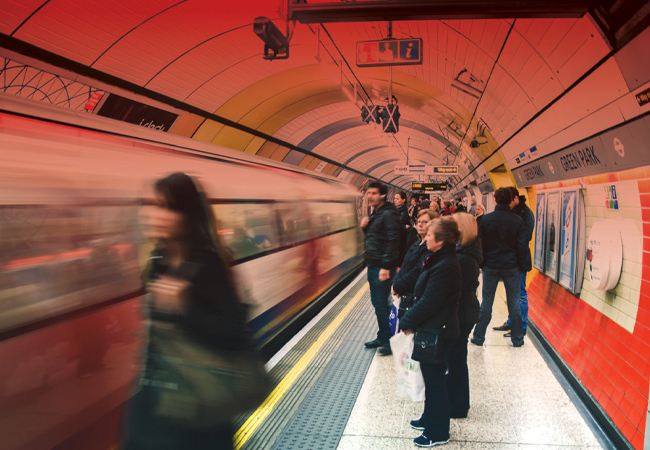 Henrique Lagoeiro, from LSBU, will present plans on cooling the London Underground
Featuring more than 70 presentations over two days, this year's CIBSE Technical Symposium is focusing on the building services sector as it emerges from the pandemic. Speakers will present virtually on the theme Engineering the built environment for a new 'normal'.
Topics to be covered include: responding to the pandemic; application of IT and artificial intelligence tools; climate in urban centres; building simulation; and development of heat networks.
Ensuring buildings are comfortable in a warming climate is one of the big challenges for engineers, and the symposium has a number of papers on cooling, four of which are summarised below.
Case study: Validating the energy saved through improved cooling controls
By Ant Marsh, Arup 
When various cooling generation and distribution issues were identified in a large energy centre serving a multipurpose development, a programme of works was undertaken to address the problems, including reprogramming the BMS strategy and recommissioning of the mechanical systems. The aim of the modifications was to improve automated control of the cooling system, in turn reducing the energy consumption related to mechanical cooling. To estimate the resulting energy savings, four years of weather data, heat-meter data and electrical data for cooling were analysed. Results showed that the modifications led to an annual reduction in the electrical energy required for cooling of around 500MWh (or 65tCO2e per year).
Waste heat recovery from underground railways: evaluating the cooling potential
Henrique Lagoeiro, London South Bank University 
This paper explores the Bunhill waste heat recovery (WHR) system, the first scheme of its kind, which will recover waste energy from a ventilation shaft of the London Underground network. The system is based on the installation of a heat recovery heat exchanger that consists of cooling coils and a reversible fan.
The coils are connected to a heat pump that supplies low carbon energy to the Bunhill heat network in the London Borough of Islington. 
The Bunhill WHR system is able to operate in a way that not only provides heating to the local heat network, but also simultaneously supplies cooled air to the Underground tunnels, depending on the operation of the reversible fan. 
Forecasting the future cooling energy demand patterns for existing office buildings in tropical regions
Rawisha Serasinghe, University of Moratuwa, Sri Lanka
This paper highlights the importance of assessing future cooling demands of existing buildings under different climate-change scenarios.  
With space heating and cooling a major contributor to building energy consumption – accounting for nearly half of global energy production – projected increases of temperature will increase energy demand for cooling significantly. A considerable portion of the world's population lives in tropical, humid climate zones, where the cooling demand is predicted to be affected hugely by global warming. Forecasting of energy demand and planning is an important step in building energy sustainability in these regions.
The case for sustainable environmentally friendly heating and cooling systems. Don't take a chance on corrosion. Change!
Gordon Pringle, HASL 
This presentation will give an overview of the environmental benefits associated with the implementation of an alternative approach to water treatment and the use of continuous monitoring in the prevention of corrosion in closed systems. It will explore the operation of such systems, the minimal initial cost, and the sustainable savings associated with this enhanced process. 
Ticket information
CIBSE member tickets are £80 + VAT; standard tickets are £150 + VAT; part-time CIBSE student member tickets are £40 + VAT.
To book your place, visit www.cibse.org/technical-symposium, email symposium@cibse.org or phone +44(0) 20 8675 5211.