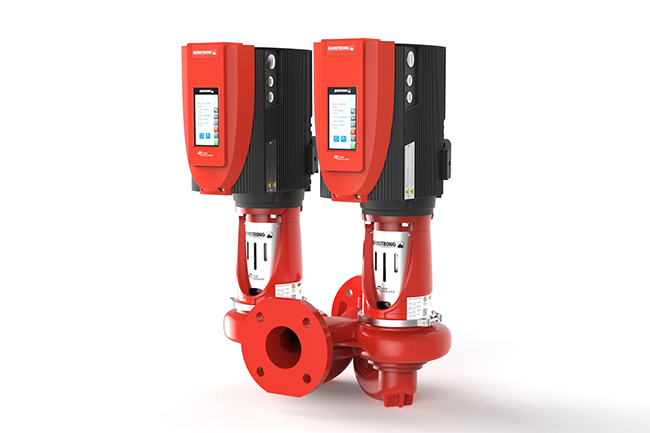 A commitment to reduce life-cycle carbon emissions, and robust evidence of performance, made Armstrong Fluid Technology the worthy winner of the 2019 CIBSE Energy Efficient Product or Innovation of the Year.
Its Tango Parallel pumping solution enables 100% standby pump installations to be replaced with parallel pumping in a number of applications , so a separate back-up pump is not required . As well as saving on duplicate kit, the pump has been redesigned to reduce the amount of material in the casing. The judges also praised an initiative to retrieve and reuse components when replacing Armstrong pumps.
'We were really impressed with the commitments made to reduce carbon emissions in manufacturing locations,' said the judges. 'Using the proceeds of recycling aged pumps via Armstrong's environmental sustainability initiative, Planet Proposition , for charitable causes also impressed us greatly.'
Judges at the CIBSE Building Performance Awards are always looking for evidence of manufacturer claims and they were pleased to find independent verification of Armstrong's performance claims for the Tango Parallel pumping solution in a project for the National Grid.
' The evidential basis of the energy savings made was very clear,' they said.
The practice of specifying full duty/standby pump installations has become standard in the industry. On a day-to-day basis, one pump (sized for full duty) is operational, while another of the same size is out of action, simply there to accommodate 100% redundancy in the event of routine maintenance or pump failure.
While this approach is necessary for high-reliability installations, such as hospitals and data centres, there are far more sustainable, efficient and cost-effective ways of safeguarding pump operation in medium and low-risk applications.
Armstrong Tango features two pump heads in a common casing with builtin parallel, sensorless pump control, integrated as standard. The pump heads can run simultaneously or individually, to provide the required flow in the most efficient combination.
The option of a blanking plate enables maintenance to be carried out effectively on one of the pumps while the other remains in operation. This offers an alternative to a 100% standby approach by making it possible to specify two smaller pump heads, each sized for as little as 50% of the design flow.
This reduces first-installed and life-cycle costs, frees up space in the plant room or energy centre, and reduces the embodied carbon for the installation.
As the Tango range has been developed using Armstrong's Design Envelope approach, energy efficient performance is achievable across a wider operating range than standard pump models.
The performance envelopes of Armstrong Design Envelope models are mapped to enable the most efficient pumps to be selected for 50% of the design flow rate, where variable flow systems operate most often. This ensures a building's hydronic pumping system consumes as little energy as possible. In the case of the Armstrong Tango parallel pumping solution, the actual capacity of a single pump is far greater than anticipated.
A module with two pumps (each supplying 50% of the duty) will continue to deliver 70% of capacity if only one of the pumps is operational, to allow routine maintenance. In many applications, this eradicates the need to invest in full-duty standby (see Figure 1).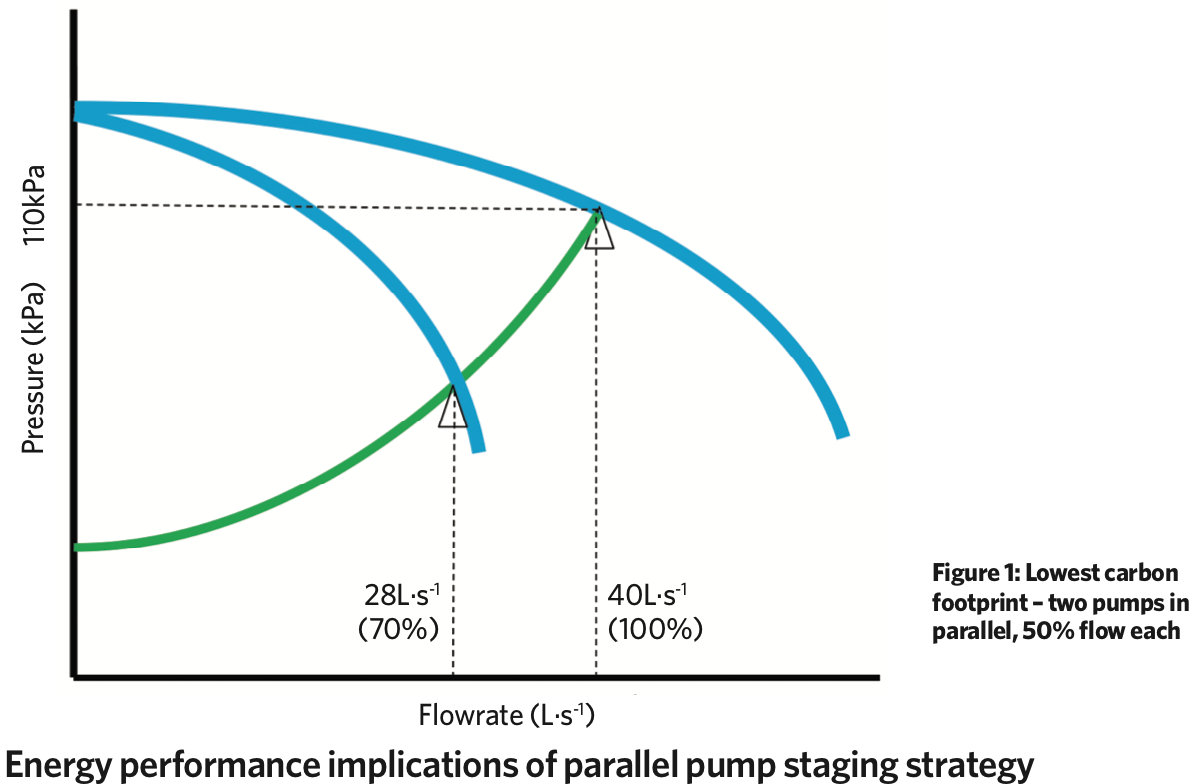 Figure 1: Lowest carbon footprint – two pumps in parallel, 50% flow each
As the figure illustrates, if one pump is shut down for routine maintenance, requirements can be met with the single remaining pump. Even on the few days a year when demand exceeds 70% flow, it can be identified from cooling and heating coil characteristics, that approximately 95% of output from the emitters would still be delivered when using just a single pump.
This means highly cost-effective and efficient parallel pumping configurations can be specified and installed, avoiding the increased financial outlay and space requirements associated with traditional full-duty standby.
Improving environmental performance of buildings
Once installed and commissioned, Tango reduces pump energy consumption by approximately 30% compared with traditional multi-pump installations. These improvements can be attributed to several innovations. First, instead of using traditional capacity-based control, the Armstrong Tango models are designed for demand based control, in which each component is operated at its most efficient point to meet the actual load.
The pumping solutions are controlled to adopt efficiency-based staging points, as opposed to staging points based on pump speed. With this strategy in place, the system 'surfs' across the top of the efficiency curves throughout the day, eliminating the wastage inherent in pump speed-based control approaches, where energy can be wasted by staging pumps on too late, or off too early. (See Figures 2 and 3.) Effective control of staging can deliver energy savings in the region of 30%.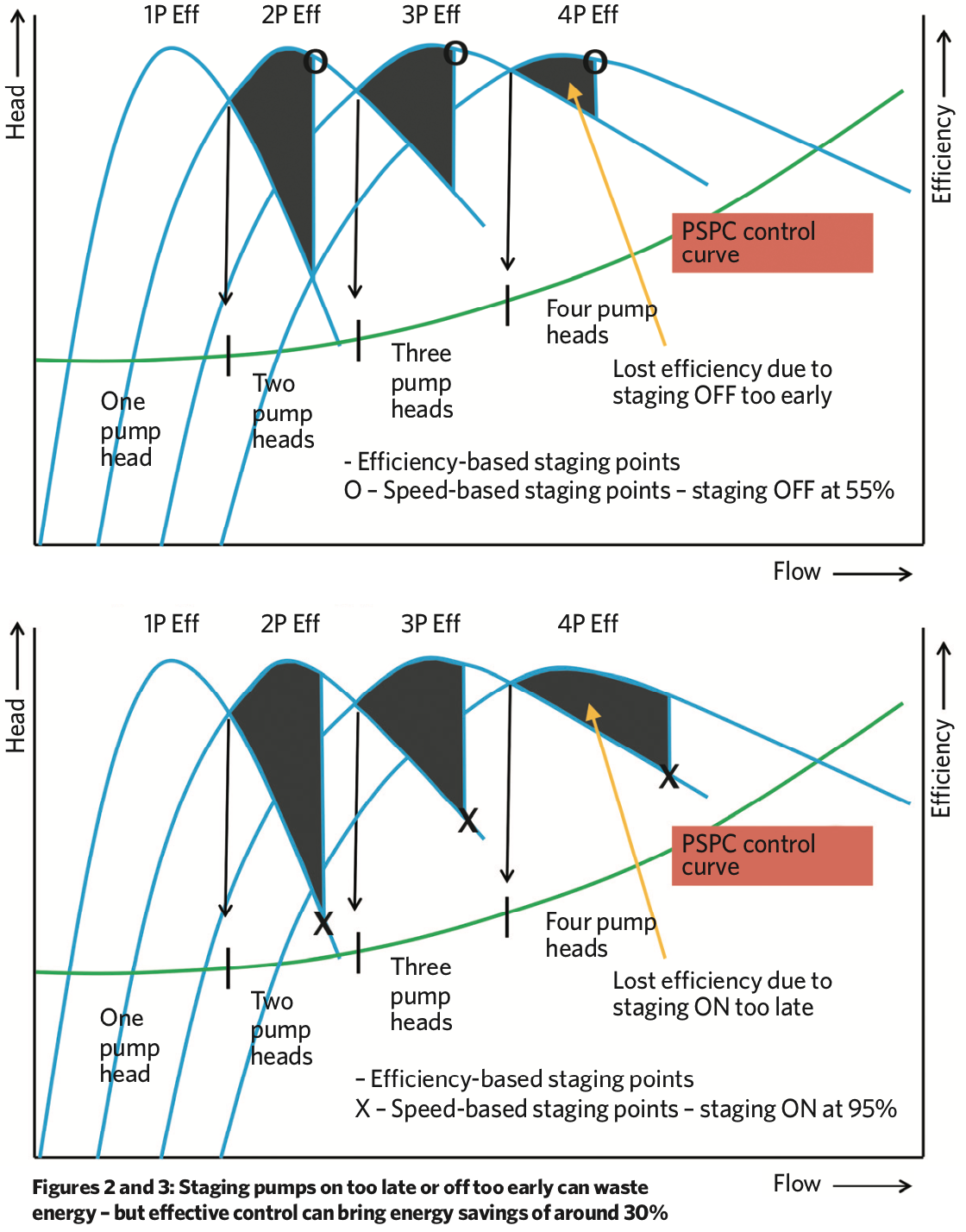 Figures 2 and 3: Staging pumps on too late or off too early can waste energy – but effective control can bring energy savings of around 30%
Second, optimised hydraulic performance results in improvements in efficiency of between 3% and 6%. In addition, Tango incorporates iECMTM permanent magnet motors, with higher RPM and integrated drive and controls, delivering levels of energy efficiency in advance of IE3, and providing another 2% to 7% efficiency improvement.
Lastly, Tango features technology for maximising long-term pump performance after installation. Armstrong's Pump Manager is a web-based service that uses the embedded intelligence and connectivity available in its design envelope pumps to give sustained performance and significantly enhanced reliability. Delivered as a secure, cloud-based application, it has wireless connectivity and onboard web services as standard.
Actual energy savings
The award entry for Tango included details of a recent project for National Grid (energy saving details have been independently validated via a Bureau Veritas report).
The energy upgrade involved a three-storey office building belonging to National Grid in Solihull, UK, in which pump energy consumption was reduced by more than a third. Armstrong pumps were installed to replace six sets of twin-headed pumps that were 16 years old.
A new Tango parallel pumping solution installed on the heating system, after commissioning, reduced energy consumption by 42%.
In addition to the improvements in environmental performance, the installation of the off site manufactured Armstrong Tango solution made it possible for the pumps to be replaced in one day over the weekend , reducing disruption for building occupants.
Throughout their lifetimes, the advanced control, performance management features and innovative design of the pumps have been developed to reduce the time and costs involved in routine maintenance, offering both best installed and best life-cycle costs.


Even on the few days a year when demand exceeds 70% flow…95% of output from the emitters would be delivered when using a single pump

Life-cycle sustainability
The Tango has been designed to reduce the metal requirement of each pump set. A new casting procedure has made it possible to reduce the volume of material (ductile iron) needed to make the volutes.
The design also requires less pipework and fewer connectors than a traditional installation, while preparatory work on site is also reduced, because there is no requirement for an inertia base or concrete housekeeping pad.
In energy upgrade projects, Armstrong Fluid Technology also reduces the carbon impact of the pumps to be replaced. For example, during the National Grid project, the legacy Armstrong pumps were dismantled and the materials separated, enabling them to be recycled.
Around 3.5 tonnes of equipment were removed from the site and a Certificate of Sustainable Disposal was provided to the National Grid. Funds from the sale of the recycled materials are donated to Armstrong's charitable causes, as part of its environmental sustainability initiative – Planet Proposition.
For more information about the CIBSE Building Performance Awards visit www.cibse.org/bpa