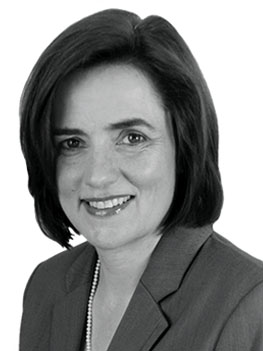 Around 7% of workers in the construction industry are EU 27 nationals, compared with the national average (excluding construction) of 6%.
In 2016, after the outcome of the UK's referendum on its membership of the EU, I found myself – as a Danish national – uncertain about my rights, post-Brexit. There were four million others in Britain and Europe in the same position.
In the grip of 'the Brexit Blues', I started trying to understand how to re-secure my rights under British law. Dual citizenship is now allowed for Danish citizens, so I decided to apply for British citizenship because, as well as future security, it would give me full voting rights.
I understood that, under any other category – such as Settled Status – I would be unlikely to maintain even the voting rights in local elections that EU27 nationals currently enjoy.

Whatever post-Brexit Britain will be like, I hope we will use it as an opportunity to become more aware of our own actions and values
During the application process, there were real challenges when I needed support from others, while other times provided welcome happiness and relief. The overall process took 22 months, from starting to fill in the forms to completing my British citizenship ceremony in January 2019.
Hurdles buried deep in the permanent residency application included having to give evidence of the comprehensive sickness insurance that I was apparently expected to have taken out when I arrived in the UK as a student. Then, I had access to a local GP and knew nothing about this requirement.
With support from immigration lawyers provided by the volunteer-run project UK Citizenship for EU Nationals (UKCEN), I discovered that I could choose the five years qualifying period for permanent residency from a time when I was in full-time employment, and exclude my student years. As a result, the sickness insurance requirement became irrelevant and fell away.
To obtain British citizenship, you need to pass the Life in the UK Test – I really enjoyed learning about Britain and its history for this. It was great fun testing our British friends and colleagues in an alternative 'pub quiz'.
New rights and new engagements
After obtaining my British citizenship, I voted in a national poll for the first time in 30 years, in the December General Election – as did several other EU27 nationals I know who have secured dual citizenship. For all of us, it was an emotional experience. Having a vote gave me a new and different sense of engagement with national life.
Denmark did not allow dual nationality for its citizens until 2015. Now that Britain is leaving the EU, I am concerned for those EU27 nationals whose countries still do not allow dual citizenship and who, therefore, don't get this option to secure their rights.
It also costs around £1,500-£2,000 to complete a British citizenship application, excluding lawyers' fees. This is a real challenge for those on lower incomes. So I am concerned about how the industry will continue to welcome and support everyone working, or coming to work, in post-Brexit Britain – especially those with additional challenges and limited support.
Whatever post-Brexit Britain will be like, we all have a choice about how to respond. We will, I hope, use it as an opportunity to become more aware of our own behaviour, actions and values.
My expectation is that CIBSE members will use Brexit as a catalyst to foster a culture of greater openness and mutual support, and that it maintains its role as a professional community that welcomes everyone, wherever they come from. 
Take the #ConstructionisOpen pledge
To become a dual Danish-British citizen, I had – and gratefully received – support from my MP, UKCEN, the Danish Embassy, my family, colleagues and many other EU27 nationals. Their backing made all the difference to my ability to successfully navigate the complex process involved, and to deal with the situation in which I found myself.
The #ConstructionisOpen pledge, developed with and hosted by the built environment sector think tank the Edge, is an invitation to members of the construction industry to make their own difference – to help EU 27 nationals feel welcome and to give them support during and after Brexit.
Please add your signature here and pick your own action to create a culture in our industry of openness and welcome: 
The Construction is Open Pledge
By signing the #ConstructionisOpen Pledge, I acknowledge that EU27 nationals are welcome here, and will be proactive by carrying out an action from suggestions below:
I will be open and sensitive to the situation that EU27 nationals and their families currently experience in the UK

I will express my welcome, understanding and support to EU27 colleagues here, and thank them for the contribution they make to the UK

I will help identify the needs of EU27 colleagues and do my best to provide support1, 2, 3
I will encourage employers to provide information and assistance to their workers in completing their Settled Status applications2, 3, 4
I will request professional institutions to provide information and assistance to their members on remaining in this country5
I will express my support and concern on social media6
I will share my awareness that the current voting rights for EU27 nationals (in local elections) are not guaranteed with Settled Status rights (June 2019).7
References
1 Guidance is provided by #ConstructionisOpen. EU27 nationals could join UK Citizenship for EU Nationals (UKCEN), a group that offers useful support and advice on completing Settled Status and citizenship applications.
2 More information is available from the3million. Sign up to its newsletter to get regular updates. It has also prepared guidance on Settled Status, which is available  
3 Information is available from the Mayor of London for EU27 nationals
4 For example, this could take the form of hosting an information event.
5 This could include help completing Settled Status applications and hosting an information event, as suggested by #ConstructionisOpen Support and guidance on how to do this effectively is available from the3million.
6 For example, using hashtags #ConstructionisOpen and #EU27RWelcome
7 If EU27 nationals want to maintain their current voting rights, this entails applying for British citizenship. This is an expensive and potentially long process (£1,700 fee, plus the cost of legal advice and other expenses).