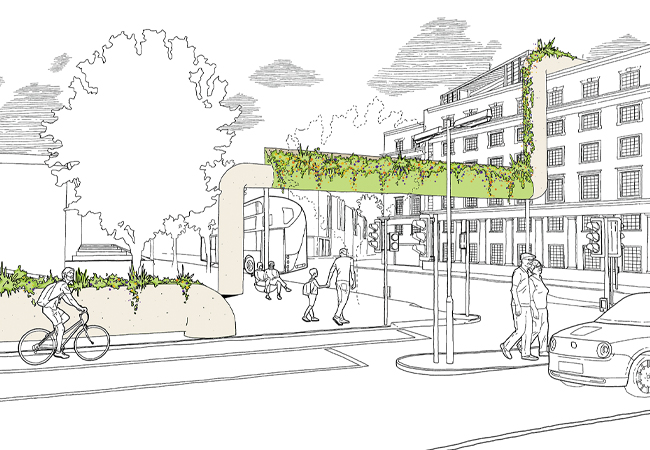 Visualisation of the flying planter concept at Goswell Road Credit: Cullinan Studio
District heating and cooling can be a cost-effective way of providing reliable, low carbon heat at a fair price to consumers, while supporting local regeneration. The Climate Change Committee estimates that around 18% of UK heat will need to come from heat networks by 2050, and it will be crucial to expand the rollout of low carbon heat networks in heat-dense areas. However, the congested nature of our cities – both above and below ground – is a significant barrier to the installation of large new energy infrastructure.
As part of the engineering value and technical design exercises undertaken by the GreenSCIES team, various design options have been developed, aiming to overcome the challenges presented by congested streets. These include running pipework in above-ground planters, in flying planters, and through trenches shared with other utilities.
The GreenSCIES project is led by London South Bank University (LSBU) and funded by Innovate UK, part of UK Research and Innovation, through the government's Industrial Strategy Challenge Fund Prospering from the Energy Revolution programme.
The aim of the project is to develop a construction-ready design for a scheme that tackles fuel poverty by providing a significant reduction on consumer bills, delivers large reductions in air pollution, and improves local skills, jobs and economies.
Our GreenSCIES consortium is at the forefront of new applications where heat/coolth can be shared across ultra-low temperature networks, and these new approaches present even greater opportunities to move closer to net-zero carbon.
The GreenSCIES system will deliver low carbon heat, cooling, and power, supplying many urban residents and local businesses. It is based around a fifth-generation ambient-temperature heating and cooling network loop (5DHC), a concept that includes decentralised energy centres and heat pumps in each building. The network can share heating and cooling between buildings providing even greater carbon savings than third- and fourth-generation medium-/low-temperature networks.
The GreenSCIES ambient loop, which is designed to be as low as 15°C flow, will be using waste heat from a local data centre and borehole aquifer water to provide the heat source for water source heat pumps that can supply buildings at temperatures up to 80°C. In addition, the aquifer will be used to provide a balancing mechanism for the network and long-term thermal storage through an innovative concept called aquifer thermal energy storage.
Novel heating and cooling distribution
The traditional approach to energy network distribution in existing urban settings is to bury pipework and ductwork in below-ground trenching, typically hidden from view beneath carriageways and footways. From a technical viewpoint, for an ambient-loop network as proposed for GreenSCIES, this approach benefits from the steady environment of the ground cover, protecting pipework from disturbance, and mitigates any visual 'intrusion' at street level.

The four lead distribution pipework routing concepts. Credit: Cullinan Studio
However, trenching in a dense urban borough – where pavements and roads are already heavily populated with existing utilities and other unknowns – attributes a large risk to the project, particularly when proposing for construction contracts where allowances for the unknown could push costs to a prohibitively high level.
As the GreenSCIES network has been designed as an ambient loop, there are fewer technical restrictions on locating pipework – for example, less need for preventing heat losses from the pipes because of the near-ambient flows. So, the GreenSCIES team took a hypothesis of routing distribution pipework above ground and explored the technical, economic, spatial and social implications of this approach. A more detailed discussion of the approach and the results were presented at the CIBSE Technical Symposium.
The vision in GreenSCIES is to design a technically viable, smart local energy system while improving the locals' lives by creating more liveable spaces.'
Concept proposals
GreenSCIES consortium member Cullinan Studio has been appraising several alternative approaches, some of which are related to the integration of pipework with public-realm interventions as an alternative to digging.
The options developed for appraisal took on board technical guidance from third-party product manufacturers, specialist contractors and engineering consultants.
Kristina Roszynski, of Cullinan Studio, said: 'Cullinan Studio is committed to restoring the connection between nature and people. The 5DHC network infrastructure can provide wider benefits for the local community, such as an opportunity to improve their streets through adding bio-diverse planting as part of above-ground pipework distribution.'
The four lead distribution concepts appraised are:
Hard dig trenching in carriageway

Soft dig trenching in landscaping/verges

Above-ground distribution planters

Above-ground road-crossing or building-mounted distribution planters.
These options have been appraised against social, environmental and practical criteria, with a focus on adding value to the public realm, reducing risk and minimising disruption to public life. The Viability Matrix has been published and discussed in detail in the full Technical Symposium paper Engineering value and innovative design options for smart local energy systems.
One of the novel concepts developed involved planters that conceal raised pipework, laid parallel to the carriageway, creating a green buffer between people and vehicles (option 3). The addition of plants along roadways is proven to improve air quality for people walking alongside busy roads and can mitigate the heat island effect in cities.
Explored alongside these concepts, is the potential to integrate photovoltaic panels, e-mobility and smartphone charging hardware into planters and street furniture at strategic points along the pipework route, to address the mounting levels of 'street clutter'.

The addition of plants is proven to improve air quality for people walking alongside busy roads and can mitigate the heat island effect
Of course, to understand the maintenance requirements of any above-ground options, the long-term horticultural maintenance of the planters, for example, is absolutely crucial and should be considered – and planned for – at the design stage.
In conclusion, we believe that the challenge to develop smart local energy systems around 5DHC networks requires a holistic approach from an integrated technical design team, commercial investigations, and community engagement. We are committed to the co-design of the 5DHC network as part of our community engagement strategy, to ensure that no-one is left behind in the energy transition. Some of the concepts presented are an entirely different way of thinking about the problem of pipework routing and offer a new approach to implementing this form of infrastructure.
The work shows that there are considerable benefits in some of these innovative approaches that have not, generally, been considered in more traditional heat-network projects. Implementing such novel approaches with multiple economic, environmental and community benefits will be critical in future urban energy networks.
About the author
Dr Akos Revesz is a senior research fellow at London South Bank University and technical lead at GreenSCIES