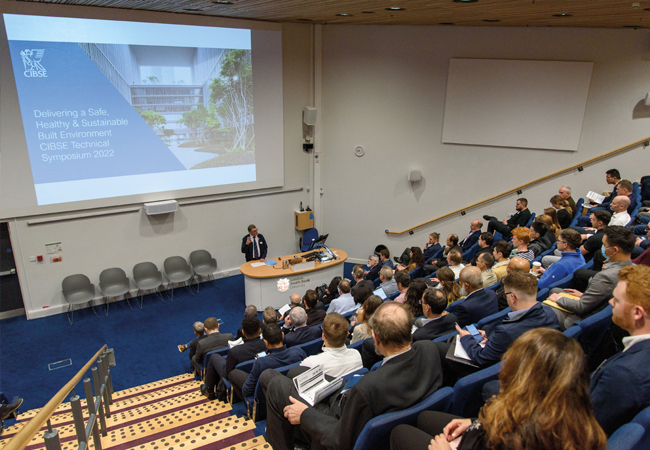 With a packed itinerary of presentations and papers, the CIBSE Technical Symposium returned to London South Bank University (LSBU) on 21 and 22 April – the first time in two years that the event had been held in a live, in-person setting, rather than online only. 
The theme for the two days was 'Delivering a safe, healthy and sustainable built environment', and 45 speakers from across industry and academia delivered a series of papers covering a wide range of topics on that agenda. 
On the first day, two keynote presentations were delivered to delegates. Will Arnold, head of climate action for the Institution of Structural Engineers, kick-started the day with Embodied carbon and Part Z, while, in the afternoon, Thomas Lefevre, from Etude, and Julie Godefroy, CIBSE head of sustainability, delivered a joint presentation entitled Making SAP fit for net zero: the SAP 11 scoping report.
Reducing embodied energy
In his keynote, Arnold addressed how the built environment contributed to 25% of the UK's carbon emissions, and highlighted the urgent need for the industry to take action to reduce its environmental impact. 
He discussed the assessment of whole life carbon in the built environment, outlining embodied carbon in the construction, repair, maintenance and end of life of a building, and operational carbon in the running of the building throughout its lifetime – such as in the energy required for power, heating, cooling and water. 
According to Arnold, most studies show that, by 2030 – for modern, low-energy buildings – embodied carbon will make up the majority of a building's overall emissions, with decarbonisation of the Grid and energy-saving regulations and guidance, such as Part L, having an impact on the operational carbon impact.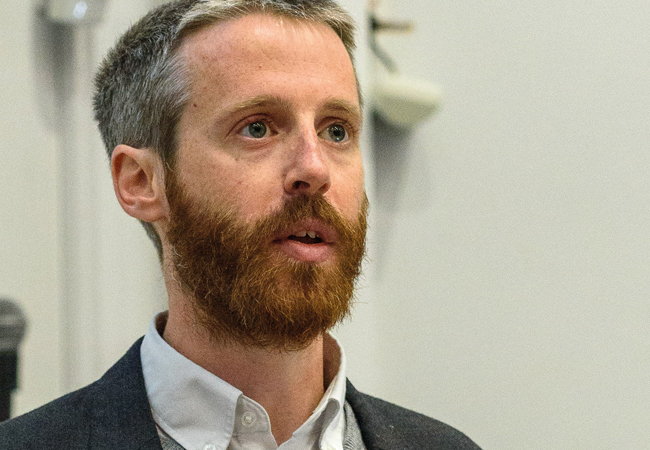 Will Arnold
As such, he emphasised the importance of reducing embodied carbon and called for urgent action to tackle the issue. Embodied carbon in this country has 'barely changed in decades', he said.
Around 40-50 million tonnes of carbon a year are emitted in the UK through embodied carbon – more than aviation and shipping combined, although it doesn't receive the government policy attention these other industries do, said Arnold. 
He highlighted the positive impact of guidance developed by and for the industry, such as the LETI one-page documents on embodied carbon and whole life carbon, along with the work it has done around retrofit and net zero targets. He also pointed to CIBSE TM65 Embodied carbon of building services: A calculation methodology as a resource to help support building services engineers transition to, and deliver on, net zero targets.
In their joint presentation, Lefevre and Godefroy discussed the cross-industry collaborative scoping report that is designed to inform the development of the new version Standard Assessment Procedure (SAP) 11 and Reduced Data SAP (RdSAP) 11. The report looked at how SAP 11, which is due to be available in 2025, can be enhanced to help support the transition to net zero in the built environment.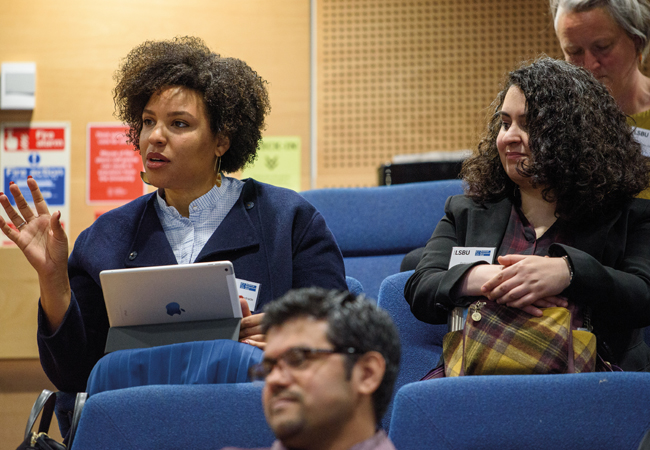 Listening to the views of experienced industry stakeholders was an important element of the report process. Contributing organisations were tasked with reviewing current versions of SAP/RdSAP, re-evaluating and prioritising the key policy objectives for which SAP is crucial – including net zero carbon; energy efficiency (demand reduction and flexibility); and heat decarbonisation. They reviewed literature and methodologies from around the world, both voluntary and regulatory, to get models that could inform the process.
The report highlighted 25 key recommendations for SAP to ensure it is capable of supporting the transition to net zero. These covered five categories, including: better aligning of SAP/RdSAP with its key objectives; improvements to methodology; improvements to SAP/RdSAP and its commitments to net zero; a better evaluation of energy use; and support for the decarbonisation of heat and electricity.
Lessons from Nabers
On the second day of the symposium, Grace Foo, of DeltaQ, delivered a keynote entitled Design for performance: Lessons from the Nabers UK Independent Design Review Process. She presented a collaborative paper looking at the Design for Performance (DfP) agreement, whereby building owners and developers commit to post-occupancy Nabers UK rating targets during the design phase of a new building process. 
Foo explored lessons learned from the Nabers UK independent design review process, reflecting on: design team and project owner motivations; integration of the DfP process into the RIBA Plan of Work from stage 2 onwards; and major risks inherent in the UK design, construction and building operation processes that threaten the achievement of the Nabers targets for new developments or major refurbishments with DfP agreements.
Presentation prizes
All the presentations were well received, but delegates were encouraged to vote for the speakers and presentations most deserving of two 2022 awards on offer. The winner of the 'Most effective delivery of material' award went, perhaps fittingly, from the host venue, to LSBU's Graeme Maidment for The generation gap! Are 5th generation district energy schemes better or just different? 
The other winner selected by delegates was Gareth Jones, from FairHeat, who was awarded 'Most significant contribution to the art and science of building services engineers' for his paper Field trial and design approach for improving hot water delivery time.