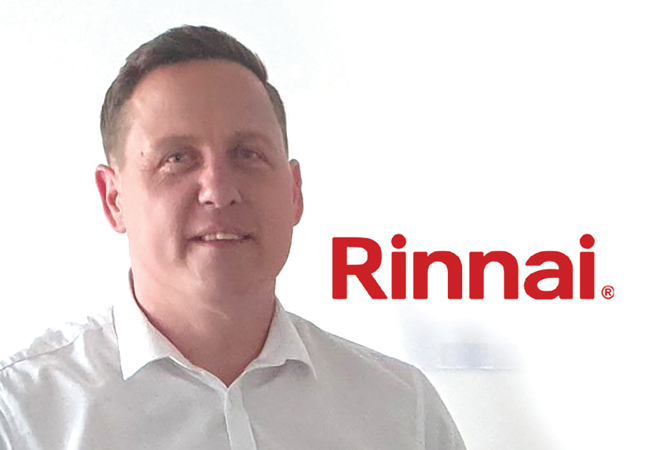 Ricky Lewis
Rinnai has completed the first phase of what it says is a significant investment in dedicated operations in London and the South East, with two senior sales appointments, and more support staff and resources, added to its Hayes office.
The first appointment is Ricky Lewis as regional sales manager for London west and south-western counties.  He has previously held specification manager and other senior sales roles within commercial boiler companies and water heater product manufacturers.
Lewis (pictured) began his career as an apprentice plumbing and heating engineer, and has been active in the Young Engineers Network, a CIBSE London committee member, and part of Oxfordshire Construction Professionals Networking.     
'Rinnai is now positioned in London and the South East as the information hub for all questions concerning the delivery of on-demand, temperature-controlled, hot-water units and systems for sites of every size,' said managing director Tony Gittings.
Gittings added that the Rinnai proposition, with specific reference to buildings services consultancy in the London area, will include:
Temperature accuracy as a means of thermal disinfection

T

emperature accuracy within the healthcare, care home and hotel environments

Temperature accuracy as a means of efficiency

Temperature accuracy as a means of safety.
Rinnai manufactures more than two million water heaters every year and aims to be at the forefront of creating real advantages for users.
Rinnai also continues to offer full services for essential works support to NHS facilities, care homes, schools and supermarkets.
It offers out of hours and weekend technical support – building service consultants, designers, installers, site managers and end-users simply call 01928 531870, select 'Technical' and, if the call is not answered immediately, can leave a voicemail. The firm promises a response within one hour between 8am  and 10:30pm, seven days a week. If there is a constant supply of gas and water, the units are guaranteed to supply temperature-accurate hot water in unlimited quantities for all hygiene regimes on all types of sites.
Customers seeking information online can use the smart contact points 'Help Me Choose' or 'Ask Us a Question' on Rinnai's website, or contact the firm by email or phone.
Call 01928 531 870, email sales@rinnaiuk.com or engineer@rinnaiuk.com, or visit www.rinnaiuk.com