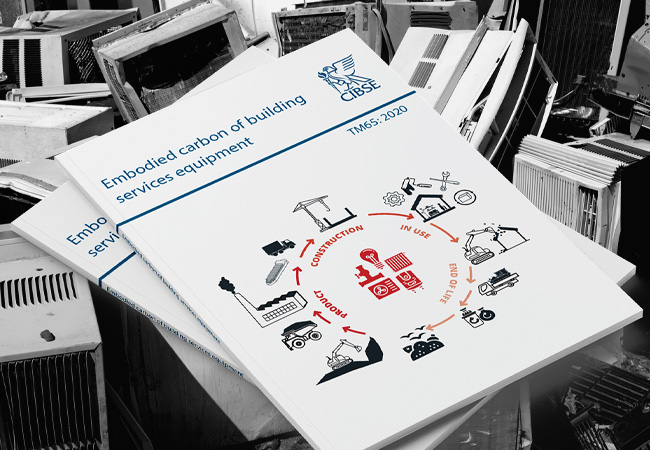 Building services engineers have been at the forefront of efforts to reduce operational carbon emissions in buildings through improvements to the design, specification and optimisation of mechanical, electrical and public health (MEP) systems, and the performance of building skins. But MEP equipment also has significant embodied carbon – the emissions associated with extraction of materials, production and transport of products, and their repair, replacement, disassembly and disposal. To drive down the whole-life environmental impact of the systems they design and the products they specify, engineers must improve their awareness of emissions as a result of embodied carbon.
MEP components are often mainly made of metals, which have high embodied carbon. Their supply chain is complex, and can involve many manufacturing processes and long transport distances. Large quantities are installed within buildings and replaced regularly. Environmental product declarations (EPDs) are a standardised way of expressing embodied carbon and other environmental impacts throughout the life-cycle of a product.
Very few manufacturers of MEP products offer EPDs, however, mainly because of the complexity of MEP products and their supply chains, but also because incentives from the market and regulators are absent. As a result, the building services industry has had little access to vital data about the embodied carbon of MEP products.
Aims of TM65
This document sets out to provide:

An introduction to whole-life carbon and embodied carbon within building services

Guidance for engineers and consultants on actions to reduce the embodied carbon emissions of MEP equipment

Guidance on EPDs, and how to use and create them

Where no EPDs are available:

guidance on how to calculate embodied carbon of MEP products
a consistent approach for collecting the data required for the calculations
a consistent approach to the way embodied carbon calculations for MEP products are undertaken and reported (at product level).
MEP basic embodied carbon reduction strategies
Embodied carbon emissions associated with building services design can be reduced without the need for complex calculations by implementing simple design strategies. The most effective way to reduce the embodied carbon of MEP systems is to 'design out', or at least reduce, the use and overall weight of the equipment. Once this has been done, the embodied carbon of MEP plant can be further reduced by specifying equipment with:
Low refrigerant GWP and leakage rates

Long lifetimes

Materials with low embodied carbon

Products and components that can be demounted and reused

Products that can be disassembled, and whose materials can be recycled.
It should also be easily accessible for inspection, maintenance and replacement.
Embodied carbon calculation guidance when no EPD is available
There is a lack of easily accessible embodied carbon emissions data associated with MEP products, so CIBSE has created calculation methods to estimate embodied carbon at the product level based on specific information from manufacturers.
Two calculation methods are provided depending on the amount of information collected through a manufacturer form. Users of TM65 are encouraged to share the results of their calculations with CIBSE through a reporting form at the end of the process.
CIBSE TM65 provides step-by-step guidance on the calculation methods, with worked examples and a 'pull out' calculation steps guide. It has been developed with support and input from international experts, led by the co-authors of this article.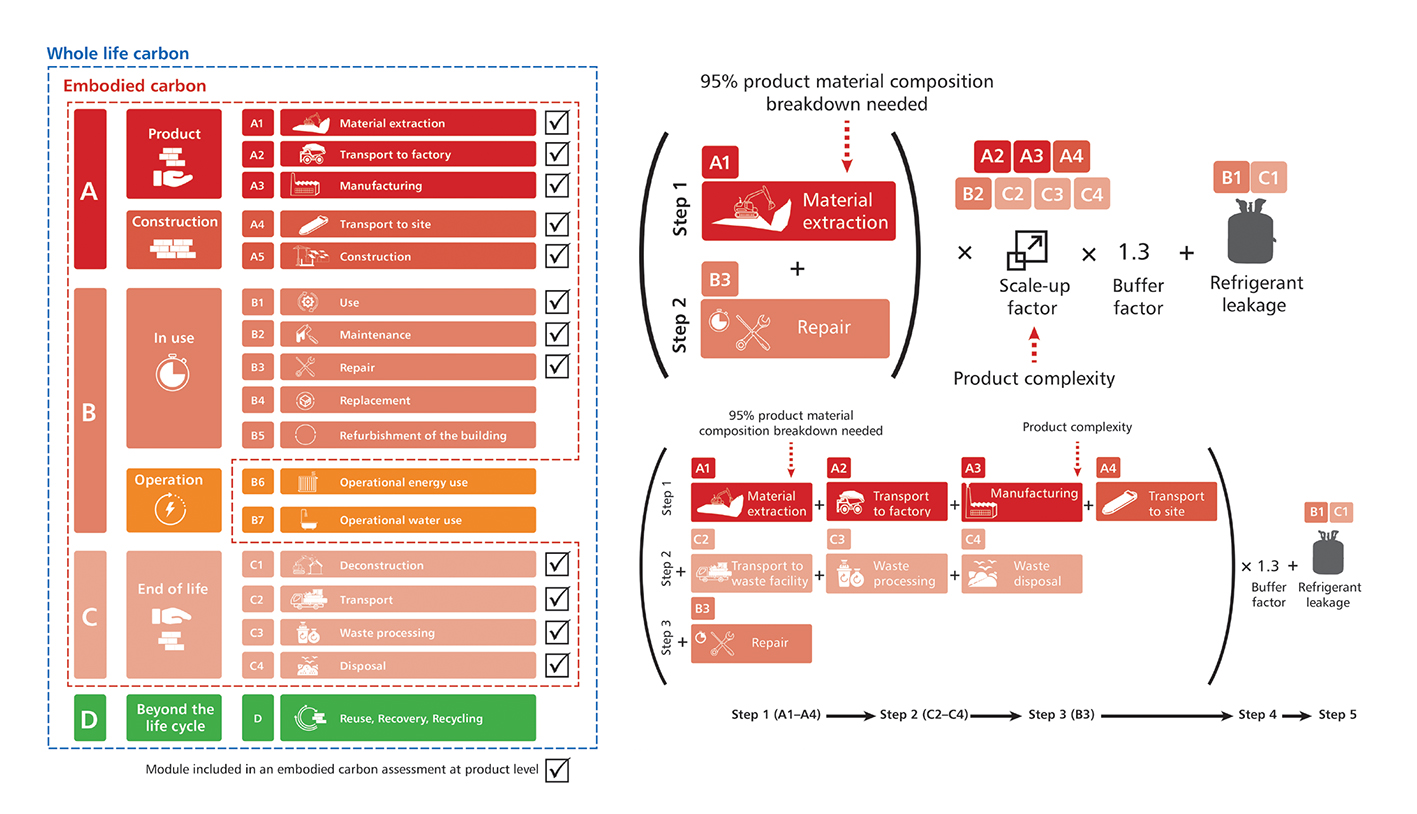 Diagram showing the life-cycle stage modules that are included in the calculation for each calculation method
The guide is not aiming to replace EPDs, but rather allows initial conservative embodied carbon estimations for MEP products to be made, while waiting for EPDs to become available. It provides a consistent approach to facilitate research and increase understanding.
TM65 can accelerate the adoption of whole-life carbon thinking by engineers and manufacturers: Hopefully, this guidance will move the industry towards a greater awareness of the whole-life carbon impacts of MEP-related decisions and will incentivise more EPDs for MEP products.
Next steps: help CIBSE grow its knowledge base
The assumptions used in TM65 rely upon the data available at the time of its writing. The intention is that these will be updated and improved in future iterations of the document.
CIBSE has developed the TM65 standard methodology for the assessment of embodied carbon so embodied carbon data calculated by different consultants and researchers can be brought together, compared, and 'rules of thumb' developed for embodied carbon of MEP systems. To make this possible, CIBSE encourages users of TM65 to submit calculation results to CIBSE using a standard reporting form, together with the form submitted by a product's manufacturer.

The building services industry has had little access to data about the embodied carbon of MEP products
Anastasia Mylona, head of research at CIBSE, sees TM65 as an important first step for the building services industry. 'CIBSE now looks forward to facilitating the development of an embodied carbon database for MEP products, which will make it easier for CIBSE members to address this crucial challenge.'
CIBSE

TM65: Embodied carbon of building services equipment

will be available soon at the CIBSE Knowledge Portal

cibse.org/knowledge

A webinar on whole life carbon took place in November, and is available here

If you have any questions, email

embodiedcarbon@cibse.org 
About the authors
Louise Hamot is global lead of life cycle research, and Clara Bagenal George is associate at Elementa Consulting
Research study on embodied carbon of residential heating and hot water systems
CIBSE is looking for manufacturers to provide data on their equipment for a research study on embodied carbon in heating residential schemes. The study will use the methods developed in CIBSE TM65 to create rules of thumb for early decision-making by building services engineers and design teams looking to mitigate embodied carbon in MEP systems.
CIBSE is looking for widespread participation from manufacturers, and hopes they will seize an important and timely opportunity to show leadership in the field of embodied carbon.
Manufacturers wishing to participate can do so by providing the material breakdown for each product as a starting point, and more detailed data where available. CIBSE is interested in any products relevant to residential heating systems, however they are particularly interested in radiators, towel rails, hot water cylinders, heat pumps and HIUs. Email embodiedcarbon@cibse.org for details.
Many thanks to the manufacturers who have already submitted data, including: Klima-Therm; ACV; Cetetherm; Daikin; Danfoss; Flamco; Glen Dimplex Heating & Ventilation; Hamworthy; Ideal Heating; Kensa Heat Pumps; Kingspan; Lochinvar; Merriott; Mitsubishi; Nexgen; Recoup; Rhico District Heating Products; SL Services; Stelrad; Swegon; Vaillant; Warmafloor; and Zehnder.