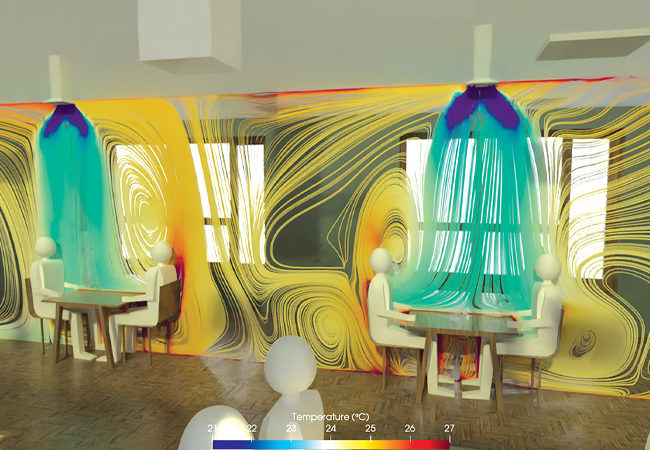 CFD model from SimScale showing cold air entering a room from ceiling diffusers and spreading through the room
The impact of Covid-19 on the design of the built environment was the dominant theme at the 2021 CIBSE Technical Symposium.
There were 64 papers on the theme 'Engineering the built environment for the new normal', and the keynote address on day one was given by Professor Cath Noakes, one of the world's foremost experts in transmission of airborne infections.
Noakes, who was made an OBE for 'services to the Covid-19 response', told the online audience that the built environment had a big part to play in the management of the virus and other respiratory diseases. She said engineers had the challenge of designing for health, not just comfort and energy efficiency. 'There are a raft of competing priorities,' she said. 'We need to think holistically about how we capture these.'
Noakes added that the multiple routes of transmission made designing Covid-secure buildings very complex, with behavioural factors – such as social interaction – being as significant as environmental ones. 'Building design can't manage all the behavioural factors, such as mask wearing and personal hygiene', she said, but current ventilation standards need to be reassessed to help dilute the virus.
'Higher ventilation rates may need to be increased,' said Noakes. 'We have settled on 8-10 L.s-1 per person, but this is for comfort and not managing a disease. I suspect the rate needs to be higher than it is now.'
The paper voted as making the most significant contribution to the art and science of building services engineering was the Impact of various ventilation strategies on indoor airflow dynamics and the spread of pathogens such as Covid-19 by Ventive's Tomasz Lipinski.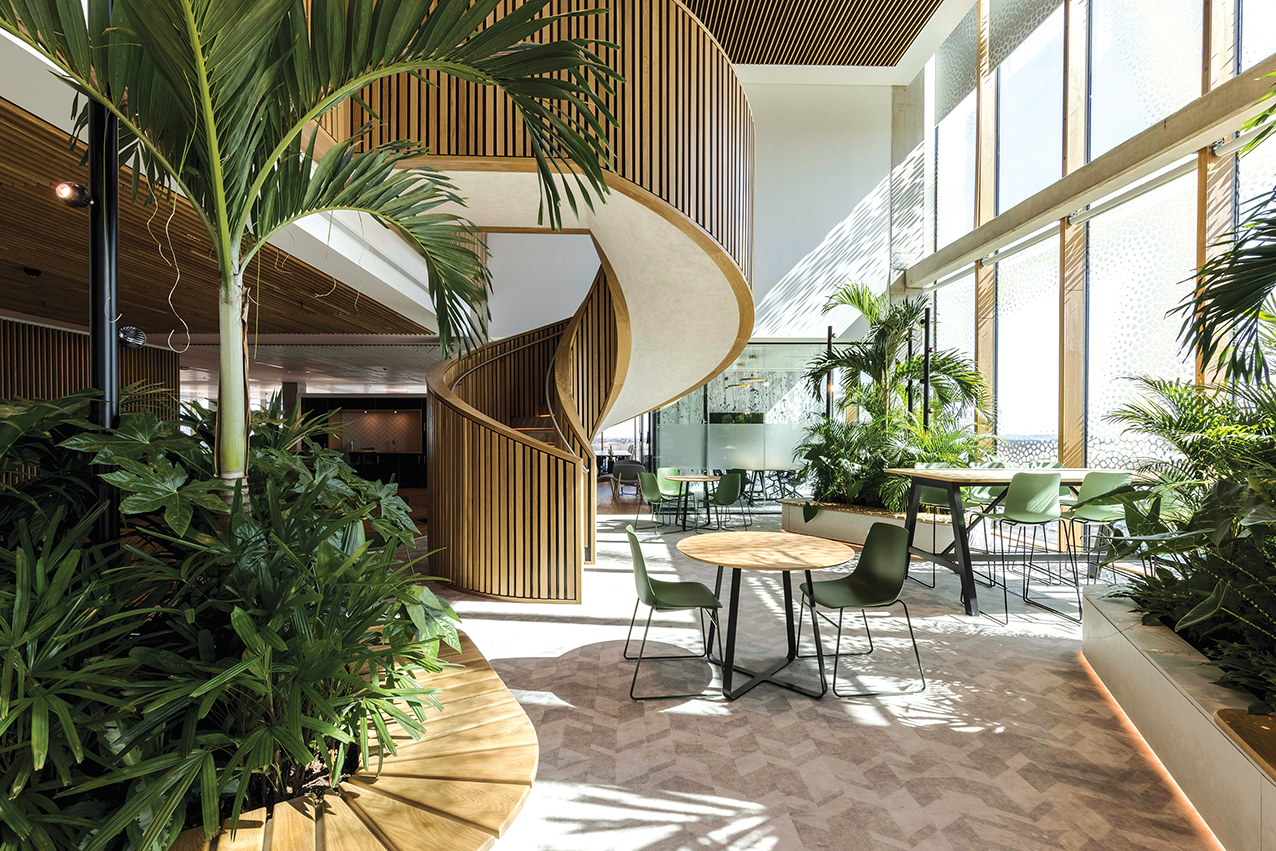 CFD was used to analyse VOC concentrations at the HQ for the Royal College of Physicians
With a 'significant and urgent' need for adaptation of high-occupancy buildings to provide the inhabitants with a safe indoor environment, Lipinski outlined in his paper how this can be achieved through new, safer ventilation strategies.
This targeted research and a practical investigation, delivered in collaboration with BSRIA, used new CFD analysis and a fully monitored office space to analyse the air patterns and contaminant flows within a room with various ventilation strategies implemented. The paper offered a practical comparison between the most prevalent ventilation strategies and their impact on the possible spread of pathogens.
CFD was also used to analyse the impact of a living wall on indoor air quality in a reception area at the Spine building in Liverpool, designed by AHR.
Software was used to track and analyse the distribution of VOC concentrations in key areas of the new HQ for the Royal College of Physicians with and without planting and living walls.
Many papers aimed to understand how Covid-19 is transmitted. In a session on 'Delivering and evaluating air quality in buildings', SimScale's Dr Naghman Khan advocated the use of CFDs to model indoor air quality.
He said it could quickly generate outputs useful for Covid-19 mitigation strategies, such as whole-room ventilation rates, fresh air and fresh air ratio, placement of air supply and exhaust grills, and the air velocities and air mixing in proximity to the occupants.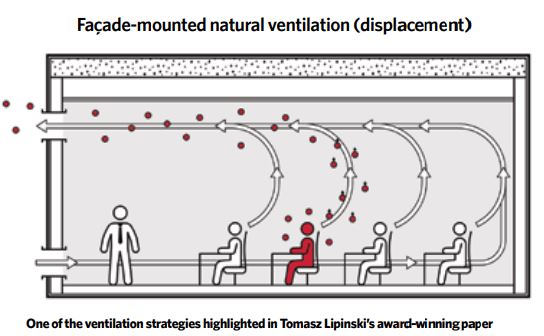 In the same session, Brendon McManus, of Clean Air Technologies, took questions on his paper, which explored the opportunity for the successful transfer of clean air technologies used in cleanrooms to open-plan offices. When designing for cleanrooms – such as those found in life-science laboratories – McManus uses filtration and high air-change rates to control environmental contaminants, as this can be validated. 'If you can't measure it, it doesn't count,' said McManus. 
In a cleanroom, he added, UV would not be used to control pathogens, because it is impossible to validate, as you don't know how much of the air is passing through the air cleaning unit. However, UV could be used to clean a Hepa filter that may have become contaminated, he said.
Chairing this session was Cundall head of research and innovation Ed Wealend, who has authored a new CIBSE Air cleaning technologies guide, which assesses the benefits of an air cleaning option for reducing SARS-CoV-2 transmission.
Living with the virus
Ali Shaw and Gwilym Still, from Max Fordham, discussed their paper on ventilation design in the age of Covid-19, Living with the virus – a low-energy response. They considered four solution scenarios of equivalent thermal comfort and dilution, and looked at the impact on energy consumption of each. The study found that the recirculation and filtration solution used a lot less energy over a year in the UK climate.
Sara Mohammed, from the University of Nottingham, looked at the indoor environmental quality of new-build, low-energy schools in the context of the pandemic in her presentation. Her study found that the focus on energy led to unintended consequences on indoor air quality, with inadequate ventilation and space overheating occurring because of a lack of cross-ventilation in original designs.

Building design can't manage all the behavioural factors, such as mask wearing. Higher ventilation rates may need to be increased
In a session on modelling and deep learning for innovative systems and built environments, Patrick Okolo, of Buildings Fluid Dynamics (B-Fluid), discussed Crowd evacuation performances of built environments with regards to social distancing measures. He considered the effect of social distancing rules on safe evacuation times for different building configurations using performance-based case studies, through crowd egress/evacuation dynamic modelling.
The research was aimed at equipping stakeholders with a better understanding of the implications of building layouts – particularly in larger building configurations – and how these could, potentially, affect fire-safety engineering management when strict social distancing measures are applied.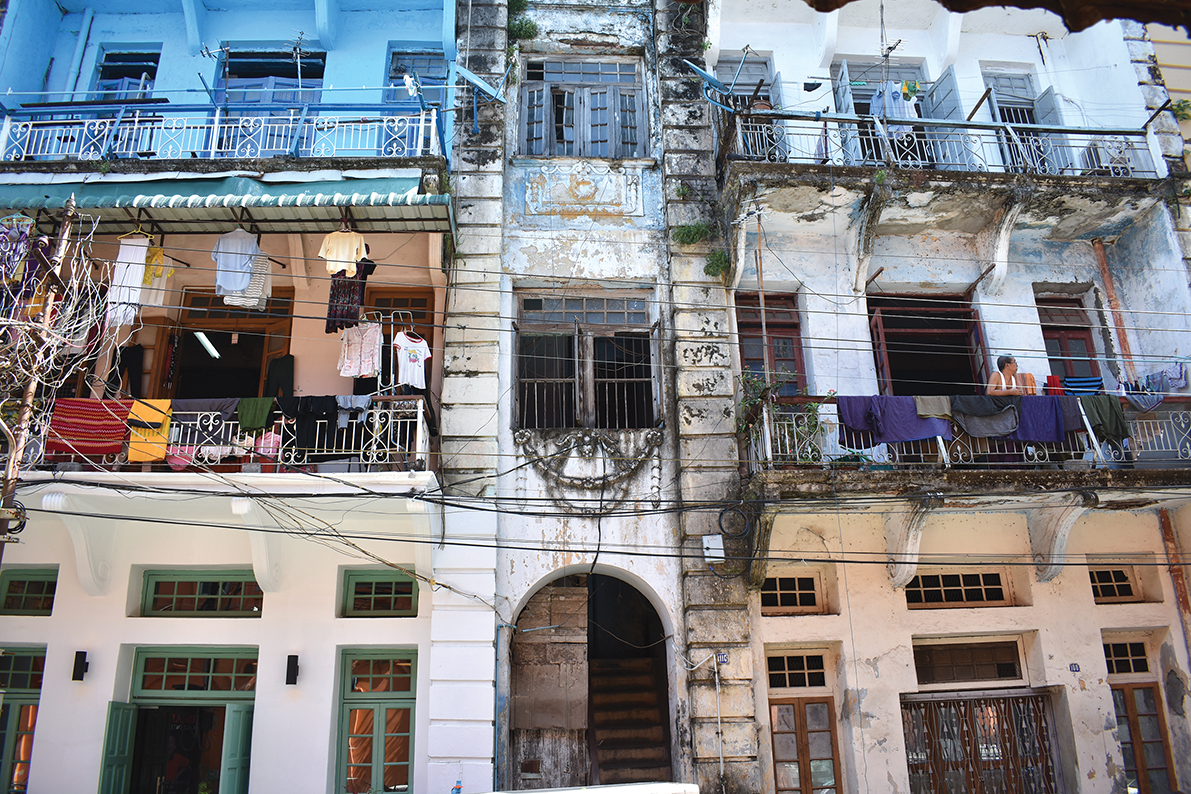 An office in Yangon renovated by Doh Eain
Improving the design of buildings to reduce the risk of the transmission of disease was addressed by Ashveen Jeetun, from Buro Happold, in his presentation Pathogens management train [PMT] in public health engineering systems.
He explained the concept of PMT, which uses scientific research to identify the exposure pathways to pathogens at all stages of the public health engineering cycle, so the design can then be improved to mitigate the risk of transmission.
In their paper, Covid 19 and other influences on the urban heat island of Manchester, John Parkinson and Geoffrey Levermore considered whether the pandemic could have an impact on energy use, in terms of urban heat island intensity.
They found an ambient temperature reduction of up to 0.6K during the pandemic, as traffic levels fell by around 70%, using sensor and measurement technology in several locations across the city centre to compare data during the pandemic with previous years, when temperatures were fairly uniform.
Modelling outdoor conditions
In the session on 'Developing enhanced understanding of external environments', SimScale's Khan made the case for more accurate wind-pressure coefficients in building simulations and, in particular, the mandated use of dynamic CFD simulations. He said the accuracy of wind pressure was more pertinent in buildings that rely on natural ventilation for air quality and thermal comfort.
RWDI's Ruth Shilston described the new Thermal comfort assessment and guidelines for the City of London, which aims to help design teams understand the impact of tall buildings on London's microclimate. It combines climate data with solar and wind simulations to provide a measure of thermal comfort through a Universal Thermal Climate (UTC) Index. RWDI worked with the City of London to produce a scale which assessed the % of time that a space would be usable. It developed a colour-coded table showing the percentage of hours the UTC was acceptable. This is reflected in the legend of the map above.
In the same session, Peter Simmonds discussed the findings in his paper The influence of outdoor conditions on the heating and cooling loads of supertall and megatall buildings.
Simmonds explained why it is important to take into account the height of buildings when carrying out heating and cooling simulations, because temperatures and wind change according to the number of storeys. Designers need to take account of greater wind pressure in simulations as storey heights increase and changes in airflow can result in exfiltration and infiltration of air at different times, he added – which could mean more heating is required in winter and more cooling in the summer months.
Preserving and improving Myanmar's cultural heritage
Doh Eain's Beverley Salmon showed a possible template for sustainably renovating millions of historic properties in Asia. In her keynote presentation, she explained how social enterprise Doh Eain renovates heritage residential properties in Yangon, Myanmar, and shared research on how the buildings perform compared with unadapted buildings and local new builds. 
Salmon said the project was helping to preserve the cultural heritage of Yangon, which has a large number of historic buildings. The homes were in danger of being torn down and replaced with less resilient buildings because the finance and skills were not available to preserve old properties. Doh Eain arranges finance for building owners and, on average, payback on investments has been four years. As well as project managing the restoration of buildings, it manages 25 of them for occupants and helps building owners finance retrofits.
The keynote explained how the retrofit projects use local materials and labour, partly because it was more sustainable and partly because Covid-19, and the return of martial law in February, meant importing materials was impossible.
Doh Eain's research on building performance found that their adaptations – double glazing and more insulation – were reducing energy load, particularly in the monsoon period, when a closer temperature range meant the benefit of thermal mass in other concrete buildings was less marked.
By preserving buildings, the city's green environment is also preserved, said Salmon, because, originally, the streets were tree-lined, and new projects don't replace trees that are uprooted during demolition.

Conserving heat
Nottingham Trent University's Emmanuel Nyabadza gave a presentation on his paper Thermal destratification: an exposition into a forgotten key solution for heating energy conservation in further and higher education establishments.
He described the use of fans to circulate heated air at ceiling level via a natural convectional current. The research found that innovative solutions, such as wall-mounted destratification fans, can enable optimised thermal comfort for occupants, reducing the building carbon footprint and saving heating energy expenditure.
In their presentation – The case for sustainable, environmentally friendly heating and cooling systems ­– don't take a chance on corrosion. Change! – James Culbertson, of The Keenan Consultancy, and Gordon Pringle, of Heating Appliances & Spares, gave an overview of the environmental benefits of implementing an alternative, non-chemical approach to water treatment, and using continuous monitoring in the prevention of corrosion in closed systems.
Pringle said corrosion monitoring was paramount because equipment can fail, leaks can develop and diffusion can occur. He said continuous monitoring – using low-cost, real-time corrosion monitors – acted like a 'corrosion smoke alarm', alerting the building operator if events occur that allow oxygen to enter the system. 
The rise of machine learning
There were a number of compelling presentations on machine learning, digital and smart technology for internal environments. In his paper, Predicting the building emission rate of non-domestic buildings using machine learning, Kareem Ahmed, from Loughborough University discussed research into using machine learning and data to help develop new ways of determining building energy rating (BER) values for Energy Performance Certificates more quickly and efficiently.

Homes in Yangon were in danger of being torn down and replaced with less resilient buildings because the capital and skills were not available to preserve old properties
Jonathan Reynolds, from Arup, explored the concept of machine learning inference of occupancy using proxy environmental sensors. He outlined a study in the firm's office as a way of potentially determining IAQ through sensors and machine-learning processes.
The use of smart thermostats was the focus of a study by Rajat Gupta, from Oxford Brookes University, in his presentation entitled Evaluation of indoor temperature and thermal comfort in homes with and without smart thermostats.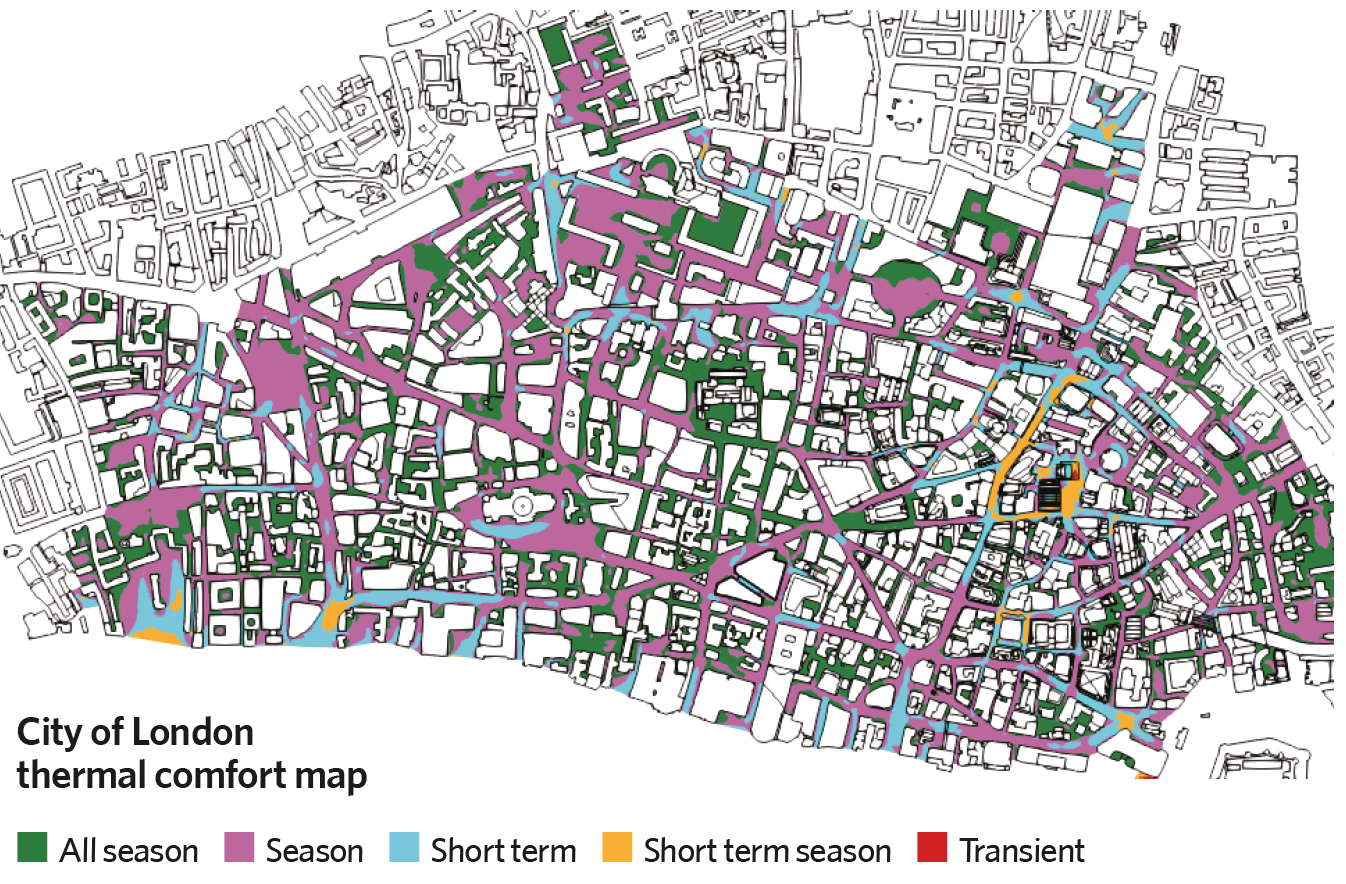 Green areas are comfortable for more than 90% of the time, while red areas are comfortable for less than 25% of the time in winter and less than 50% in summer
In her paper, Cybersecurity of smart buildings: a facilities management perspective, Nikodokht Ghadiminia, of Birmingham City University, highlighted key issues about approaches to security in connected buildings, and how it should be critical in decision-making.
In their keynote, James Pincott, of Hoare Lea, and Paige Wenbin Tien, of the University of Nottingham, discussed their research on using cameras powered by artificial intelligence to detect fire and smoke indoors. They claimed that camera-based detection and recognition systems could recognise fires more quickly than smoke detectors, and played a video showing how a deep-learning model deployed to an AI camera could quickly recognise smoke and flame.
The above has been a snapshot of the many excellent presentations at the symposium, and the Journal will highlight many more papers over the next 12 months. This will include  Waste heat recovery from underground railways – evaluating the cooling potential, by Henrique Lagoeiro of London South Bank University, which won the award for most effective delivery of material.
Read the papers on the CIBSE website.