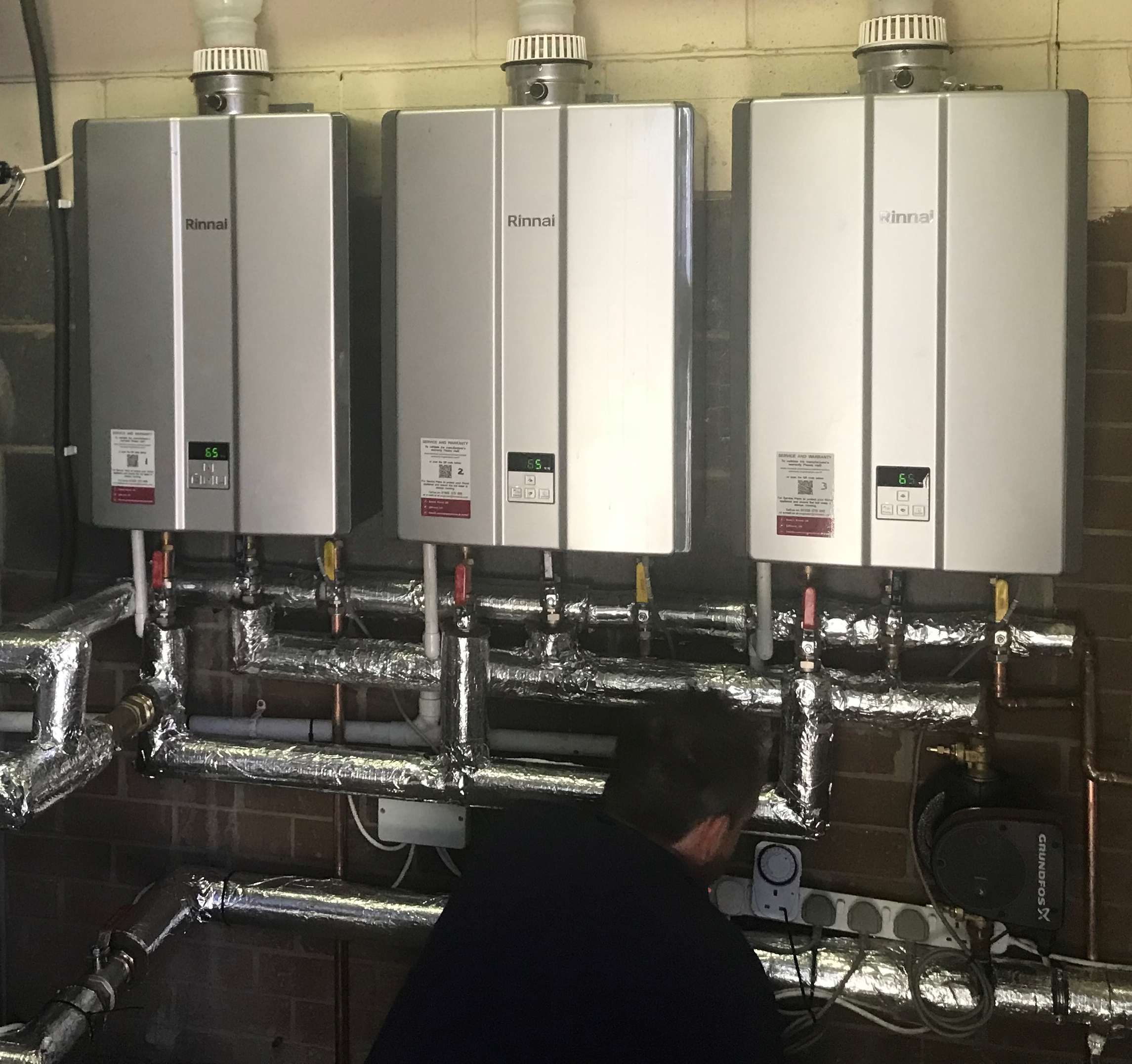 'Like for Like' is the assumed replacement when a stored water system or unit comes to the end of its working life. But is it the best option? On closer examination the 'like for like' of out with the old one and in with the same type and model stored water heater actually involves a huge and costly amount of site work and installation.  Changing the same old for the same new does not mean it will be better, more efficient, more responsive, less costly. Most plant rooms are limited in space which would require the old equipment being removed before the 'like for like' appliances can be installed.
Easy access and continuous, limitless flows of hot water at peak demand are critical components of building services for all applications on all sites adds Mr Seddon.
Says Peter Seddon of Rinnai, "Continuous flow, instant delivery of hot water delivery providing constant flows of temperature specific and controlled  end-product, which are hydrogen blends and BioLPG ready. They are also just a one-man lift, no need of lifting gear.
'Not only that, but if the appliance being replaced was non-condensing and the new appliance was condensing, then the flue would most likely require changing as well as the provision to discharge condensate. Plant rooms are very rarely designed to remove equipment. This requirement to remove equipment before new is installed would have a major impact – and it takes so much time,' adds Mr Seddon.
'The hot water system would have to be completely shut down to allow such major works to take place and all sites, especially healthcare ones, cannot  allow this to happen.
Due to the size and weight of these appliances it can make life exceedingly difficult for installers. They are usually manufactured with Enamel Lined (Glass Lined) Mild Steel which can make it extremely heavy but also very fragile. It would require multiple personnel to manoeuvre these out and in, even specialist lifting equipment and for plant rooms high up cranes would be required. All of this will add a lot of time and cost to the overall installation. Not only that, but if specialist lift equipment and cranes are required you are going to need suitably trained personnel as well as permits.
Says Pete Seddon, "So, what can continuous flow solutions offer that can make this entire process a lot easier? Well, we will start with their size and weight. This type of technology is 30kg. That is a one-man lift.  Two sizes are available – 47kW and 58kW. This would equate to a large volume of hot water for such a physically small appliance. (774 and 954 litres per hour at a 50-degree rise).
'The other benefit is the ability to cascade these appliances so when more hot water is required you would simply add more continuous flow water heater units. This would mean that just a single installer could create a system that would produce vast amounts of temperature accurate hot water. Whilst also creating built-in redundancy – this means that if one unit needs to be shut down the complete site still has ready access to hot water.
"Also possible is a 'plug and play' cascade sequencing control system that will automatically control how many appliances are running at any one time, all the installers would have to do is plug it in and select the primary water heater. Continuous flow can easily cope with any size of healthcare site. Simple as that,' adds Mr Seddon.
With a continuous flow system there are also externally sited units where there is just no space in a plant room. These external hot water heaters are fully weather protected with and hold IPX5D rating.  Installations also come with frost protection down to -20°C and will keep the appliance protected so long as the mains power supply is left switched on.
When measured in economic performance, continuous flow water heaters are half the yearly costs on a Peak Period of 3 hours per day at 960 I/h that a combustion unit would accumulate.
A typical water storage-based installation will cost £5,662.13 per year, where in comparison a Rinnai continuous flow water system will cost £2,736.02.
Rinnai's complete range of hot water heating units are available for next day delivery on orders placed before the previous mid-day. Rinnai UK has excellent stock levels of all units in the range plus spares and accessories.
Installers can contact the company direct in gaining access to the supply of units – Call 01928 531 870 or email engineer@rinnaiuk.com and sales@rinnaiuk.com