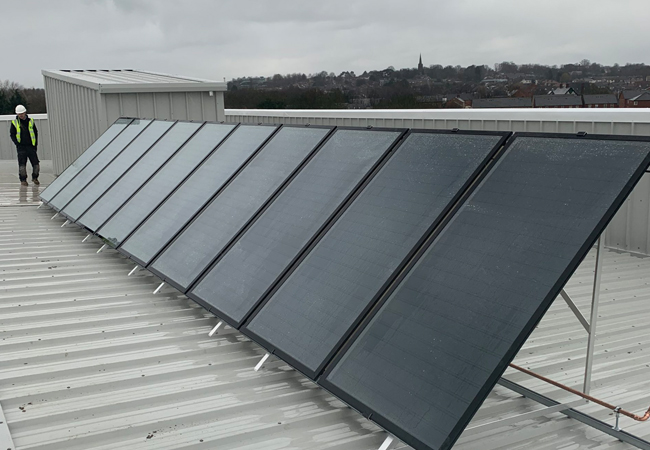 The credit crunch has sparked renewed interest in the solar thermal market, according to heating and hot water specialist Lochinvar.
Increasing pressure on the budgets of building owners and managers is leading to a resurgence in interest in solar thermal technology after a decade when it fell out of favour – almost completely.
With Feed-in-Tariffs sparking a surge in the installation of photovoltaic (PV) systems, solar thermal was (literally) squeezed out of the market due to lack of sufficient roof space to accommodate both.
However, specifiers are taking another look at the technology as they search for more energy efficiency prompted by the dramatic surge in prices last year. Improved insulation levels have reduced space heating demand making hot water production a bigger proportion of the energy load on buildings – and, therefore, the bigger source of potential savings.
"We have seen unusually high demand for our solar thermal solutions since the start of this year," said Lochinvar project engineer Richard Taberner. "It has been a very quiet market for the last 10 years and many players have dropped out of the market – so firms like Lochinvar who remained invested in this technology have something of an advantage."
The growth in heat pump applications is another development in favour of solar thermal as the two technologies work well together in integrated systems. The solar thermal collectors reduce the amount of work the heat pump needs to do in applications with high hot water demand by feeding a thermal store that provides an almost continuous supply.
Planning
With heat pumps becoming a 'default' specification to meet local planning requirements, the engineers are looking at the solar thermal as a source of additional energy cost savings in buildings with high hot water usage. This hybrid approach is also a more affordable option for cutting carbon emissions than a totally renewable installation.
The government has set aside £12.6bn to finance the reduction in energy use in domestic, commercial, and industrial buildings by 15% by 2030 (compared with 2021 levels). It has also launched a high-powered taskforce charged with driving this forward.
Co-chaired by leading banker Alison Rose and energy security and net zero minister Lord Callanan, the taskforce will devise a plan to unlock a market that the Chancellor Jeremy Hunt believes could be worth £1 trillion to UK businesses between now and 2030.
"Heat pumps are perfect for producing the low temperature heat needed for well insulated buildings, but you tick all the energy saving boxes if you then add on a renewable source of hot water," said Taberner. "This approach is bang in line with the government's ambition."
Lochinvar said it had been receiving a "steady increase" in enquiries about its solar thermal range which includes flat plate and vacuum flat plate collectors, both of which are compact and lightweight in design, but high in efficiency.
The vacuum flat plate collector can be used in areas where standard flat plates cannot such as in areas close to the coast as the plate is sealed from the salty environment around it. Vacuum tube collectors are generally the most efficient, but Lochinvar's vacuum flat plate collectors have the additional benefit of being able to be laid flat – on flat roofs for example – without much drop off in efficiency.
However, Taberner said it was important to note that there should be a steady demand for hot water to make solar thermal commercially viable.
"Many building services engineers now recognise these twin design challenges and are making sure they receive good intelligence about how the building is likely to be used," he said. "It is exciting to see solar thermal bouncing back in this way, especially as many people predicted it had already had its day in the sun."
For more information visit: www.lochinvar.ltd.uk