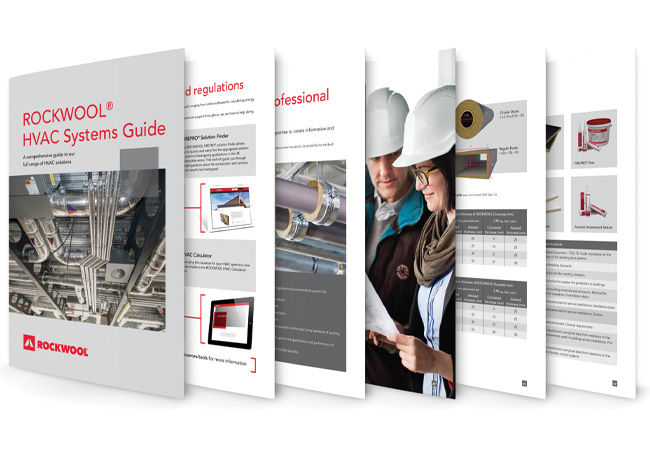 Specifiers can now have the latest technical data, installation and compliance advice at their fingertips thanks to a new HVAC Systems Guide from Rockwool. As part of the stone wool insulation manufacturer's ongoing investment in time-saving technical tools, the new guide gives a quick and easy reference point for the use of its HVAC products in thermal, fire-resistant and acoustic applications.
Available to download at rockwool.co.uk/hvacbook, the latest Rockwool guide helps users design, select and install with confidence. Within the handbook, designers will find detailed specification clauses in line with current industry standards, alongside devolved Building Regulations for England & Wales, Scotland, Northern Ireland and the Republic of Ireland. This makes it easier for specifiers to navigate the best route to compliance for their HVAC project.
The Rockwool HVAC Systems Guide also details further technical tools and resources available, including a calculator for specifying insulation within HVAC systems and the Firepro Solution Finder for appropriate fire-stopping solutions.
'HVAC services are an essential part of modern, large scale buildings providing thermal comfort and better air quality. But when specified with only thermal performance in mind, fire protection and acoustic qualities can be overlooked,' said Paul Barrett, Head of Product Management, Rockwool. 'This new handbook puts all of our HVAC information in one place, making it easier to choose solutions that deliver on heat loss, as well as the comfort and safety of building users.
'Alongside up-to-date product information and regulations, you can quickly see extra products needed to complete a full system installation effectively.'
To support specifiers further, Rockwool has created two CPD programmes: 'A Guide to HVAC Standards & Applications'; and 'EN Tested Fire Duct Systems'. Further detail on these specialist sessions can be found within the new guide.
Rockwool HVAC stone wool products provide excellent performance in controlling heat gain, minimising heat loss, reducing noise and delivering excellent fire resistance into, and out of the HVAC system. Offering insulation for every HVAC application ranging from rectangular, acoustic and external ductwork, to pipe penetration seals, Rockwool solutions deliver flexibility to specify systems from a single manufacturer source.
The latest HVAC Systems Guide is part of a wider suite of technical support tools, including the Rockwool Red Book and Firepro Book, creating a library of resources that make it quicker and easier to specify Rockwool for any application.