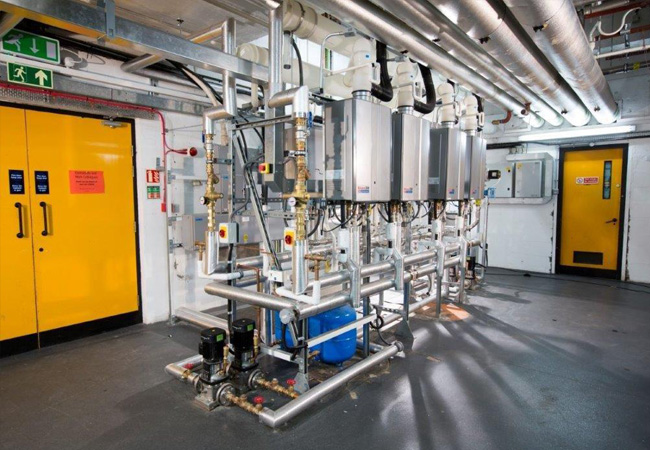 After extensive testing and verification, Rinnai's N Series commercial hot-water heating units and systems are 'hydrogen ready'. In addition, the company says any N Series units installed since December 2019 are retro compatible with the proposed natural gas and hydrogen blend fuels that could be fed through existing gas pipeline infrastructure in the future.
'This is a major announcement for our customers' installations, whether current or planned,' says Rinnai's Chris Goggin. 'It means you are future-proofed.'
There are four models in the N Series range: the N1600i giving 954 litres per hour (l/hr); the N1600e (external; 954l/hr at 50°C); the N1300i (775l/hr) and the N1300e (775l/hr of temperature-controlled water at 50°C). The two 1600s have load profiles of XXL and are class A rated for water efficiency, as are the 1300s, which have load profiles of XL.
'Decarbonisation is the goal for all of us, but it won't be achieved by a single product type or energy vector,' adds Goggin. 'There will be a requirement for different energy sources, whether that be hydrogen, electric or district heat. We need to be pragmatic and logical when considering services design within our very diverse building stock.'
Hydrogen has been successfully supplied to Keele University's campus in the Midlands under the HyDeploy project. It delivered a 20% hydrogen blend to 30 university buildings and 100 homes, without the need for customers to make any changes to their existing appliances.
The next phase of trials is at Winlaton, near Gateshead, where 670 houses- plus a church, primary school and several businesses – will receive a 20% hydrogen blend for around 10 months. For those interested in the impact of industrial clusters, there is the HyNet programme in the North West, where more than two million buildings – from Liverpool to Manchester – are expected to receive blended hydrogen in the near future.
Hydrogen is forecast to at least price-match industrial-scale alternatives within a decade.
Rinnair is planning to create an online information hub dedicated to hydrogen as a low-carbon energy for the future. Aimed at consultants, engineers, specifiers and end users, the hub will include webinars and all requested digital or onsite meetings.
Call 01928 531 870, email engineer@rinnaiuk.com or sales@rinnairuk.com, or visit www.rinnaiuk.com