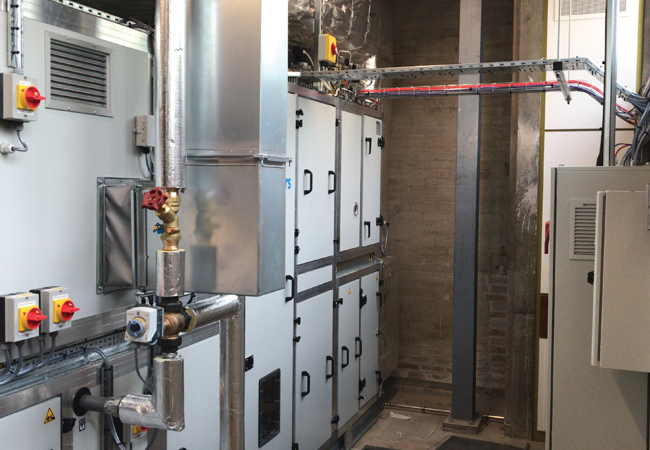 Munters has built a bespoke, turnkey, battery dry room and HVAC plant for the University of Birmingham's vital battery research.
The company has extensive expertise in this field, with dehumidification solutions installed in approximately half of the world's lithium-ion battery production facilities.     
The Energy Materials Group at the University of Birmingham works with moisture-sensitive materials such as lithium-ion, sodium-ion and solid-state chemistries. All of these require very dry climate conditions to prevent damage or explosive reactions, and to ensure product integrity.
The research team had worked in some of Munters' existing low dew-point facilities in other industry and academic settings, so expectations of a comparable facility were high. As principal contractor for the project, Munters worked with the university to optimise the dry-room design and ensure reliable climate-control performance. The resulting system is high-performing and energy efficient, and a cost-effective solution for the university.
The 50m2 dry room maintains conditions at around -40°C dew point at a temperature of 20°C, with capacity for approximately six people. These conditions are created and maintained by Munters' desiccant dehumidification solution installed in the adjacent plantroom.
Low-leakage wall panels and ductwork, and a positive pressure in the room, are also critical. Munters optimised the room and ductwork designs using computational fluid dynamics modelling to ensure it would meet the target dew point in all areas.
'Having the dry room has opened up new opportunities for us,' says Scott Gorman, research fellow and the dry-room manager. 'Around half of the projects carried out each year will use the dry room regularly. It gives us a unique selling point, and allows us to bridge that gap between industry and academia.'
One of the key challenges of the project was working within a Grade II-listed building. Paul Richards, Munters' project manager, said: 'This presented a number of challenges, including working around pillars, matching existing building louvres that were more than 20 years old, and complying with increased planning and building regulations.'
Visit here for the full story  Call 01480 432243, email info@munters.co.uk or visit www.munters.com