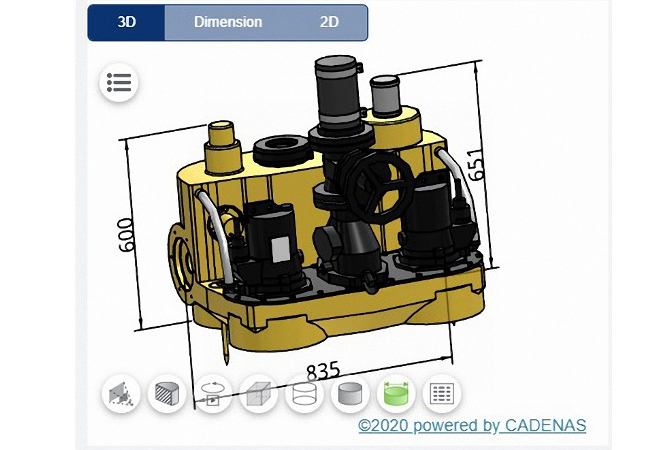 A new 3D BIM wastewater and sewage library is designed to enhance public heath engineers' working practices by making the specification of floor-mounted, wastewater and sewage pumping systems easier and more accurate.
Pump Technology based in Berkshire have developed the 3D BIM library of wastewater pumping systems (incorporating Jung Pumpen pumps) to complement the recently launched Jung Pumpen 3D BIM library for the Compli sewage lifting station range.
Public health engineers can view the products in 3D. They can then configure/select and download a 3D BIM model in over 150 native CAD formats, such as Revit, ArchiCAD, AutoCAD, Microstation and so on, as well as download a 3D PDF data sheet of their configured product.
Pump Technology is the largest UK Jung Pumpen distributor/stockist, which works directly with the factory in Germany. It is responsible for the specification, supply and support of Jung Pumpen products.
he 3D BIM library portal can be found on the following sites www.pumptechnology.co.uk and www.jung-pumps.co.uk
The 3D BIM library portal will save engineers and potential customers time and effort by allowing them to incorporate the 3D BIM products into their complete 3D virtual BIM design. The models will also include piping and electrical connection information as well as other technical details, allowing the customer to design piping runs early in the building design phase if wished.
When an engineer downloads a 3D BIM product, they can also link with Pump Technology. This allows the technical team to start a conversation with the customer to ensure they have the best solution for their application.
Pump Technology Ltd have partnered with CADENAS UK Solutions to deliver the online 3D product configurators, which provides a 24/7 360-day digital service.
Colin Johnson Managing director CADENAS UK Solutions said: 'Being able to provide and deliver a 3D digital product has become an essential part of a manufactures "go to market" strategy. No longer are a company's products the only differentiator in the market – it's also about ease of doing business which wins the day.'
CADENAS have been providing online 3D product e-Catalogues for over 25 years helping manufactures deliver 3D digital products in over 150 native CAD formats. The robust technology builds a manufacturer's configured product "On the Fly" by using the actual API's of the requested CAD format. This ensure that smart intelligent 3D product models are delivered directly to the engineer, customer, or prospect enabling them to incorporate these into their designs saving time and money.
The demand for 3D product content has been increasing year on year by over 20% with the downloading of native CAD models, said CADENAS and it claimed that the current Covid pandemic had further increased the demand for 3D digital product content as people adapt and work differently.
CADENAS is now delivering over 72 Million 3D CAD models globally per month.
Recently the Pump Technology Team was able to support, HOARE LEA with the specification of 21 Jung Pumpen Compli sewage lifting stations for the Birmingham Nightingale Hospital.
For assistance with pump specification or use of the 3D BIM libraries please contact the dedicated Jung Pumpen team at Pump Technology Ltd, Berkshire.
Tel 0118 9821 555 Email davidj@pumptechnology.co.uk
The 3D BIM library portal can be found here.