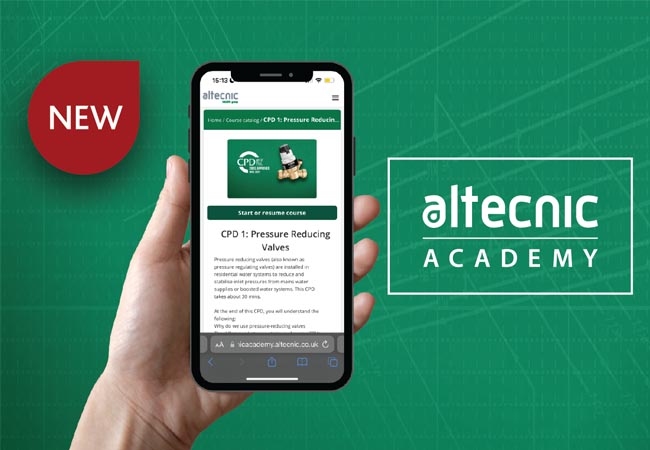 Altecnic Ltd, the leading supplier of hydronic solutions and part of the Caleffi Group, has launched a free online learning platform called 'Altecnic Academy', which features a range of CIBSE-Accredited CPDs.
As an online-based learning platform, the Altecnic Academy has been developed to support members of the plumbing and heating industry by providing easy access to courses that focus on relevant industry topics. The new platform already has a range of courses available for users to engage with, including:
Pressure Reducing Valves
Legionella Considerations When Reactivating Buildings
System Design For Efficiency For Using Electronic Heat Interface Units (HIUs)
Expansion Vessels
All users who pass courses taken on the Altecnic Academy platform will be issued with a CPD certificate and can log the courses as part of their CPD hours. The system also auto-reminds users to retake the CPDs when their certificate expires, ensuring that all knowledge is up to date.
Helen Cooper, head of marketing at Altecnic, commented, 'At Altecnic, we consistently strive to support customers with more than just high-quality product solutions, but also as a source of trusted knowledge.
'The Altecnic Academy is a great addition to our technical hub that already contains Idronics UK, the Altecnic Podcast, and our extensive video library. The free of charge training platform, covers anything from industry legislation to more product-specific training courses.'
'By developing the Altecnic Academy platform, we are now able to provide a flexible and accessible way for members of the industry to take part in training, no matter what stage of their career, so that they can further expand their knowledge and keep up to date with key industry topics'.
Sign up at Altecnic Academy