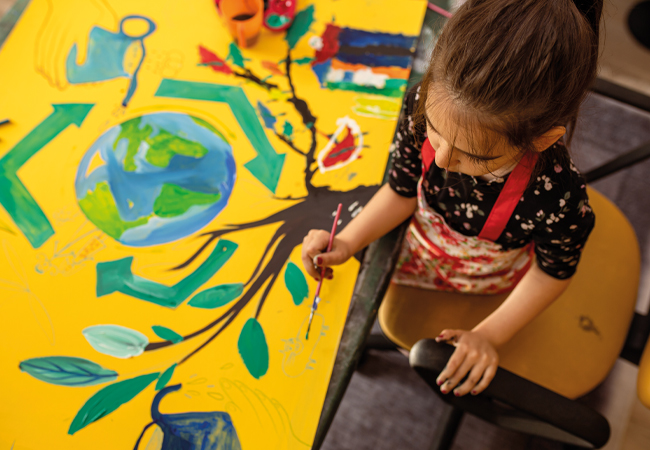 Credit: iStock.com – Dusan Stankovic
Steve Simmonds,
special projects engineer at Spirotech
Where is a good place to start to improve the energy efficiency of a school or university's heating system?
Testing the condition of the system fluid. This will point to the causes of issues such as erosion, corrosion and biological contamination, each of which can affect the efficiency and performance of the unit and lead to balancing issues, pump inefficiency, kettling, or poor circulation.
Good water-quality management within a properly set-up system will combat the conditions that cause these problems, and deliver greater efficiency, reduced maintenance and, ultimately, a longer system life. As the market moves towards more sustainable, energy-saving technologies and reducing carbon footprints, the quality of the fluid within heating and cooling systems becomes ever more important – in fact, it is the single most important 'component' of the system.
So, can it make a contribution towards net zero?
The focus on better heating has been highlighted in the government's School Rebuilding Programme, which seeks to transform 500 schools into 'modern energy-efficient buildings'. This includes replacing ageing systems with upgraded 'green' models, contributing to schools operating to carbon net zero.
Spirotech offers two levels of water testing: basic sampling, and a full analysis and in-depth report.
We have also extended our educational CPD portfolio to include Understanding water quality and total solutions. This identifies problems caused by poor water quality, and explores the technical solutions and product types required to solve them.
Topics include hydronic stability, regulations and guidelines, how water conductivity causes corrosion, and the impact of hard and soft water. To register, visit www.spirotech.co.uk/cpd.
Edward Ballsdon,
co-founder and managing director, Rensair
How do schools ensure they have adequate air quality in classrooms?
The Department of Health and Social Care references the World Health Organization's recommended air change rate of 10 litres of fresh air per second per person – but many schools are chronically under-ventilated and cannot achieve that level. With limited budgets, a complete overhaul of ventilation is usually an impossibility.
To bridge the gap where ventilation is poor, the UK Scientific Advisory Group for Emergencies (SAGE) committee advocates portable air purifiers, and recommends HEPA filtration and UVC light to capture and inactivate pathogens.
Its advice is to seek evidence of independent tests, and it warns that technologies using chemical reactions are unproven and could have harmful side effects. Air purifiers must be heavy duty, with a powered fan system to enable air cleaning throughout an entire space. Residential air purifiers will not serve as a substitute for a hospital-grade device.
Cost consciousness and indoor air quality are not mutually exclusive. The return on investment goes far beyond safeguarding health, with portable air purifiers being a fraction of the cost of an integrated HVAC system. Air purification units consume about the same power as a fridge freezer, (a few pence per day), and large energy savings (and carbon emissions) can be made from not having to heat fresh air intake. Ongoing savings can quickly offset the initial capital cost of air purifiers.
All things considered, HEPA/UVC air purifiers represent a practical solution: high-performance (min 99.97% efficacy), cost-effective (fraction of the cost of an HVAC system), multi-tasking (viruses, bacteria, allergens), and instant to install (simply plug and play). Job done. Visit
https://rensair.com/industries/education
Graeme Shaw,
technical director UK and IE, Thorn Lighting
Is it right for schools to focus primarily on energy efficiency?
We live in a world obsessed with reducing energy. Given soaring electricity costs and government net zero/sustainability targets, it's no wonder planners/consultants and contractors design schools to just meet standards.
How important is quality of light?
Classrooms are designed to provide uniform light. A minimum illuminance of 300lux (0.6 uniformity, UGR19 and Ra80) is widely regarded as 'suitable' for general tasks – designed to fulfil the requirements of BS EN 12464-1: 2021.
Primary students spend more than 7,000 hours at school (by the end of Year 7), most of which are in a single classroom designed before the development of dynamic lighting and digital technologies, such as smart boards and tablets.
We understand that the sector is grossly underfunded and lighting is a quick win (it accounts for the greatest proportion of energy costs in schools). But good design, specification, management and controls – such as DALI – can have a significant impact on limiting electricity consumption, keeping running costs to a minimum while providing a nurturing environment. 
It can't just be about meeting numbers (whether that's net zero, energy reduction or a lighting standard) – not when there is growing evidence that classrooms with dynamic, human-centric lighting capable of adapting to individuals' needs (where the teacher is in control of colour and intensity) improves student behaviour, concentration, engagement, health and results.
At Thorn, we believe the schools of 2030 need to offer an environment where children can learn. The focus moving forwards has to be on lighting for people and quality over energy efficiency.