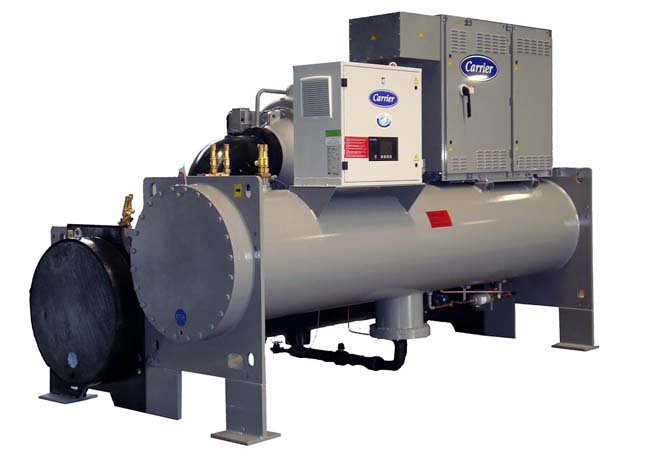 Carrier AquaEdge 19XRV centrifugal chillers are providing high-efficiency cooling and indoor comfort for residents of 22 Bishopsgate, London's new technologically advanced landmark building.
It has 62 storeys, with 1.275 million square feet of residential, office and indoor amenity space, designed to achieve the highest standards of sustainability and occupant comfort with a Breeam rating of Excellent.
Built by principal contractor Multiplex, 22 Bishopsgate is also pursuing certification under the Well Building Standard.
The four Carrier centrifugal chillers, installed by Michael J Lonsdale, each deliver 4MW of cooling with European Efficiency Rating levels as high as 6.8.
Equipped with Greenspeed Intelligence variable-speed drives, the chillers constantly match cooling output to the building's heat load, optimising comfort, reducing energy consumption and minimising impact on the environment.
They use a new high-efficiency, dual-stage, aerodynamic impeller design, with tunnel diffusers based on aircraft engine technology. The compressor motor is cooled by refrigerant gas injection – further improving efficiency – while a patented float-valve system optimises sub-cooling and refrigerant level in the evaporator.
'Space was a key issue,' said James Snowball project manager with Michael J Lonsdale. 'The building's foundations and basement plantrooms were originally designed for a different project with a smaller overall floor space. This design was abandoned when the project was acquired by its current owners, in favour of a larger building with a greater focus on occupant wellbeing. As a result, the foundations were adapted, resulting in challenges to accommodate the building services plant.
'Carrier's 19XRV centrifugal chillers were proposed. They are highly energy efficient and able to provide the high-capacity cooling needed in the available plantroom space.'
Carrier also provided the equipment for cooling the building's 54 lifts and associated motor-winding rooms. The developers were AXA IM – Real Assets and Lipton Rogers, with WSP as building services consultant.
■ For more details of Carrier's AquaEdge 19XRV centrifugal chillers, visit: www.carrieraircon.co.uk/product/19xr-xrv-1000-5000kw