Arup's Keir Loudon was the winner of the Society of Public Health Engineers (SoPHE) Young Engineers Award 2019. promotional video celebrating the work of public health engineers. The competition challenged applicants, aged 18-35, to produce a Loudon's entry provided an engaging insight into the problem-solving they undertake.
In it, he sketches the type of work public health engineers undertake, while narrating the story. In a timely coincidence, following his short film, Loudon has now moved to Hollywood to join Arup's Los Angeles team, and hopes to develop his knowledge of American codes and engineering.
What gave you the idea for the video?
As soon as I read the brief, I knew I'd like to do something more than just be in front of the camera describing public health engineering. I wanted to find a way to communicate a lot of information and ideas in a short space of time in a way that was a bit different. YouTube has some great examples of creators finding new and interesting ways to portray content and I'm sure I picked up some inspiration there.
Your sketches are great. Did you enjoy drawing when you were young?
I've liked sketching and visual media as long as I can remember. I drew a lot when I was younger; my sister is an incredible graphic designer, so she was always there to point me in the right direction. One of the first artists she showed me that had a lasting impression was Bridget Riley; I find it fascinating how mathematic and technical the process behind her work is, especially given its 50-year chronology.
I ultimately went down the engineering route, but still sketch ideas every day. Regardless of the discipline, it's the most effective way of communicating your ideas. I'd never made anything like the video for the competition, but I really enjoyed the process, and the positive feedback from people has been great. I'd love to do something similar again, I think it could work well as a learning tool for specific aspects of engineering, for graduates or engineers who just need a refresher.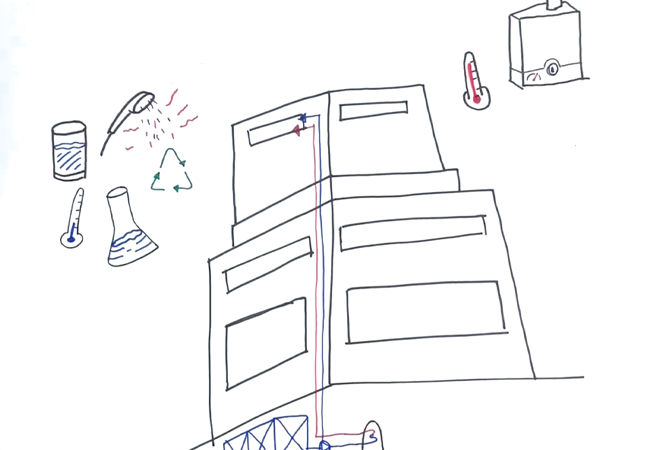 A still from Loudon's animation
Do you think young people prefer communicating through video and audio?
There has been a massive growth in YouTube and podcasts in the past five to 10 years, particularly among younger people. I think this is partly because of the ease and accessibility of the platforms and because people are eager to share their ideas in a format over which they have control.
You enjoyed water engineering when you were young. What whetted your appetite? What's been your favourite project?
I did civil engineering at the University of Sheffield and in the latter half of the course, the focus began to shift to water, including hydrodynamic 3D models, as well as case studies of sustainable urban drainage systems. I really enjoyed the combination of technical water design with sustainability as a key driver.
One project that I remember reading about in a lot of detail at the time was the London 2012 Olympic Park. It incorporated many sustainable drainage techniques within the constraints of a brownfield site, and has become a legacy project.
What do you do when you're not promoting the industry through brilliant sketches?
Once I graduated, I began working for Arup as a public health engineer in London, where I worked on an array of diverse projects all over the world. I continued to develop my interest in sustainable water design, but also in building engineering as a whole. I've been lucky enough to work on some incredible projects, both visually and technically.
My past two projects have been London-based museums that have had complex fire suppression requirements, one of which was high-hazard storage. This has been an invaluable learning experience for me, and I've loved developing that aspect of my engineering work.
Where do you see yourself in 10 years' time?
I recently transferred to Arup's Los Angeles office on a two-year, long-term assignment to develop my knowledge of American codes and engineering, so that's my immediate focus.
Longer term, I would like to continue to work on, develop and drive sustainable design. With climate targets justifiably becoming more ambitious, more innovative engineering solutions must be realised, and we in the construction industry can make a lasting positive impact.
Kier Loudon is a public health engineer at Arup