Some performance gap issues are familiar to building services engineers, designers and clients alike. These include the challenge of a fragmented supply chain, the lack of design input through the later stages of development, challenges with the models we use, and the interactions between people and buildings.
I provided insight into the reasons for the performance shortfalls when I spent two days with a group of building performance evaluation experts, examining findings from Innovate UK's Building Performance Evaluation (BPE) programme. The discussions revealed a number of factors.
Design drivers
Design choices are often guided by the requirement for a label or certificate, or the availability of funding. Sometimes, fashion or a client's particular preference determines the route taken.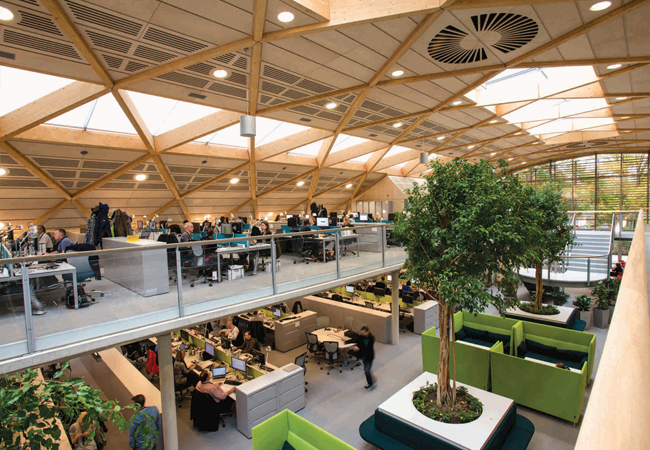 The WWF headquarters was one of the few buildings on the BPE programme to meet performance expectations
Labels can be great when they are underpinned by a design philosophy. Passivhaus buildings under the Innovate UK programme performed well and were closer to designers' expectations than other buildings. However, labels, along with regulations, can drive design by checklist.
Designers are in danger of specifying systems to hit a score – or choosing a design because it fits in the model – rather than choosing a system that maximises building performance.
The danger is that buildings are designed to meet external requirements, not the needs of clients or occupants. Perhaps the challenge to the design sector is to push clients to define their needs – not by building fad or feature, but by the service they offer their employees, visitors and customers. If the service is defined by an equation, a piece of kit or U value, ask the question again. Keep asking until the answer is expressed in short, simple, people-focused words.
Manageability is key
Multiple energy systems require integration and management; they are complex beasts. As an industry, we're doing our clients a disservice if we install systems that they don't have the resources or understanding to operate. Even with a high level of technical knowledge, some clients will lack the time to manage a complex system effectively – which means it's the wrong system for them, and that the building is unlikely to meet expectations.
How to get things fixed
The issue of liability and the possibility of litigation tend to send the industry into a panic; in fairness, it can be very hard to trace where a fault occurred.
The examples we discussed, where organisations were able to get things remedied, fell into two camps – the big and the belligerent. The 'big' were those clients with sufficient muscle to get systems fixed, improved or replaced because their portfolio of future projects was a lure to the supplier or contractor in question.


These are your buildings too. When they don't perform as expected, a lot of attention is going to come your way

The 'belligerent' tended to be those building for highly ethical reasons, who were determined that their building would be exactly as they had imagined and were going to be a pain in the proverbial until it was!
Where clients didn't fall into either group, they opted for flight rather than fight – ripping out new systems or simply switching them off.
What can the building services engineer do about all this?
These are your buildings too. When they don't perform as expected, a lot of attention is going to come your way. Can you really say the services you provided are operating as they should? If they are not, do you understand why? Do you care? (Answer: you should.)
If you care, you will invest the time and effort in fixing what is wrong – and learn from the process, to ensure it doesn't happen again. You will get involved in the design process as early as possible, and stay involved. You will push back if there is a conflict between building design and building services. And you'll understand – and be able to explain – what is at stake, so that we stop letting value engineering promote cost savings above quality.
It's your reputation on the line if a building doesn't live up to its promises. The performance gap is no longer a dirty little secret among a few energy and buildings professionals. It is better understood, more visible and of more concern to clients than ever before.
Liz Warren is a director at SE2
www.se-2.co.uk @se2limited