Government has recently published several consultations on the energy and carbon performance of buildings:
For new homes, proposals for Building Regulations, Approved Document L and SAP. By late 2019/early 2020, we also expect proposals covering non-domestic buildings, existing homes, and a new overheating standard

Proposals for improving the energy efficiency of businesses, possibly requiring Energy Performance Certificate ratings of C by 2030.
Additionally, government is expected to consult in 2020 on mandating operational ratings for commercial buildings.
New homes
Government has committed to introduce by 2025 a Future Homes Standard, for new-build homes to be future-proofed with low carbon heating and 'world leading' levels of energy efficiency; no new homes built with gas (or other fossil fuel) heating. Government proposes this would represent a 75-80% improvement on Part L 2013 carbon emissions levels. The stated aim of Part L 2020 is to be a 'meaningful and achievable stepping stone' towards this.
Proposals include:
Two options for the overall uplift to carbon performance in 2020: a 20% improvement, based on very high fabric performance or – the government's preferred option – a 31% improvement based on more minor fabric improvements and the installation of low carbon heating or renewable systems
Upgrading minimum energy efficiency standards for fabric and services
The introduction of a primary energy target, in line with the Energy Performance of Buildings Directive, which would work alongside the carbon target. The fabric energy efficiency target would be removed
Tightening as-built and information requirements, including testing every home for airtightness, and more accurate as-built energy calculations
Future-proofing homes to low carbon heating, with space heating temperatures limited to 55oC
A new heating affordability criterion: government is seeking suggestions
Aligning carbon factors with reality and removing fuel factors, which distort the assessment.
While we welcome the stated aims, the following points need to be reviewed:
AD-L 2020 should deliver a 31% improvement and include the best possible fabric to future-proof homes, reduce demand, and limit the costs of low-carbon heating
Regulations need to shift towards total operational energy performance, rather than as-built regulated emissions only – see our briefing here.
Government proposes to consult on the Future Homes Standard implementation in 2024. This is much too late. It should be available earlier, to allow market leaders to adopt it and develop expertise and supply chains. Similarly, while we acknowledge the desire to streamline standards, we have serious concerns about the proposal to prevent local authorities from adopting standards higher than Building Regulations. In places such as London, local authorities should be allowed to lead the way and adopt the Future Homes Standard, subject to viability testing. This would significantly help the rest of the market when the standard is mandated from 2025.
Please send contributions to technical@cibse.org Views on these areas would be particularly useful:
Proposed upgrades to fabric and services efficiency

SAP methodology and characteristics of the notional building

Is the proposal for 55oC heating systems sufficient to future-proof for low carbon heat? Should other measures be considered – for example, storage space?

The notional building, set at the same shape as the proposed building, does not encourage consideration of building form to reduce demand. The fabric energy efficiency rating at least went some way towards this – how effective are the new proposals replacing this?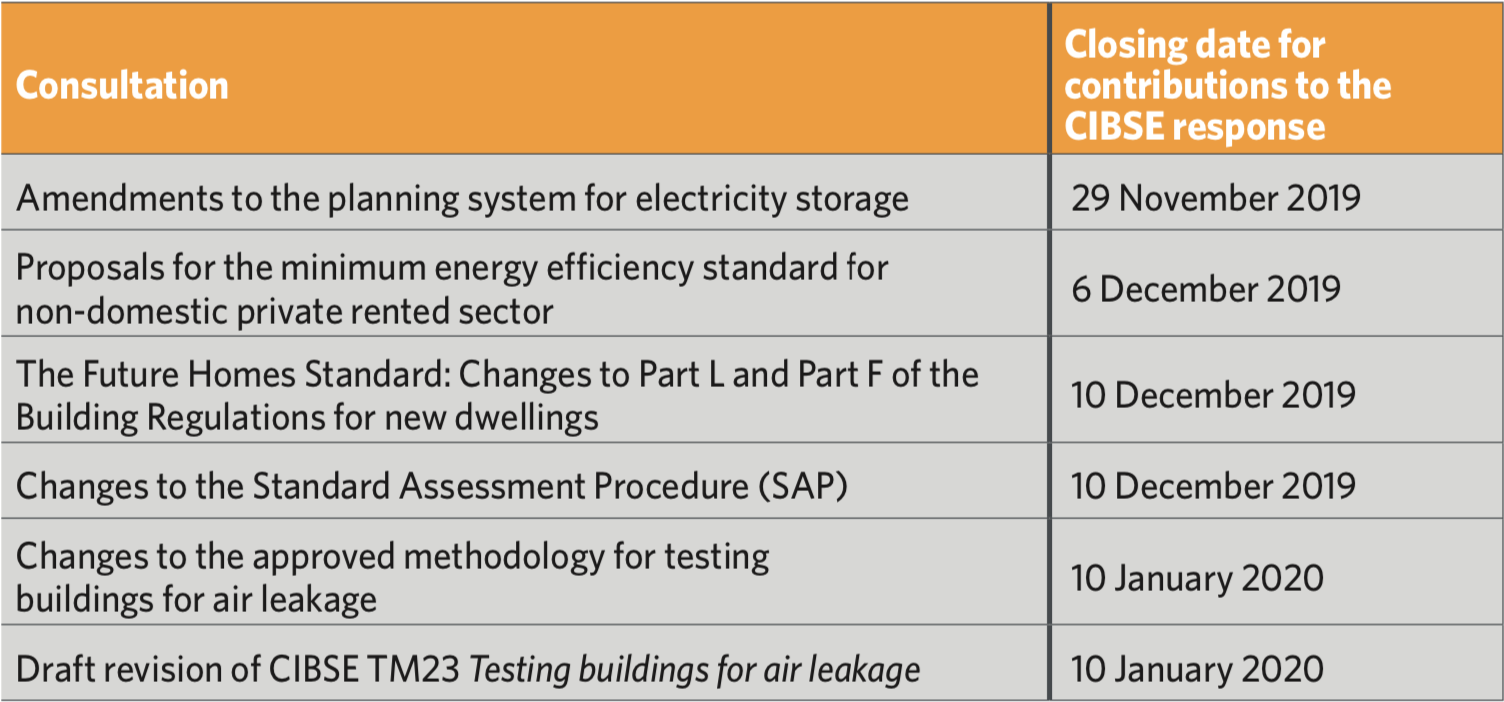 About the author
Dr Julie Godefroy is technical manager at CIBSE