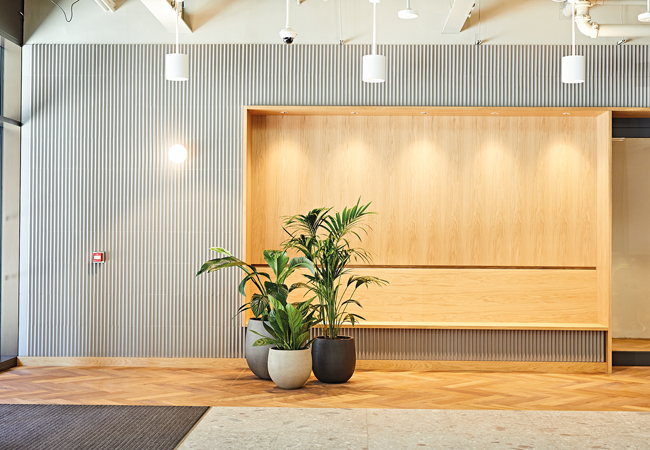 The WELL platinum Bloom Clerkenwell
Milena Stojkovic FCIBSE is an associate partner and senior environmental analyst at Foster + Partners, where she has worked for more than 10 years. She is also co-chair of the CIBSE Health and Wellbeing working group alongside Dr Marcella Ucci, associate professor in environmental and healthy buildings at the Bartlett's UCL Institute for Environmental Design and Engineering.
The working group is running a session on day two of Build2Perform Live at ExCeL, London, which runs from 29-30 November. At the event, Stojkovic and Ucci will present an introduction to the working group . Penny Goodall Quraishi, director at the International Well Building Institute (IWBI) will discuss the new Well Equity rating. This will be followed by an audience Q&A and a panel discussion, chaired by Julie Godefroy, CIBSE head of sustainability.
Here, we find out from Stojkovic about the group's aims and how important its work is in improving the built environment.
What is the aim of the CIBSE Health and Wellbeing working group?
To ensure broad coverage of health and wellbeing in a strategic and integrated way. The group supports CIBSE to ensure its activities – including policy, guidance, research and awards criteria – are in line with best practice . We aim to provide an outlook beyond engineering and beyond practitioners, by establishing links with research and academia, as well as other disciplines and industries.
We hope to gain better external reach and visibility for CIBSE's work, and keep CIBSE members updated with new developments in this field. In addition, we aim to establish links with other membership associations and certification bodies.
CIBSE already does a lot of work on health and wellbeing-related subjects, with active workstreams and groups covering overheating, air quality, and lighting. The Health and Wellbeing working group will also look at broader issues, such as inclusive design and health inequalities. Overall, we aim to identify priority areas and upcoming challenges of significance to CIBSE members and society at large.
What events have you planned for the year ahead?
The group is organising a health and wellbeing session at Build2Perform 2022, with speakers discussing relevant topics . There will also be a panel discussion focused on emerging challenges and drivers for health and wellbeing, including regulatory or market opportunities. The event will also be an opportunity to scope further activities for the group.
Additionally, we will be publishing updates on new developments in the health and wellbeing space, including an upcoming CIBSE Journal article that will focus on inclusive design.
Is there any new CIBSE guidance in the pipeline?
We will be working with stakeholders to identify whether there is a need for new guidance. In the meantime, TM40 Health and wellbeing in building services and TM68 Indoor environmental quality monitoring are great resources, and open areas for future research. Also essential are all CIBSE publications on lighting, thermal comfort and air quality.
Is the group working with other disciplines?
The plan for the group is to have a multidisciplinary membership, and we are keen to work with other CIBSE groups – including those with a clear health and wellbeing focus – as well as with those who have a broader scope, such as facilities management and resilient cities. We are interested to hear from members about potential topics and opportunities for collaboration.
As co-chairs, Dr Marcella Ucci represents the academia side and I represent the industry, as a member of a global multidisciplinary design practice.
Is there a trade-off between reducing energy use and delivering healthy buildings?
Energy efficiency and health and wellbeing are integral parts of building performance, so poor energy performance or poor indoor environmental quality are not sustainable in the long term.
When looking at buildings in use, poor commissioning and operations are usually causes of under-performance, so addressing these can achieve improvements in both.
For more information on Build2Perform Live, visit: www.build2perform.co.uk