Have you heard of the UK's Building Renovation Strategy? I had not until recently. It is a requirement under the EU Energy Efficiency Directive, which is part of a plan to decouple energy consumption from economic growth and achieve a 20% reduction in energy use by 2020.1 The UK's first version of the strategy, in 20142, was considered  to be less than satisfactory. It should be revised by April.
Meanwhile, the EU Circular Economy package was expected to start having a positive impact on the construction sector, which is responsible for half of the UK's total waste.3 It includes proposals for waste recycling and diversion from landfill, as well as for waste reduction at source through efficiency and product design. However, because of Brexit its UK implementation is now in doubt.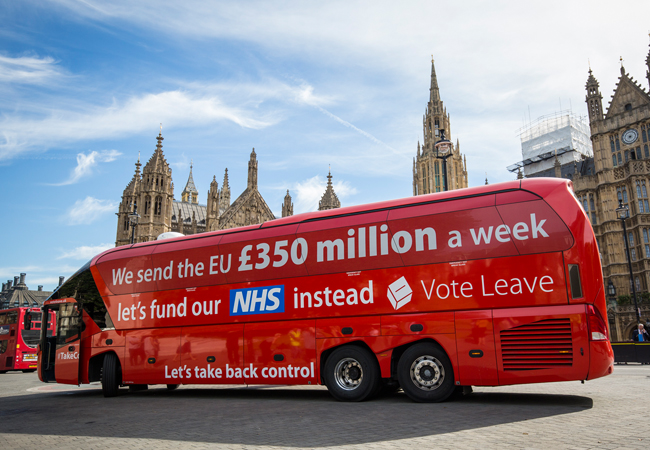 Look familiar? Better air quality could save the NHS £350m a week
EU legislation is not perfect. Some perceive it to be forced onto member states, poorly written and difficult to implement. Sometimes it is behind UK best practice – but it illustrates the benefits of long-term objectives. In the context of the past few turbulent months, it is difficult to imagine such a trajectory of stability, especially as the Prime Minister has not been shy  in revisiting her predecessor's positions – on Hinkley Point and grammar schools.
The consequences of Brexit are uncertain, ranging from limited – with the UK remaining in the European Economic Area and having to abide by many of its rules and legislation without influencing them – to a complete separation. This is where some of the risks to sustainability lie. Environmental and health and wellbeing improvements often rely on long-term objectives, where policy is developed to take account of needs and interests beyond short electoral cycles. Some issues are local; others need wider geographical action and collaboration. What we know can be summarised as follows:4, 5
The UK is often credited with being a driver of EU policy on carbon emissions. The 2008 Climate Change Act legally binds government to an 80% reduction by 2050, which goes beyond EU policy. The Fifth Carbon Budget was adopted as one of the last decisions of David Cameron's government. However, the EU has led on renewable energy and energy efficiency, and Brexit may affect this

The EU is considered to have had a positive influence on environmental topics, including air and water quality, and habitats. The problem is often with national implementation. The UK is being taken to court for failing to develop a satisfactory air-quality strategy to meet EU objectives.6, 7, 8
Two other issues likely to affect our ability to deliver a sustainable and innovative built environment are:
Long-term R&D strategies: The UK is the second-largest participant – and has the four largest recipient universities – in the EU's Horizon 2020 research programme.9 The, financial shortfall will need to be addressed
Skills: EU nationals represent about 5% of the UK population10, but make up about 20-30% of the workforce in construction and design firms. We need to attract students to engineering degrees and develop apprenticeships if a future supply of EU workers cannot be relied upon.


We need to attract students to engineering degrees if a future supply of EU workers cannot be relied upon

CIBSE is responding to the inquiry into the implications of Brexit on energy policies11 and we should make our views heard. Here is my wish list:
Post-Brexit regulation to take account of our environment and quality of life. These should be seen as an opportunity to remain competitive in Europe and beyond rather than as a barrier to short-term growth

Retained long-term carbon objectives, with intermediate targets to hold successive governments to account

Reinforced energy efficiency strategy; retained MEES, which have started to drive improvements; DEC expanded to commercial buildings; reduced VAT for refurb and energy efficiency works – the discrepancy can no longer be blamed on EU rules

Action on air quality – for example, new buses to be electric, restrictions on diesel generators, and provisions in Building Regulations. Air quality is estimated to contribute to at least 40,000 deaths, and cost £8-20bn, per year.12 This is more than £350m per week – which could, in part, be saved for our NHS. This just happens to be close to THAT campaign bus slogan.
References
C Burns, A Jordan, V Gravey, N Berny, S Bulmer, N Carter, R Cowell, J Dutton, B Moore, S Oberthür, S Owens, T Rayner, J Scott and B Stewart, The EU Referendum and the UK Environment: An Expert Review. How has EU membership affected the UK and what might change in the event of a vote to Remain or Leave? Executive Summary, 2016.
CIBSE Journal, Hywel Davies, The Meaning of Brexit, July 2016
The Guardian, Case against government on air quality, May 2016.
Client Earth air pollution, visited September 2016.
The Guardian, Schools and air quality, May 2016.
UK participation in Horizon 2020 and Framework Programme 7.
Office for National Statistics, Population of the United Kingdom by country of birth or nationality, 2015.
Leaving the EU: Implications on Energy Policy.
Environmental Audit Committee report on air quality, 2010.
Julie Godefroy is an independent sustainability consultant