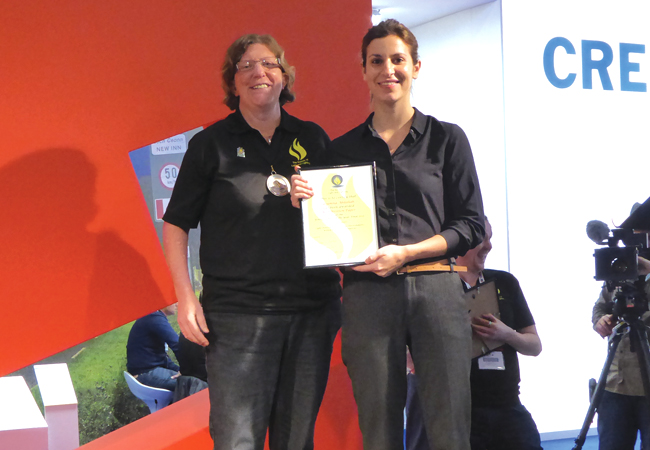 Liz Peck presents Youmna Abdallah with the 2015 Young Lighter of the Year Award
Youmna Abdallah, from MBLD, has been named Young Lighter of the Year by the Society of Light and Lighting (SLL).
Abdallah, who received her accolade at the Lux Awards in November, impressed judges with her presentation and paper Light Poverty in Precarious Environments within Developing Countries.
The awards, now in their 21st year, allow young lighters to demonstrate knowledge, hone their presentation skills, and raise their industry profile.
Other finalists included Inessa Demidova (GIA Equation), who won the Best Presentation Award for Practical Implementation of Circadian Lighting in Office Environments, Christina Hébert (Nulty+) with her paper A Symbol of Urban Identity, and Zeynep Keskin with her paper Daylight and Seating Preference in Open-Plan Spaces. Youmna also won the Best Written Paper. These categories were judged by the Lighting Education Trust (LET), which provided the cash prizes.
Also recognised at the awards was Liz Peck, SLL president, who was named Lux Person of the Year. Finalists' presentations are at www.cibse.org/sll