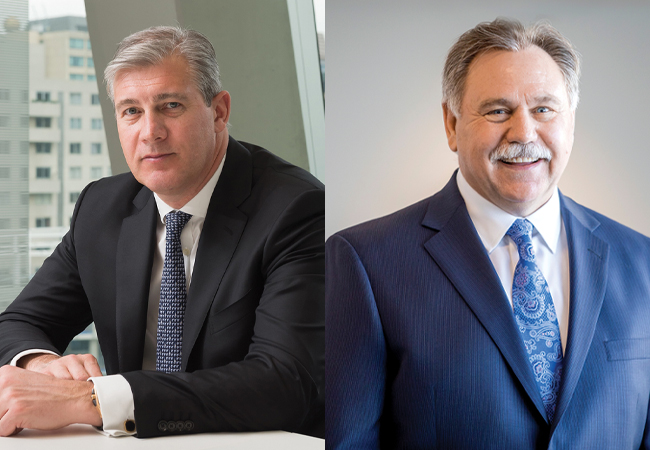 Paul Flatt (left) and HDR chair Eric Keen
US multidisciplinary engineering company HDR has bought UK building services consultant Hurley Palmer Flatt (HPF).
The Omaha-based firm has a $2bn turnover and employs more than 10,000 people working out of 200 offices worldwide. It had been looking to expand its presence in the UK after securing a number of major projects here.
Combining the firms will create a building engineering services workforce of 1,200 and the business will trade as HDR | Hurley Palmer Flatt. HPF chief executive Paul Flatt will become managing director of the business.
HDR chair Eric Keen said the acquisition would help the company expand its multidisciplinary services.
'Hurley Palmer Flatt Group brings strong client relationships and specialised skill sets to HDR that, when combined with our capabilities, offer tremendous possibilities.
'By combining our teams of professionals, we will develop a stronger building engineering practice globally.'
HPF Group is based in London and had a turnover of almost £40m last year. It employs 240 staff and the acquisition includes its subsidiaries Andrew Reid, Bradbrook Consulting and Concentre Consulting.
Its services include mechanical, electrical and plumbing; civil and structural engineering; and management of commissioning, as well as tailored works for 'smart' buildings, green building design and data centres.
'HDR is the perfect strategic fit for the Hurley Palmer Flatt Group,' said Flatt.
'The desire to have a meaningful impact on the organisation and to achieve strategic growth moving forward makes HDR the ideal partner.'