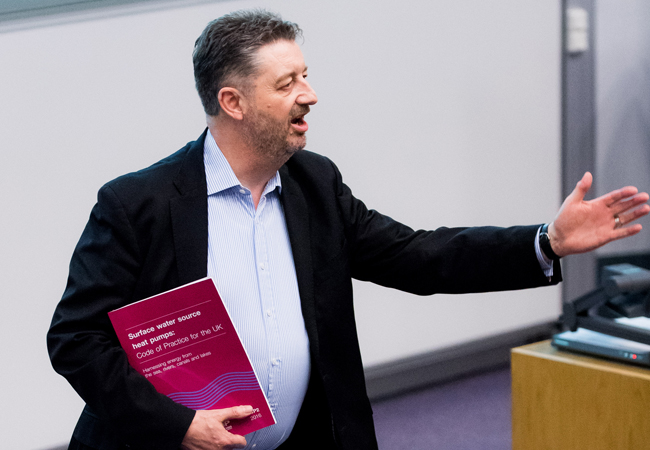 Phil Jones presenting on SWSHPs at the symposium
The UK has been ignoring one of its greatest renewable sources by failing to exploit energy from the sea, rivers, canals and lakes to provide heating and cooling in buildings, according to Phil Jones, chairman of the CIBSE CHP and District Heating Group.
Jones told last month's CIBSE Technical Symposium in Edinburgh, that surface water source heat pumps (SWSHPs) were a hugely underused technology and would be the next great breakthrough in renewable energy; the government, he said, was poised to provide a funding boost through the revised Renewable Heat Incentive.
He said SWHPs were particularly suitable for the UK and the freely available water source heat map produced by the Department for Energy and Climate Change would help to open up the market.
CIBSE has produced a Code of Practice for SWSHPs in partnership with the Heat Pump Association and the Ground Source Heat Pump Association to make sure 'we don't get this wrong as the market starts to accelerate', said Jones.
The voluntary code sets minimum standards and is accompanied by training courses, which start at CIBSE this month. CIBSE is also working with the Canal & River Trust to identify good sites for SWSHPs in terms of MWh per metre demand close to a surface water source.
'This means we can go and knock on the doors of nearby potential users and give them a strong economic case,' Jones said.
The code was launched at Kingston upon Thames, where SWSHPs have been installed. Read 'A river runs through it' on page 34 of the January 2014 CIBSE Journal.
For more information, visit www.cibse.org/CP2