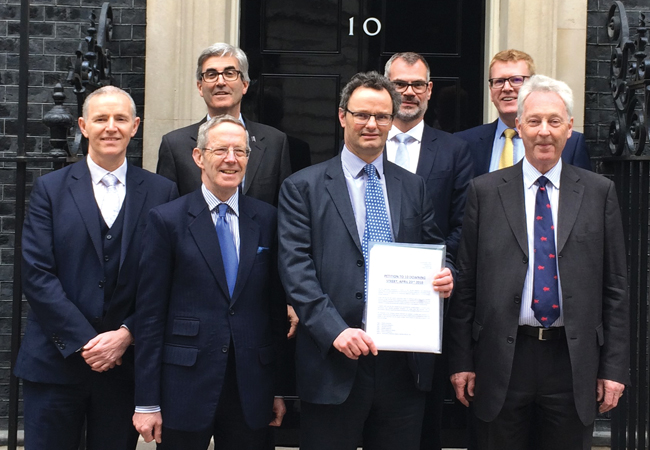 Peter Aldous (centre) and business leaders at Downing Street
A coalition of 76 trade bodies – representing more than 355,000 businesses – has delivered a petition to 10 Downing Street calling for urgent reform of payment practices in the construction industry.
The delegation was led by Peter Aldous MP, who has introduced a bill to parliament that seeks to amend the Construction Act so that retention payments can be protected in ring-fenced trust accounts.
The petition called for the bill to receive a fair hearing and for its measures to be adopted to bear down on the growing problem of small business debt in the wake of the collapse of Carillion. 'We are stepping up the pressure on this crucial issue,' Aldous told supporters gathered in Parliament Square. 'We are seeking to level the playing field so small firms are not continually forced to go cap in hand to large contractors.'
Carillion was holding £800m of suppliers' money when it went into liquidation and this money has been designated as 'unsecured debt' by the company's liquidators – meaning it is unlikely to be recovered.
'Ironically, we were ahead of the game on this issue in 1993, when Sir Michael Latham carried out his first review of the construction industry,' said Aldous. 'If his proposals had been adopted, we would not have to be doing this now.'
Aldous said the petition was the 'extra push' needed to convince the government to adopt the bill and give it a significant amount of parliamentary time.